How to Build an Eco-Friendly Emergency Kit
April 23, 2019 | Kathryn Kellogg
Last Updated on May 7, 2021
I have witnessed some crazy wildfires in California over the last two years.
The Atlas and Patrick fires both burned less than 15 miles from my home in 2017.
As someone who's lost everything to fire before, it was an incredibly uneasy and tense time.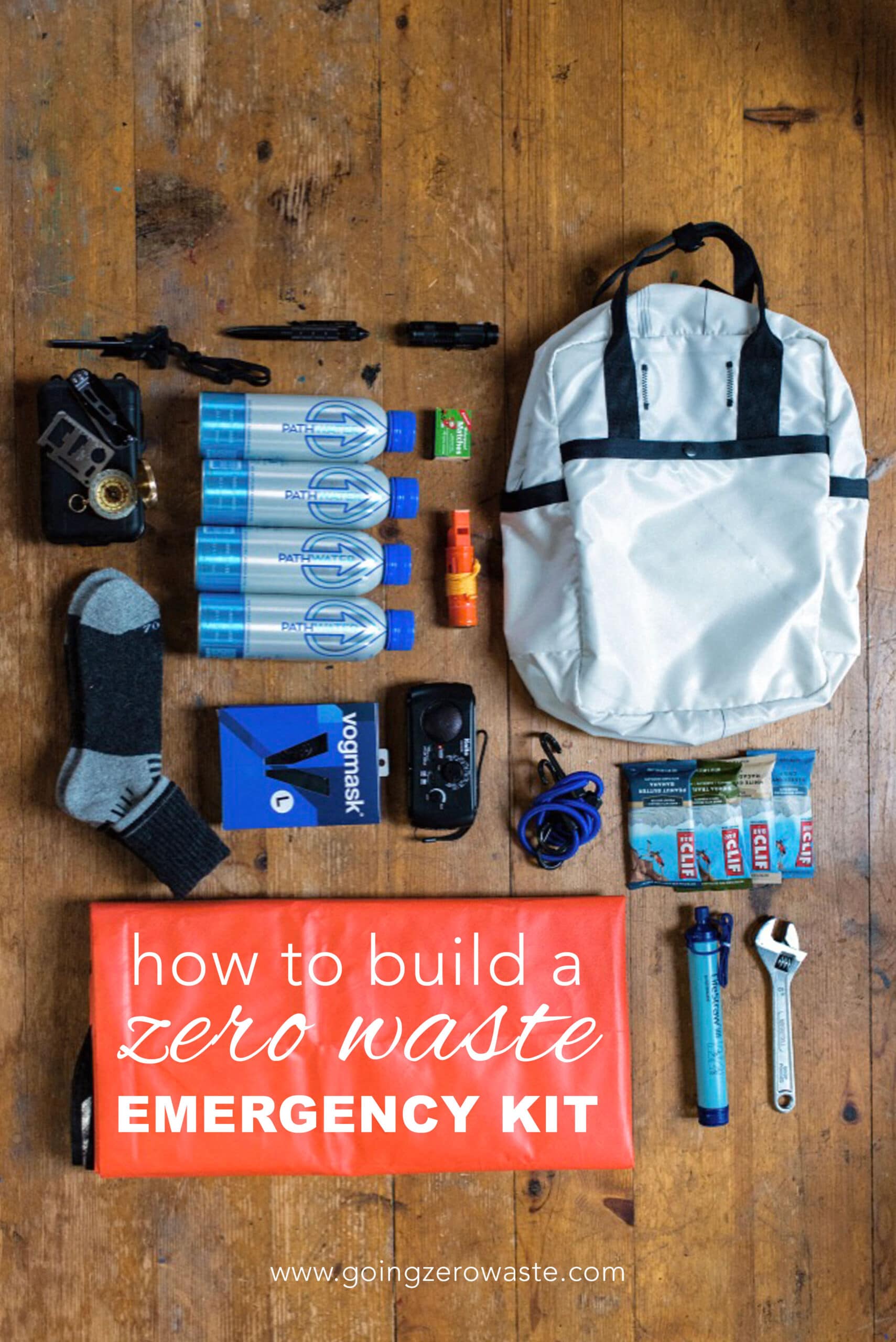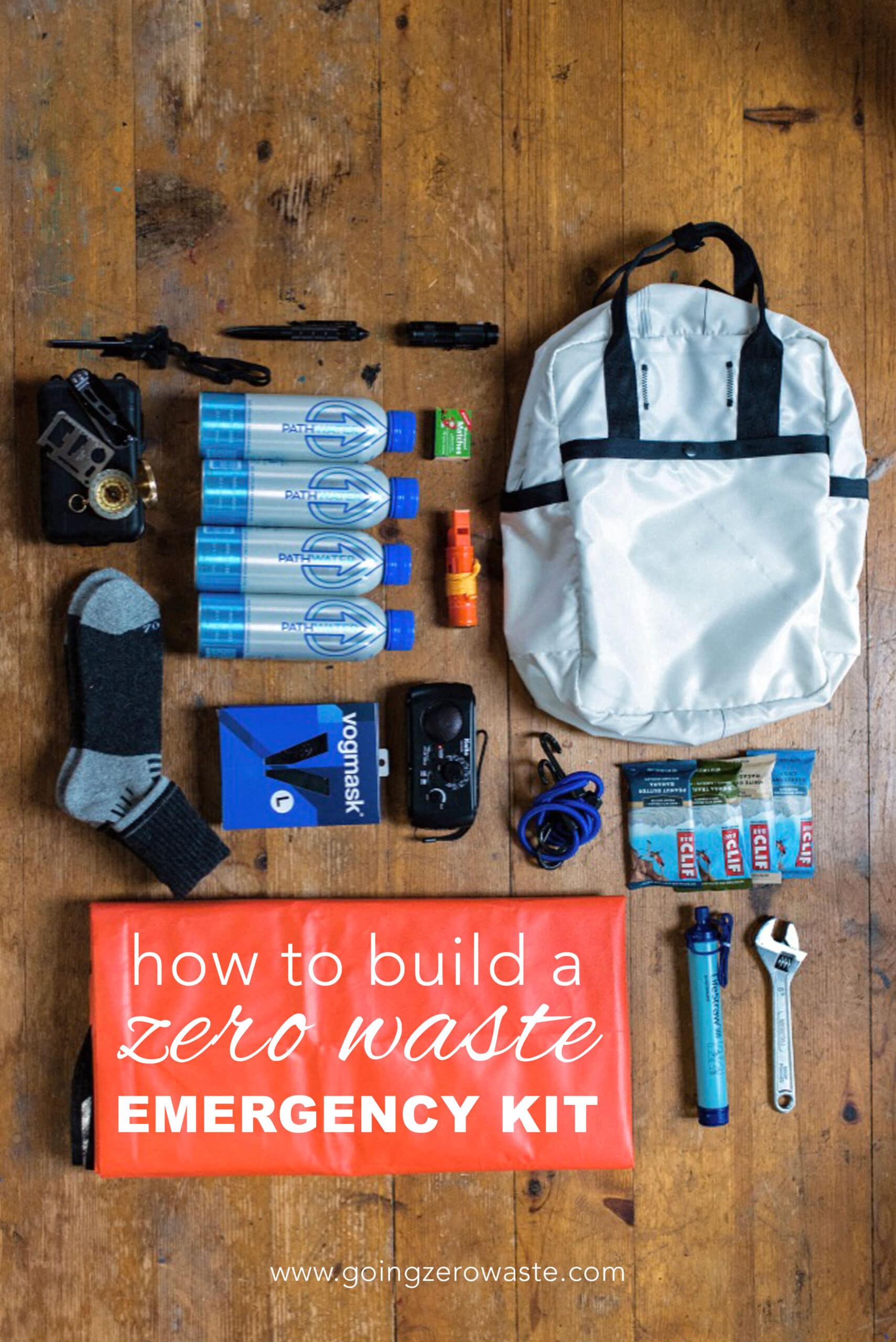 Growing up my biggest fear was always fire. I think it's a common fear among children, but every night I would pack a backpack full of my favorite things and hang it on my doorknob.
After doing this for several weeks, my mom asked me, "Why do you do pack a backpack before bed?"
And, I responded with rock-solid toddler logic, "In case there's a fire."
While there was no need to be afraid of any immediate fire, 19 years later my house did burn down.
Thankfully no one was hurt, but I lost almost everything I had.
The fires in California are starting to feel like regular occurrences, and it's got me thinking about being prepared for an emergency.
Maybe there'll be a big earthquake? Maybe there'll be a fire?
Perhaps I won't be affected by any of these things, I don't know, but I want to try and be prepared.
Since I write a blog about being eco-friendly, I thought it'd be fun to try and round up some zero waste items for building up your emergency preparedness kit!
Obviously, it will be pretty impossible to have an entirely zero waste emergency kit, but I've tried my best to round up some of the reusable and recyclable products I'm stocking.
According to ready.gov here's a list of what you need in your emergency kit:
Water

Food

Dust mask to help filter contaminated air and plastic sheeting and duct tape to shelter-in-place

Moist towelettes, garbage bags and plastic ties for personal sanitation

Wrench or pliers to turn off utilities

Manual can opener for food

Local maps

Cell phone with chargers and a backup battery
water:
Bottled water is ideal in times of emergency because natural disasters can contaminate the water supply.
It's recommended that you have a gallon of water per person in your household for three days because you can't always count on your water being potable.
After seeing a lot of people evacuate their homes, I think it's best to have a large source of water in case you're stuck at home, but also individual bottles so you can grab and go.
individual:
I've been looking for individual bottles to put inside of my emergency backpack and am so glad I discovered PATHWATER they donate 5% of their profits to non-profit organizations that fight to end plastic waste.
One of the first things I look for when supporting companies, is that they give back.
The other upside to this bottle is that it's meant to be refilled!!
It's like a reusable/disposable water bottle hybrid which I think would be great in case of an emergency.
They sell the bottles at 7-Eleven and Safeway.
in bulk:
As far as larger sources of water at home, I'll be buying several of the large 5 gallon bottles that can be refilled.
Since I don't have space for a bulky water cooler, I'm looking into buying a spout that will attach to the bottles.
food:
I feel fortunate where I currently live; we have a wood burning stove that's the primary source of heat for the house.
The top of the furnace has burners on it so you could cook in the home without electricity or gas.
Living a zero waste lifestyle, I have a lot of dried foods like oatmeal, beans, rice, etc. so we'd be able to make food for a couple of weeks.
While we don't usually eat canned food, I definitely have a stockpile in case!
I also kept my manual can opener from my PZW days!
The problem is if I had to evacuate, there's no way I could bring a lot of that food with me because it would be too heavy.
I've opted for some higher calorie energy bars like Clif Bars that can be sent back through a TerraCycle program.
In the same vein, it would be pretty easy for Nala if we were stuck at home.
If we had to travel, I have grabbed a bag of freeze dried food from Open Farm (our pet food of choice) because they're also partnered with Terracycle.
small electronics:
I have a portable hand crank radio and flashlight which eliminates the need for batteries!
Not only is this good from an environmental perspective, but it's also practical.
If your batteries die and you don't have replacements, what are you going to do?
If you can hand crank and power the device, you don't have to worry about running out of power.
first aid kit:
I have a small first aid kit in my emergency backpack which is designed for travel.
But, if you're looking to build a more extensive eco-friendly first aid kit be sure to check out the blog post!
dust masks:
During the fires the air quality was terrible.
It was raining ash on more than one occasion, and everyone recommended N95 masks which were, OF COURSE, sold out everywhere.
Getting your hands on a mask was tough. Thankfully, my boss in 2017 had gotten some for everyone in the office, and I was smart and saved them.
Technically the N95 masks are disposable one-time use masks, but we kept reusing ours because it was better than nothing.
I saw a few people walking around with some intense looking masks that made them look like Bane from Batman.
After researching those masks, I found they were reusable!
I bought two of those, they're vogmasks, for our backpack, so we don't have to worry about purchasing disposable ones anymore.
While it's great that this is environmentally friendly, I also chose this for health reasons.
If we have to evacuate, having one mask we can reuse over and over means less weight in the backpack and one less thing to worry about.
disposables:
I think in an emergency having a pack of wet wipes is a great idea. I've opted for some biodegradable wipes.
I don't know much about wet wipes, so I'm not entirely sure they are the most eco choice, but I do know that no matter what – you shouldn't flush them!
But, I also have duct tape, a few trash bags, and zip ties. None of these things are zero waste but could be important.
(Zero waste is an idea or a goal your health and well-being ALWAYS come first)
I bought 500 trash bags at Costco a year before I went zero waste, and I still have SO many leftover.
I use them mostly for litter cleanups.
I think it's pretty hilarious that people always call me out for having plastic trash bags when I pick up litter… but they are the most effective way of holding trash, and I have about 457 left so I might as well use them for good!
I also have a pack of pads and tampons from my PZW days that I've put in my emergency backpack. If I had to evacuate, I can't foresee an instance where I'd be able to rinse and dry my Thinx.
My pads and tampons are generic since it's what I had before I went zero waste, but if you're buying some new try and opt for organic.
I also think a cup would be a pretty good option since they don't require a lot of water to clean.
clothing:
We have a pair of plastic ponchos, and I'm pulling together a few items of clothing for both Justin and me.
Having a few pairs of undies, socks, thick leggings, and a pullover would be ideal.
Wool is my preferred fabric of choice (except for the undies) because it's a high-performance natural fiber that helps to regulate body heat.
I'm scouring thrift stores for these items, but haven't managed to buy everything I need.
emergency binder:
I'm also working to pull together an emergency binder that has a copy of our important documents like health insurance, drivers licenses, passports, marriage license, cash, etc.
From what I've read, it's also a great idea to put this info on a thumb drive and store it in a safety deposit box, so that's something I need to do too.
My kit isn't perfect yet; I'm about half-way there. I'm not going to lie planning for all of this is a little overwhelming.
I'm certainly not going overboard by any stretch of the imagination, but still, it's a bit anxiety-inducing to think about.
In the end, I'd rather be prepared than not prepared in case something does happen.
Have you made an emergency kit? Have you considered trying to make it more eco-friendly?