Healthier Peanut Butter, Chocolate Squares
November 15, 2016 | Kathryn Kellogg
Last Updated on September 11, 2020
This past week has come and gone slowly. I've taken a some much needed time to distance myself from technology. I didn't completely disappear, but I definitely took a step back from facebook, twitter, and instagram.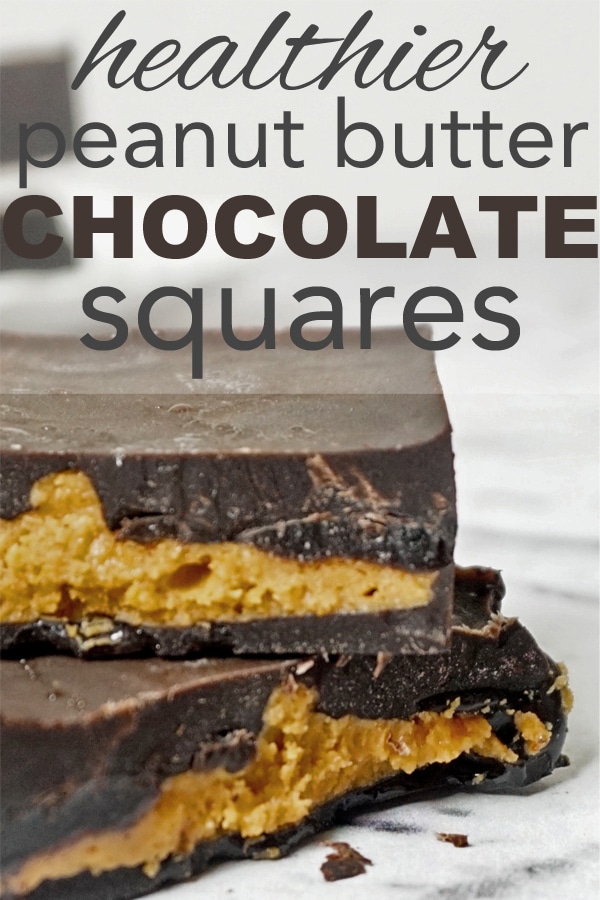 I really felt that I needed to be more present in my life. Zero waste and mindfulness are very connected. It's about having a deep connection with everything in your life.
It's about knowing who grew your food or who made your clothes, knowing who made your kitchen table or cutting board. It's about being conscious.
In my path to consciousness, I realized I needed to take a step back. I've been burning the candle at both ends for a long time, and Wednesday hit me hard. I try so hard to be positive.
I truly believe change cannot be accomplished without positivity. If everyone always looked at the negative, nothing would get done. We must affix our eyes on the positive results that we want to see.
Which brought the question to mind, what are the positive results you want to see in yourself?
I've been working so hard to see results in the zero waste movement, I've neglected myself.
I've been really introspective. Who do you want to be? Am I treating people with kindness? Am I compassionate? Am I listening? Am I grateful?
I took a brief hiatus to focus on self-care. Here's a great article on it.
I spent the majority of my evenings last week snuggled in a blanket next to my dog. Dogs are the best therapy. They're so loving. I wish we could see more of that in humans.
I made a whole bunch of loose leaf tea, took a bath with DIY bath salts, and made homemade chocolate bars.
I feel more focused. I want to focus on the things I mentioned in this post and getting more involved in politics at the local level which I talked about in this post.
I feel like we could all use a little pick me up. So, I'm sharing my recipe for a healthier chocolate bar. A chocolate bar without white processed sugar – absolutely!
chocolate bar
makes four squares
ingredients
1/2 Cup of Cocoa Butter
1/2 Cup of Coconut Oil
1/2 Cup of Organic Cocoa Powder
1/4 of Honey
1/4 Cup of Melted Peanut Butter
*Optional: 10-12 Chopped Pretzels
instructions
Grate 1/2 cup of cocoa butter
Place it in a double boiler with the coconut oil
Stir until melted
Turn the heat off and stir in the cocoa powder and honey*
Stir until glossy
Pour 2-3 tablespoons into the bottom of a silicone mold; just until the bottom is covered. (this made 4 of the squares in my mold)
Place the chocolate in the freezer for 30 minutes until frozen
Remove from the freezer and place a tablespoon of peanut butter on each square
Spread it out in a thin layer, leaving a small border around the edges
Pour the remaining chocolate over the top of the peanut butter. It should just cover it.
Place chopped pretzels on top if desired.
Place the bars back in the freezer for another hour or until frozen solid.
Enjoy!
*Make sure the honey is thoroughly mixed. It will tend to sink towards the bottom.
**You can replace it with maple syrup to make it vegan
I try hard to avoid processed white sugar. And, with my current stress level, my face cannot take it. I'm going to try and be mindful this week and make sure I make time for self-care. Maybe do a face mask?
What helps you when you're stressed? Leave some ideas for me to try in the comment section this week!
Sending so much love to everyone this week.