18 Green Banks That Empower a Green Economy
August 19, 2021 | Ariana
Last Updated on January 17, 2022
Sixty of the largest banks in the world have invested $3.8 trillion in fossil fuels since the Paris Agreement. Thankfully, green banking helps ensure our money doesn't continue to contribute to the fossil fuel industry.
Taking your money out of a big bank is one of the most impactful changes you can make! It's pretty easy and is so incredibly important.
When you switch your bank be sure to let your bank know that you're leaving because they're fundingg the climate crisis. If they know they're losing customers over their lending practices, it will affect how they do business.
Look no further than the divest movements impact on the Keystone Pipeline. Move your money and do it loudly. Post on social and tag your bank to let them know why you're leaving. Leave a comment card or send an email and tell them why!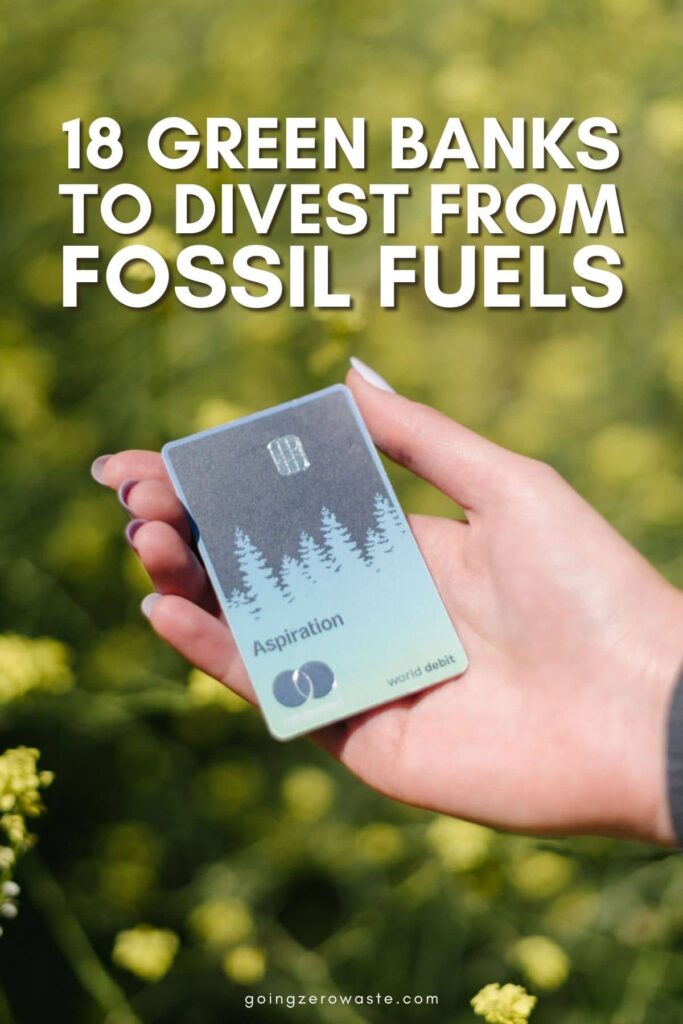 Some of the links in this post are affiliate links. For more information please see my disclosure policy.
We need to start asking where our money is going. Our savings and checking accounts are being used to fund all sorts of projects, but many banks aren't transparent about how they're using our money.
They could be investing in thousands of projects you don't agree with like drilling, mining, fracking, for-profit prisons, tobacco, pipelines, and so much more. Simply opting for paper-free statements isn't enough – they need to be putting their money where their values are.
If you don't know what your bank is doing with your money, maybe it's time to call them and ask? Investigate your bank. Call them directly and ask how they're investing.
A sustainable bank doesn't prioritize profit over people and planet. These green banks are trying to create a positive impact on their local community, environment, and economy.
And, before we go any further, I just want to say this post is purely for educational purposes. I am not a financial advisor, and simply want to share how big banks are funding the climate crisis with the money in your checking accounts, savings accounts, as well as your 401k.
I have a whole post on creating a sustainable 401k plan where you can read more about investing in a sustainable future.
why choose a green bank?
Green banking is the antithesis to traditional banking. Instead of funding things you don't agree with like the tobacco industry, for-profit prisons, and yes – the fossil fuel industry, you get to help power a future with renewables.
Green banking ensures your money is funding renewable energy initiatives and projects. It's banking you can feel good about! For more info check out the blog post A Beginner's Guide to Fossil Fuel Divestment.
which banks are green?
As the divestment movement has grown in popularity, there are more and more green banks opening. The goal is to help local communities and the planet thrive.
Every single one of these banks listed below practice ethical banking. I've covered several in the United States, like Aspiration, Ando Money, and City First Bank as well as sustainable banks located in Australia, the UK, and Canada.
what is meant by green banking?
Green banking means any form of banking that benefits the environment. They're mission driven institutions that finance the transition to clean energy and simultaneously fight climate change. They have a triple bottom line where they not only care about what's in their pockets, but the people and the planet too. Many of these green banks are also B Corporation Certified.
Several of the banks on this list not only invest in the environmental sector by financing clean energy, but also are powered by it. Many of these banks' operations are powered by 100% renewable energy, and some even offer green energy home/car loans that make it even easier for their customers to move away from fossil fuels.
RELATED: Are Electric Cars Bad for the Environment?
how does a green bank work?
Green banks work pretty much like normal banks do, except they use their capital *ahem* the money in your checking and savings to fund industries that aren't destroying our planet like:
local, small business loans
clean, renewable energy
community solar projects
sustainable farming and agriculture
A few of the banks on the list have brick-and-mortar stores that you can visit in person, but most green banks are exclusively digital. They offer easy to use online platforms and apps, and let you use mobile banking and digital check deposits.
Most of the banks will send you debit or credit cards in the mail and many are made of sustainable materials like wood or recycled plastic.
Personally, I have money with Aspiration and Ando (because the APY on their savings accounts are amazing), but Aspiration has a fantastic deal where you can get cash back on some of my favorite brands like girlfriend collective and imperfect produce!
which banks are bad for the environment?
The big bad four:
JP Morgan Chase
Citibank
Wells Fargo
Bank of America
According to the Banking on Climate report, these banks have invested the most money in fossil fuels, and JP Morgan Chase leading the way at $317 billion.
If you have your money with these banks, I highly recommend taking it out. Put it with a local credit union or put it with one of these sustainable banks below.
When I was in high school I had my savings account with Bank of America, and I couldn't be happier with my decision to leave. It was so EASY!
will closing my bank accounts hurt my credit score?
NO! Banks might tell you this to try and get you to stay, but it is absolutely false. Your checking and savings accounts have nothing to do with your credit score. And, you're simply moving your money from one bank to the next.
18 green banks to power the green economy:
Now that you know about green banking, here are 18 banks that get the Going Zero Waste seal of approval. Each of these banks has a triple bottom line where they factor in people and planet into their business plans. Some are even certified B Corporations.
I've organized them into four different regions: America, UK, Canada and Australia. Feel free to jump to which ever section suits your needs.
I've also gone ahead and highlighted some key features of each bank, but it isn't an exhaustive list so be sure to check out their websites for more information.
green banking in the united states:
green banking in uk:
green banking in canada:
green banking in australia:
Which of these green banks would you try? List your favorite green banking methods in the comments below.