7 Ways to Raise Awareness About Plastic Pollution With Art
September 24, 2019 | Kathryn Kellogg
Last Updated on April 11, 2020
There are lots of ways to use your plastic trash in art projects from large scale installation projects to smaller DIY pieces. Here are a few ideas!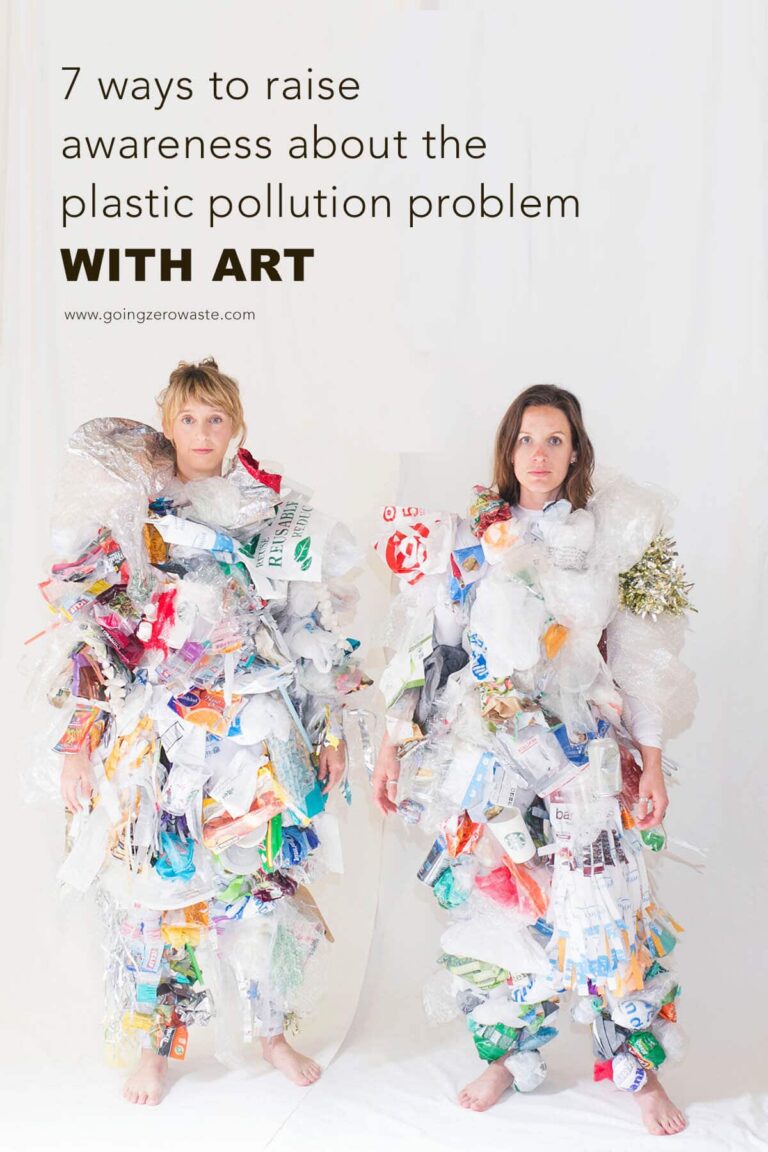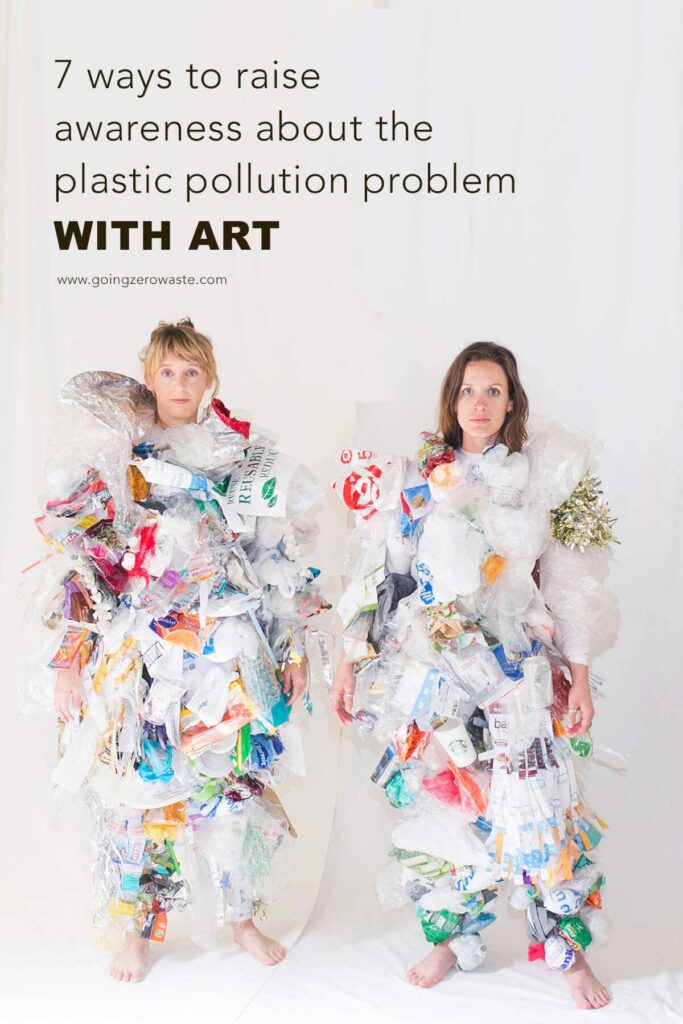 1. wearable art made from single-use plastics:
Jen Fedrizzi and Katie Williams collected single-use plastics and other discarded trash to create "trash suits" which were made from leotards and lots and lots of trash.
They performed for 5 hours in the street-front window of the Artists' Television Access Gallery in San Francisco for their 2018 performance art piece, "What Remains?" 
They wanted to create costumes that would have a lot of movement for dancing and performing.
They simply did a trash audit and stored their trash for months in order to get enough trash to pin on the leotards.
Jen and Kat welcome others to make their own trash suits, and please share your creations by tagging @wastedrealityart on Instagram.
TIP: If you're using trash from food waste, it's really important to wash and dry the plastics first, so they won't smell.
2. photography inspired by environmental issues:
Jen's favorite mode of art is photography. In 2015 and 2016, she took part in the Walking Water pilgrimage, in which she walked from Payahuunadu into Los Angeles to help restore and build relations with water, land, and peoples.
This journey inspired a collaboration with fellow photographer, Jasmine Amara, to create a poetry and photographer tour called "About Water."
The touring art exhibition was about developing personal relationships with water with the hope of inspiring conservation and transitioning away from excessively misusing it.
The exhibition showed in Payahuunadu, San Francisco, Santa Rosa, and Los Angeles. Check out video images from the exhibition.
3. performance art to raise awareness of the trash epidemic:
In 2017, Jen and Kat "drowned" in trash for a performance art piece in a street front window in San Francisco over the duration of 5 hours. As trash slowly trickled in, the artists began to disappear in waste, as a metaphor for our planet at large.
They hoped this shocking piece might cause others to reconsider their own waste habits and make a change before it's too late.
The public nature of street art allows passersby to take a look at something unexpected.
Most people don't expect to see performance art on the street, so why not try something to jar folks from their daily monotony? 
TIP: If you're going to do street art, make sure to check with your city about their laws.
For example, in some cities you may need a permit, and in others you may need to remain a certain distance from businesses.
4. events to highlight the zero waste movement:
Jen works for Replate, an organization that rescues edible surplus food and redistributes it to communities experiencing food insecurity.
She's super passionate about reducing food waste and the zero waste movement.
In order to raise awareness of food and plastic waste, she put together a "Trashy Dinner Party" at the Convent Arts Collective, in which she cooked food entirely from reclaimed food—some of which was from dumpster diving — and made decor out of reused plastic waste.
She also encouraged attendees to create their own accessory or art piece made from trash.
Note: If you want to go dumpster diving, be sure to read up online about safety, and opt for food in sealed containers.
5. music and poetry inspired by plastic pollution:
music:
Kat actually first found out about Katherine from her Zero Waste Christmas songs and knew they were on the same wavelength!
For their 2018 performance, Kat created a series of songs about plastic pollution that played during their performance in their "trash suits." In the video above, Kat sings about where things go when we throw them away.
"Where is away?
Is away in the garbage can?
Where is away?
Is away in the landfill?
Where is away? Is away washing up on a beach somewhere far from you and me? It's so distant."
poetry:
If you aren't feeling musical, you can still use words to convey a message. Jen enjoys writing poetry, and co-wrote a zines of poems for her exhibit About Water in 2017.
6. make arts and crafts from your discarded waste:
Jen's trash wreath from her Trashy Dinner Party, as well as some earrings made from chip bags by Leslie Mueller, are just a couple examples of different types of arts and crafts you can do with your single-use waste.
Why not save and wash your plastics and see what you can come up with? We'd love to see your projects!
7. illustrations & infographics to highlight plastic pollution:
Kat loves creating fun illustrations that are educational about plastic pollution using her iPad and stylus.
The illustration is the Facebook cover photo for the Facebook group, Stop Plastic- Take Action.
Kat opted for a bright and colorful positive message because many anti-plastic groups online focus on the negative and can drive participants away.
She also did an infographic for Break Free From Plastic to raise awareness about their demands to corporations to reveal the amount of plastic produced, reduce it, and reinvent new sustainable solutions.
What will you make?
With all these ideas, what will you make from discarded waste? We'd love to hear all about your ideas and projects in the comments.
And remember to tag @wastedrealityart on Instagram with your trash art photos! 
GUEST POST: Jen Fedrizzi and Katie Williams, the two "trash artists" behind the new art collective Wasted Reality Art, create art from plastic waste to raise awareness about the growing plastic pollution crisis.
Jen and Kat lived at the Convent Arts Collective in San Francisco, where they noticed the alarming amount of waste produced by the household of 25 artists.
They did a trash audit and started sorting through the trash for plastic, as they wanted to reuse the plastic for some performance art.
"We also wanted to find single-use coffee cups, so I would go to nearby cafes and dig through their trash for the cups," says Jen, "and they actually started to refer to me as the 'trash lady,' which I took as a compliment."