7 Tips for Being Present this Holiday Season
November 26, 2019 | Kathryn Kellogg
Last Updated on May 7, 2021
The holidays are officially here. This time of year can be wonderful, dreadful, hectic, and just a roller coaster of emotions.
Every year I go into the season with the best of intentions. More often than not, I watch those intentions slip through my fingers and dissolve into chaos.
If you're anything like me, I wanted to make a list of ways to check in with yourself so you can practice being present.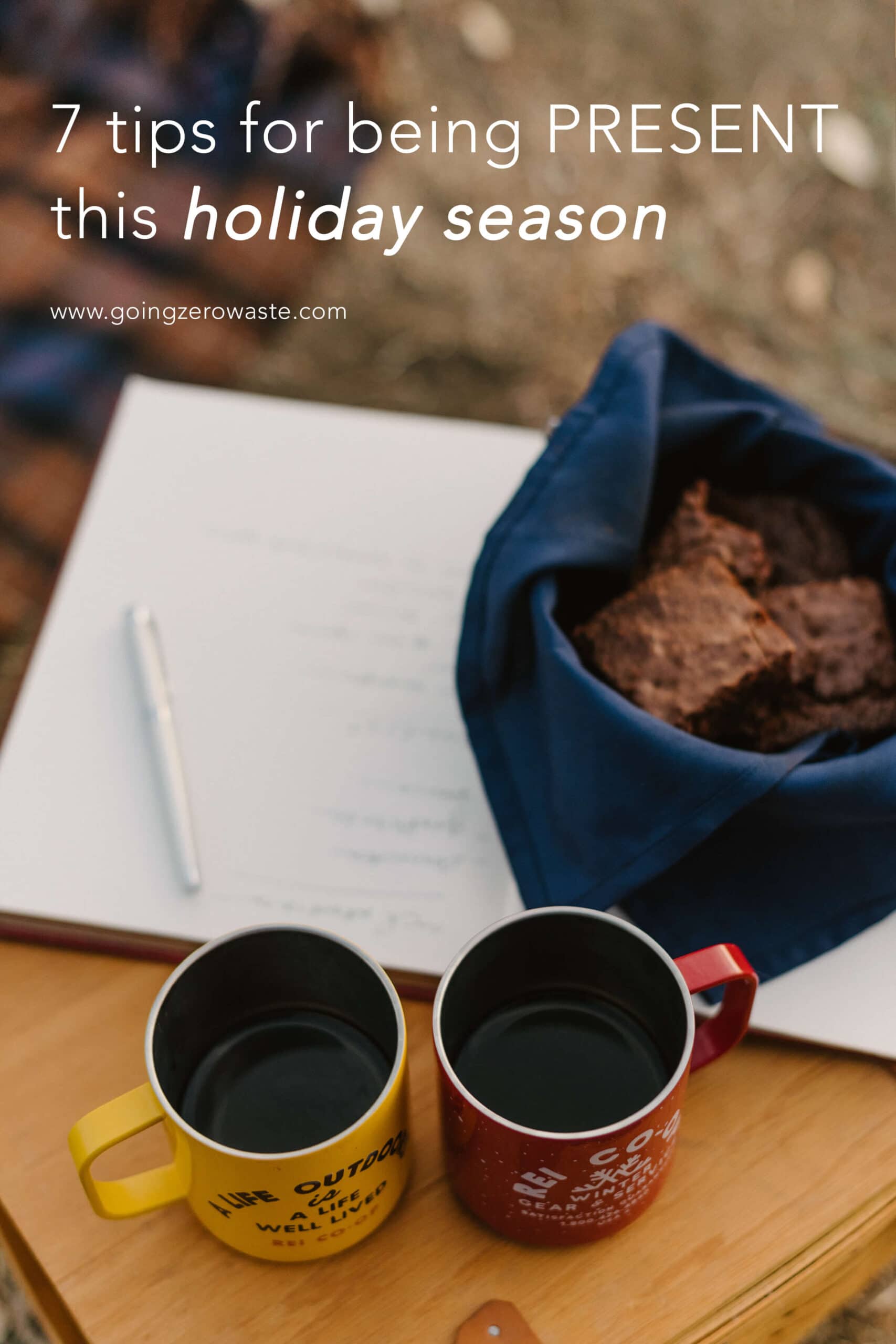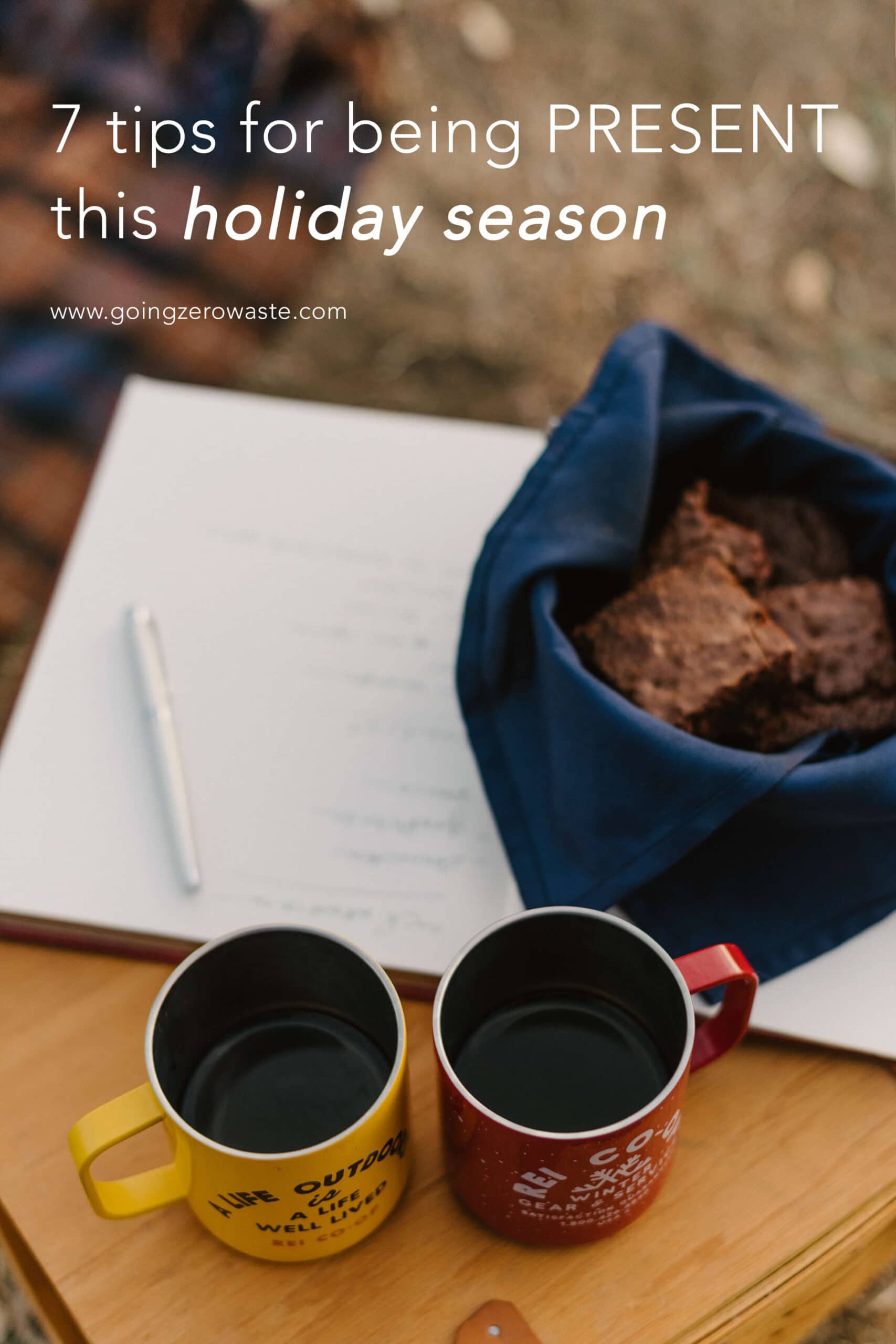 I am so excited to be partnering with REI today! The masterminds behind #OptOutside which I've participated in since it's inception!
#OptOutside initially began in 2015 with REI closing all 143 stores and website on Black Friday to encourage people to get outside, slow down and enjoy nature. Since then, #OptOutside has become a movement!
In fact, if we scroll through the recesses of my IG feed filled with overly filtered photos centering around my zero waste kitchen adventures we find this gem.
View this post on Instagram
This year REI has raised the stakes with #OptToAct encouraging people to not only get outside but to take action to make the world a better place.
They have an entire calendar filled with action items you can participate in each week for the coming year.
They've also created their own action calendar as a company with goals like going zero waste (diverting 90% of waste from landfills) across total operations by the end of 2020!
our fall picnic:
Before the holiday season gets into full swing, Justin and I like to take a few moments to ourselves.
It's nice to check in with each other and have some alone time before our calendar gets jam-packed.
We like to talk about our intentions for the holidays, our goals, practice gratitude and write out our Christmas lists.
I decided to pack a fall picnic and head to Lake Herman – one of my favorite spots.
Now, it being mid-November there was a chill in the air so we dressed to stay warm!
Justin wore a Patagonia jacket made of 100% recycled polyester with a fair trade certification.
I wore my Patagonia rain jacket which gets a lot of wear during the rainy season!
It's made with bluesign certified materials which have to adhere to a very strict criteria of resource management, emissions, and chemical safety requirements.
Justin and I both wore our Fjord Patagonia flannels, can you tell we're huge Patagonia fans? These flannels are made with organic cotton! I have the shirt in cabin blue and Justin has it in wren gold.
REI has a great selection of sustainable clothing whether you're heading up a mountain or snuggling up at home with a cozy prAna sweatshirt and some REI Co-op wool socks made in the USA and with a mix of sustainably sourced wool and recycled materials.
I've had this picnic basket for years.
I packed it up with some of my favorite fall foods like pears and a few figs plucked from my tree in the backyard. How's that for local?
I made some homemade spiced nuts with rosemary and thyme as well as hot mulled wine which always brings me back to the first fall that Justin and I spent working together in Pennsylvania. We went on many a fall picnic!
The insulated Klean Kanteen and REI Co-op Mugs a yellow one for me and a red one for Justin (which are SO darling!) kept the mulled wine nice and warm despite it being cold.
Another hefty Klean Kanteen kept Nala's water nice and cool.
I toasted up some crostini, the zero wasters BEST cracker substitute to pair with a wedge of cheese wrapped in a Bees Wrap, homemade hummus, and some vegan sausage that even Justin loves!
I baked my world famous brownies and we lounged on a Pendelton blanket which is a fall picnic-ers dream! The blanet is so thick, cozy and made in the USA. It was the perfect backdrop to jot down our goals, wish lists, and intention for the upcoming holidays.
1. prepare:
Take a couple of hours to prepare for the season and talk through many of the questions that will come up like how many parties you actually want to go to?
Will you be hosting a party? Coordinating travel? Ideas if you're just absolutely spent?
This gets all of the big questions out of the way.
This avoids having those big talks in the heat of the moment which avoids last-minute decision making, meltdowns, and disappointment. It also helps to open up those lines of communication and tempers everyone's expectations.
2. set intentions:
What are your intentions this holiday season? What do you want to get out of it this year? I find that setting a few goals will help you get the most out of the holidays.
Most of us can't do it all.
I can't attend every event, host three parties, and decorate my house like Martha Stewart without feeling utterly exhausted.
So, I pick a few things that I really want to do and a few ideas that I want to focus on so I can get maximum enjoyment without going overboard.
My intention this year is to connect. Actions that inspire connection to me is making homemade Christmas Cards for everyone, hosting a party, and to spend time volunteering.
3. get outside:
Nature is healing, but the hardest part is getting out the door. The colder it gets the more I want to stay cooped up by the fireplace than venture out into the great outdoors.
But, if I can just convince myself to take a walk around the block, once I'm outside I instantly feel better.
The moment I get over the mental hurdle of "IT'S COLD!" I'm ready to go hike for a few miles. And, with Nala being a snow dog she's ready too!
One of the best things I did earlier this year is to invest in appropriate gear.
I traded out my decade old, ratty cotton leggings for something a little more high-performance. This prAna set has been one of my favorites! prAna is a certified B Corp, and my set came without any plastic packaging.
REI is working to phase out polybags (clear plastic bags often used in shipping) by the end of 2020!
4. practice gratitude:
I like getting presents, don't you? It's so fun to get something new, but when you're put in a mindset of wanting it can be easy to forget what you already have. It can also be a slippery slope into over-consuming.
I practice gratitude daily. Even if you're not ready to make it a daily practice, try to find a few times to list out what you're thankful for.
They can be really small things, but the more you get into the practice, the more content you will be.
5. share:
The holidays are all about sharing. Sharing your time with those that mean the most to you. Sharing gifts and acts of kindness. Sharing resources with those less fortunate.
If you ever feel yourself getting caught up in the chaos, give yourself a moment to recenter. Ask how you can share kindness because that's what this season is all about!
Last year I made an advent calendar from an old shipping envelope.
Each day had an action item and while there were a few fun things like making hot cocoa and watching a Christmas movie it mostly revolved around giving back.
I donated food, coats, and to a few of my favorite charities.
One of the things I love about REI is that they gave back more than 70% of their profits in 2018. They invested $8.4 million in 431 nonprofit partners that create access to the outdoors as well as over a million in rewilding projects.
6. remove the pressure:
Between Instagram and Pinterest, there's so much pressure to have the PERFECT Christmas. The decorations, the gingerbread house, the matching pajamas, the presents, everything has to be absolutely perfect!
Focusing on absolute perfection can lead to anxiety so just let it go.
It's OK if one of the side dishes doesn't come out of the oven at the right time or if the gingerbread house is leaning to the left. The fun part should be the process.
Remove the pressure and focus on the relationships that matter.
7. unplug:
Try and find some time to unplug. REI has done such an amazing job of fostering the unplugged movement during the holidays with their #OptOutside initative.
With constant email notifications on our phones and social media just a tap away, it's easy to get lost in the tech vortex.
Try and set aside a few hours or days to be completely unplugged.
Use the time to truly be present with your family. I find one of the best ways to prevent me from checking my phone all the time is to simply wear a watch.
I can't tell you how many times I pull my phone out to check the time and then I see a few notifications.
I check the notifications and before I know it 20 minutes has passed.
Another great way to unplug is to simply get outside!
Whether you choose to take a nice long hike or spend a few days camping or backpacking REI has all of your outdoor needs covered whether you need to buy gear or just want to rent it for the weekend.
REI has expanded their rental and used gear offerings to encourage that circular and sharing economy!
If you're only going to go camping one time a year, why let the gear gather dust 51 weeks out of the year. Instead, you can rent gear just for the week! How cool is that?
It's such a great initiative to get people outside more affordably and sustainably.
I would like to thank REI for sponsoring this blog post!
I am so excited to be working with them, seriously a dream come true. Here's a link to their sustainability initiatives – read it and you'll be in love too!
How are you focusing on being more present this holiday season? Will you participate in #OptOutside this Friday?