7 Event Planning Mistakes You're Making
February 15, 2022 | Guest Post
Last Updated on February 15, 2022
I've been to the WM Phoenix Open for the last four years! It's been amazing to see this event evolve firsthand. When it comes to event planning, this affair is meticulously set up to achieve success for both the planet and its MANY attendees.
You might be wondering, what on Earth does the planet have to do with event planning, and the answer is… everything! The planet has to do with EVERYTHING. Every material we touch comes from planet Earth whether that's cardboard boxes, the plastic used to make signs, flowers for the table decorations, cotton for the table linens, and more. It all takes energy, water, and natural resources.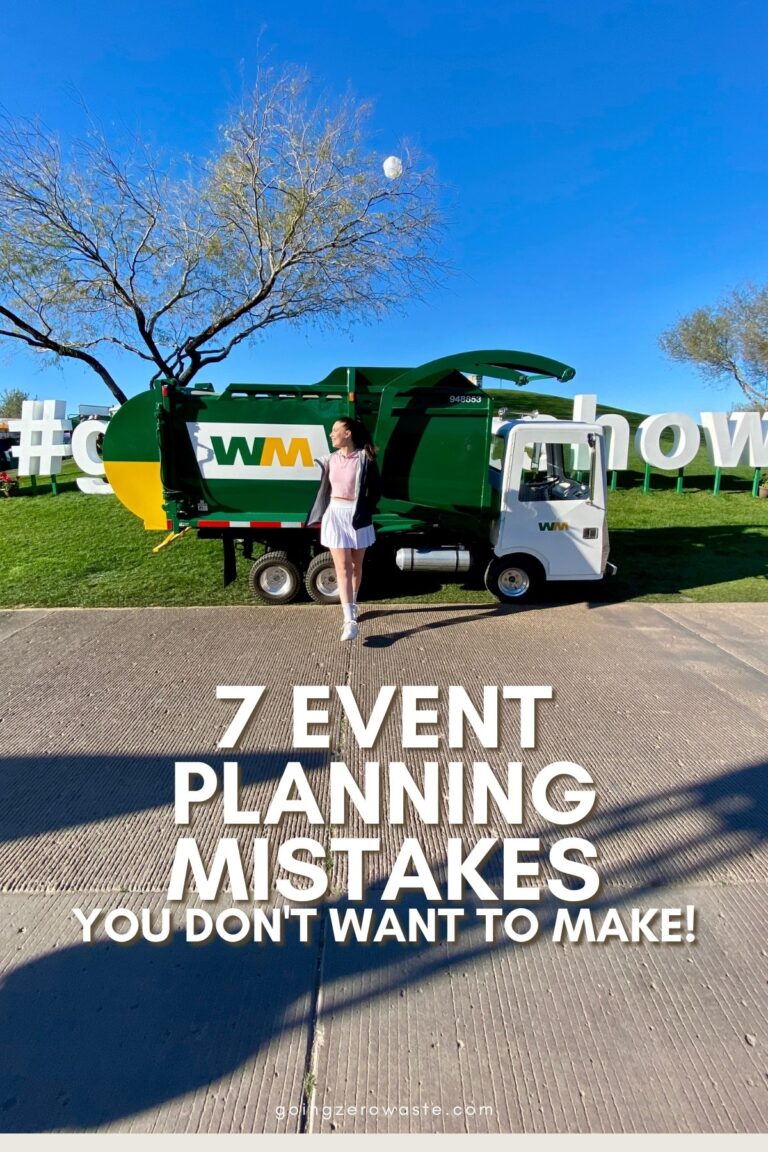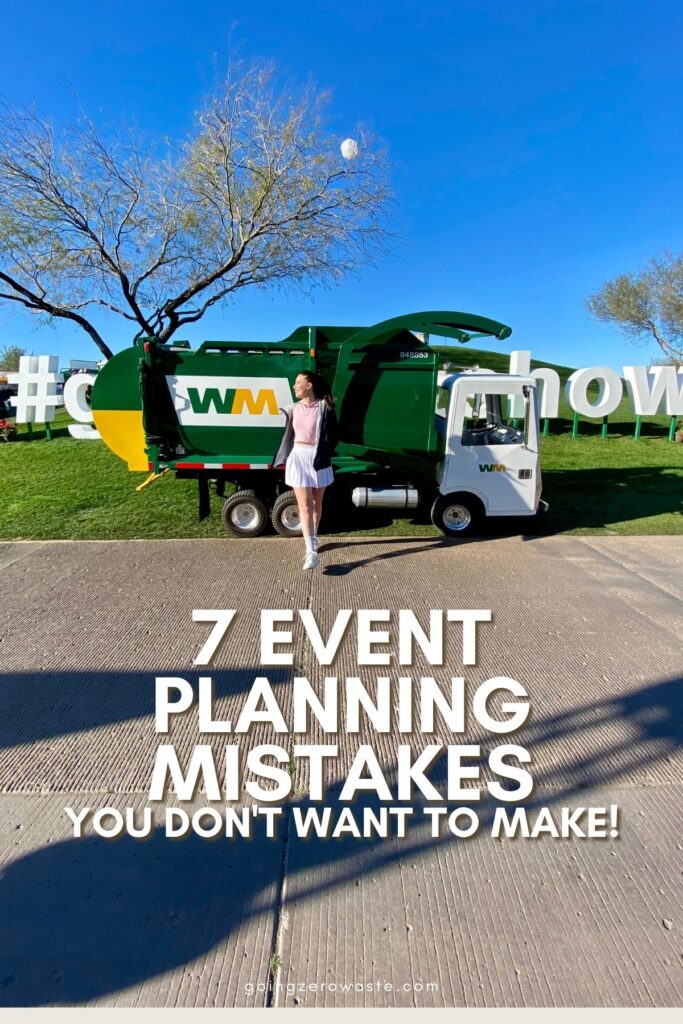 This post was sponsored by WM. All thoughts and opinions are my own; for more information please see my disclosure policy.
This is important because we're extracting resources at an unprecedented rate. Each year we have Earth Overshoot Day. A literal day on the calendar to mark when we've consumed all of the resources the earth can sustainably produce for the coming year.
Earth Overshoot day was July 29th of 2021. Meaning we're consuming 1.5 earths worth of resources which is entirely unsustainable. When event planning, ask yourself a few questions like where does your stuff comes from, how is it made, who makes it, and where is it going once we're done with it?
I think the WM Phoenix Open EXCELS at sustainable events. But, don't just take my word for it. They're UL certified, GEO certified and have received the Evergreen Inspire status with the Council for Responsible Sport. The largest event to earn this level of recognition.
So, we'll be using them as a case study throughout this post. Whether you're planning for 10 people, a hundred people, or thousands of people, these are the event planning hacks you need to know.
thinking sustainability isn't important:
I know, we just addressed this, but I think it's important to show you just how hip eco friendly events are. Every other week I hear about how sustainability is seeping into events and activations. It's how you can really level up your event and expertise.
Just a few examples: Coldplay and Billie Eilish are both looking to carbon neutral tours with sustainability initiatives woven in to get people talking. Like helping people choose plant-based food options or a dance floor that helps power the stadium. There's so many fun ways that you can engage people and create a meaningful impact.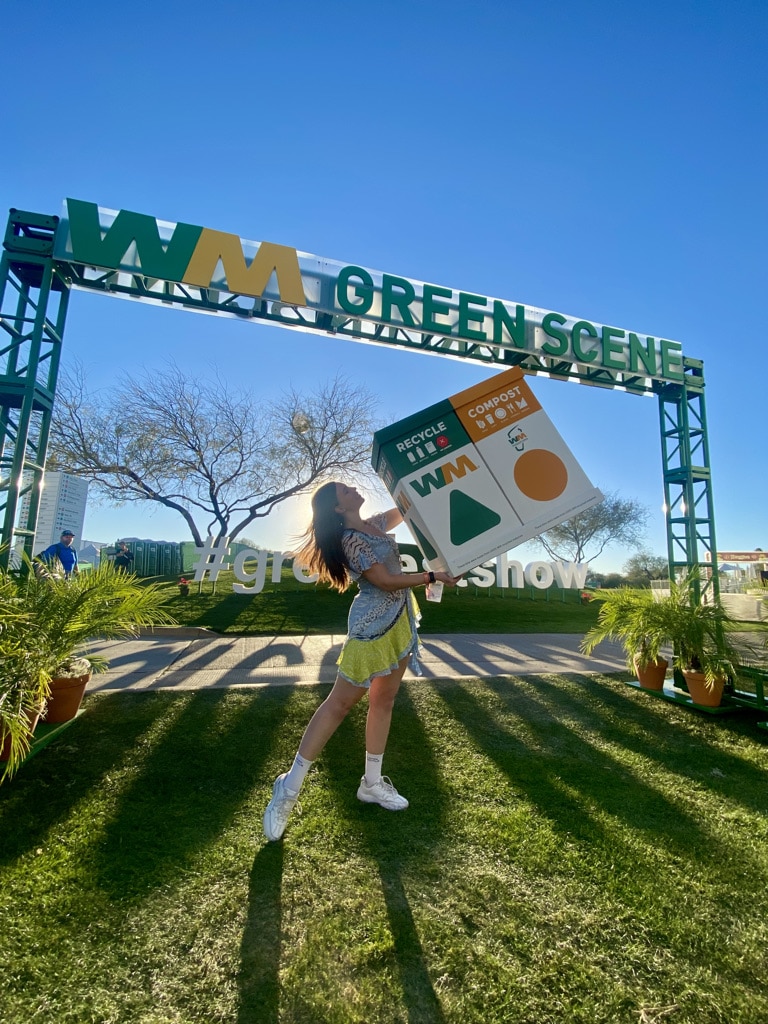 pay attention to power:
Now that you're convinced a sustainable and eco friendly event is the way to go, let's talk about power. On a day-to-day basis, many of us don't think about where our electricity comes from, but about 32% of the total U.S. energy-related CO2 emissions come from electricity generation.
This is where you get to make a difference. Source your events power from renewable sources. Each year the WM Phoenix Open is carbon neutral. All of the electricity is procured from APS. It's 100% renewable, and it powers the lights, generators, golf car fleet, beverage booths, you name it – it's powered with clean energy!
not thinking beyond the landfill:
A major event planning mistake is not thinking beyond the landfills, but you won't find a single trash can on site at the Open.
There are NO trash bins available to the public for the entire event.
There are some trash bins in the back of house due to laws around food preparation. The caterers have to use things like plastic wrap, gloves, hair nets, etc, but all of that is diverted from landfill and sent to a waste to energy plant.
Total, for the event, they have five waste streams.
compost
recycling
waste to energy
wine bottles
donation
This is the breakdown from 2018, 56% of the waste is recycled, 26% is composted, 9% is donated, and 9% is sent to a waste-to-energy plant.
To ensure a seamless process, the event boxes are intuitive. The compostable trays and plates won't fit into the bottle holes. There are bins strategically placed all over to prevent littering. And, everything is hand sorted – yep. Hand sorted. This ensures everything is done accurately and efficiently.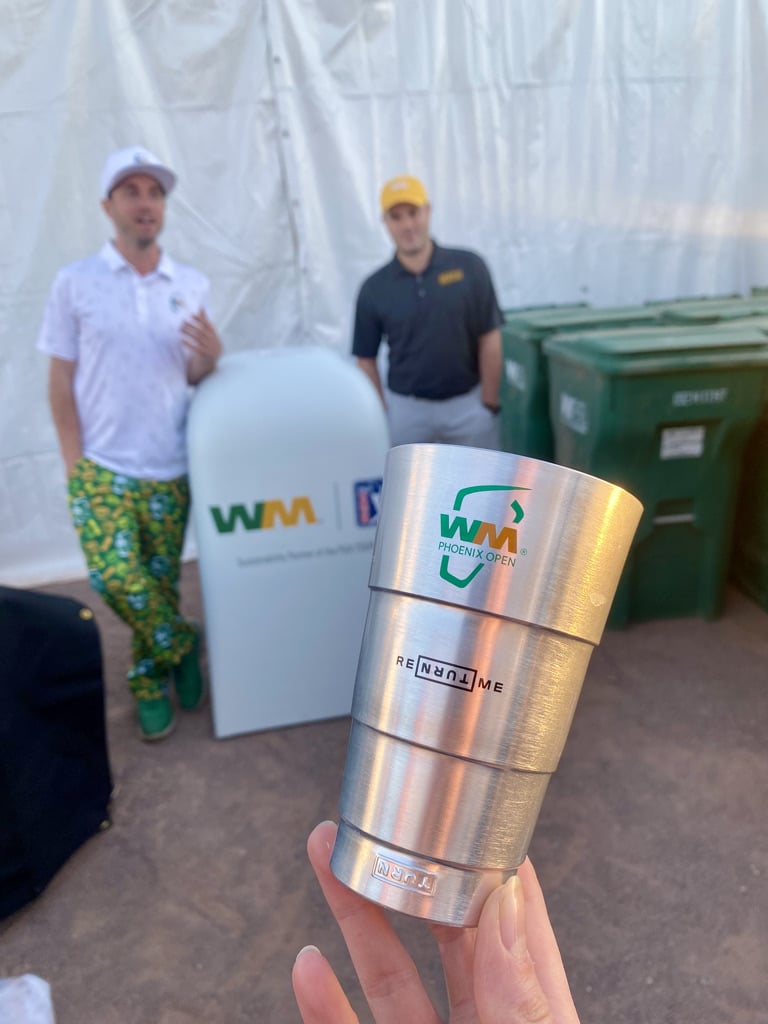 establishing your needs in the contract EARLY:
One way to make sure the end of life process is as seamless as possible, is to stipulate it in your contract! WM works with their contracted vendors to make ensure their packaging is certified compostable, recyclable, or reusable. By stipulating materials upfront they can control the end of life process.
All booths are checked to make sure their packaging is certified compostable or recyclable. If the booth doesn't have the right materials, they will shut the booth down until it's compliant.
related: 5 Recycling Hacks Everyone Needs to Know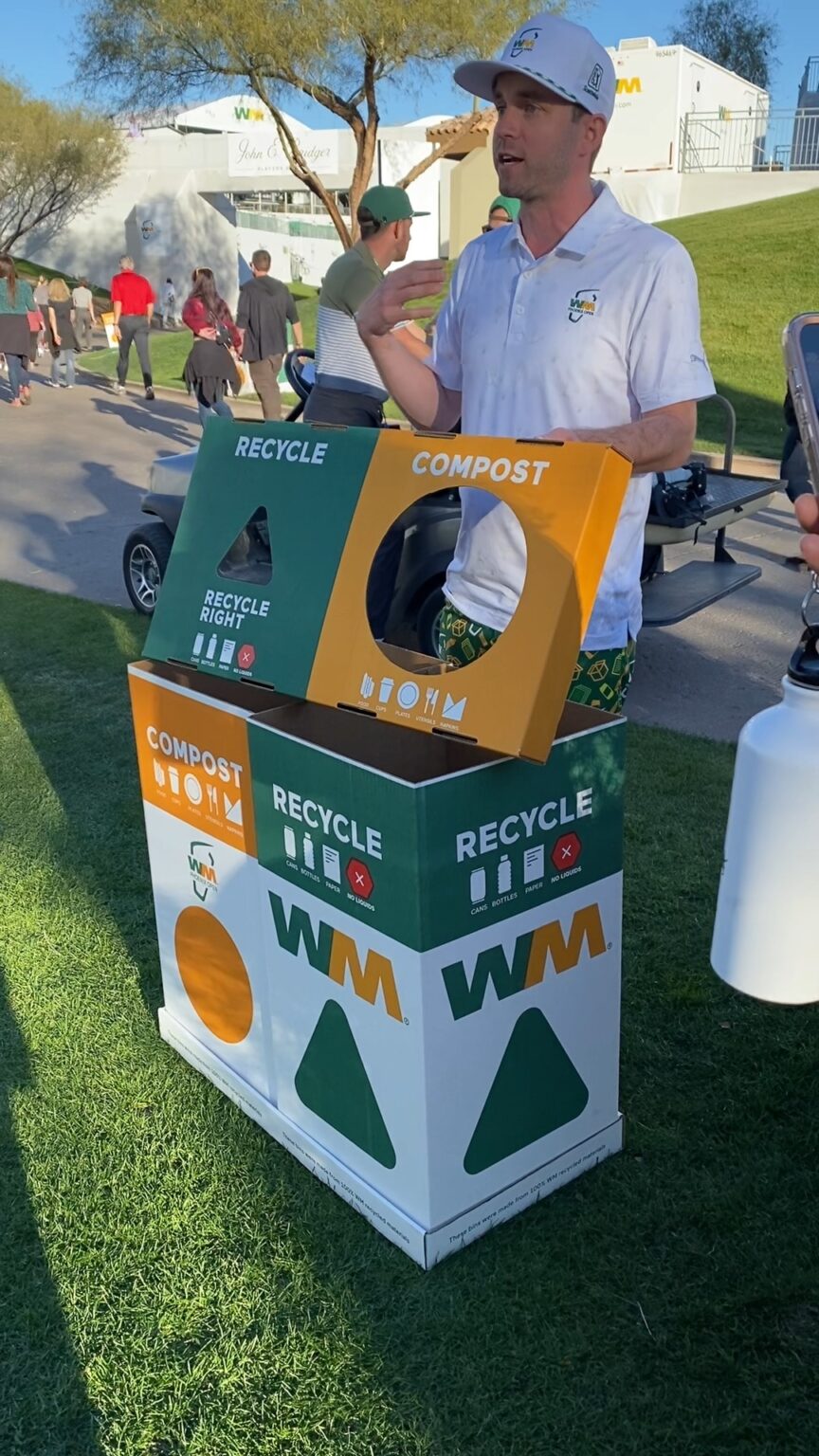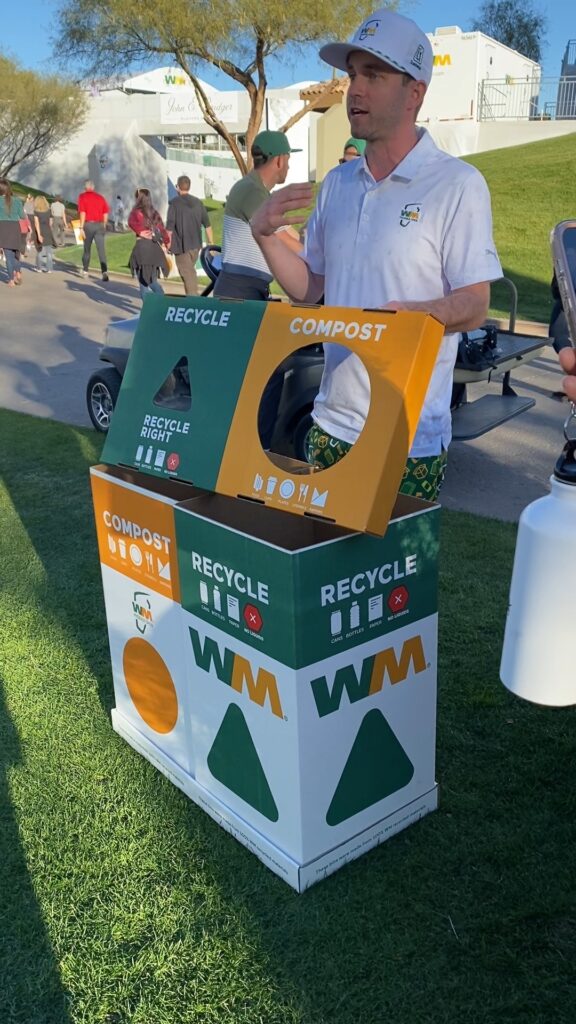 lack of specific signage:
One of the reasons the WM Phoenix Open is able to reduce and make this process easier is clear signage! Clear signage is essential to help people know where they are and what to do.
Consider incorporating both text, visuals, and color coordination to get your message across. This year the bins had a bit of a makeover with a vibrant green triangle and yellow circle to help people recognize and understand what goes where.
There's also a lot of signage that goes into educating the general public about sustainability initiatives and clear signs post for the back of the house crew who's handling food and beverage.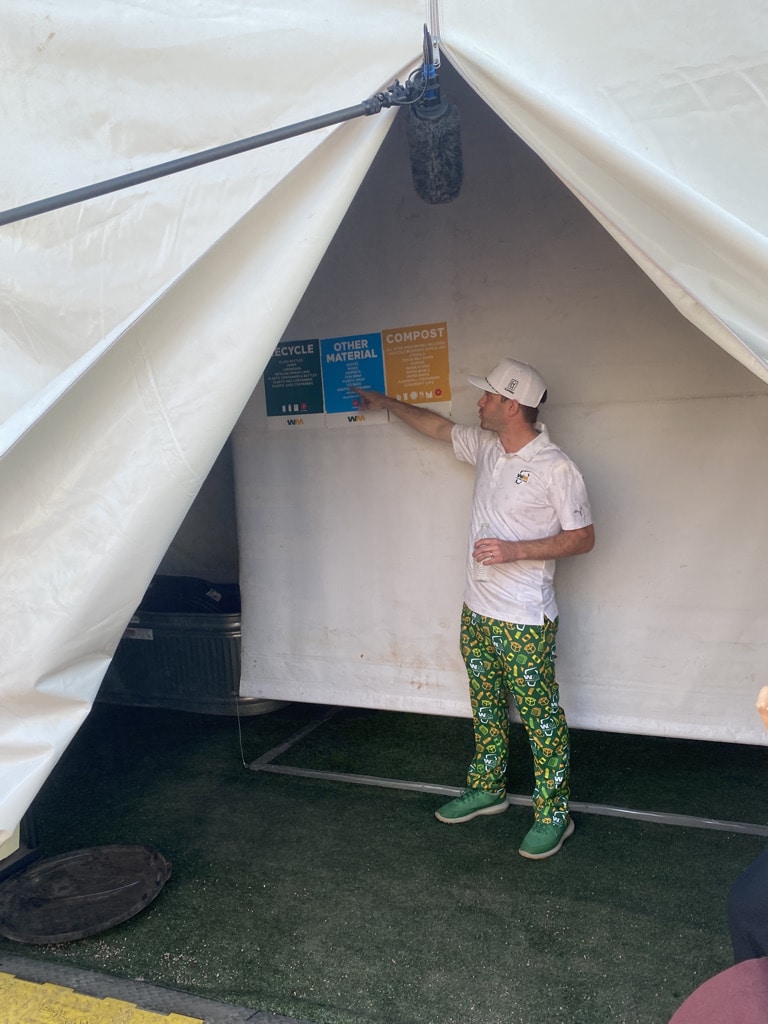 missing educational opportunities:
You can also add to that, not making educational opportunities fun. A great way to do this is through gamification.
One of the best ways to activate people who don't care is to gamify the system. Turning education opportunities into competitive activities is one of the best ways to create change. Electric and hybrid vehicles do this by rating how well you drive. The better you drive, the better score you get. Subconsciously, this affects the way we drive!
This also works for electric and water bills. Bills often show how you're doing in comparison to your neighbors, and this has been one of the most effective way to reduce resource consumption.
Having attended the WMPO for several years it's been a lot of fun to see their Green Scene evolve over the years. From a trivia game in an upcycled shipping container, zero waste baskets (one of my personal favorites), and this year recycle right corn hole.
And you could also chip a can into the recycle bin or an orange into the compost bin. Which I did on the first try. If I sound proud, it's because I 100% am.
When you're event planning, think of ways you can encourage fun educational opportunities.
finding the right partners:
Beyond just being a zero waste event, WM Phoenix Open is Net Neutral which means the event is water positive, carbon neutral, and zero waste. Many of their programs see great success because they work with amazing partners.
The Thunderbirds, a non-profit organization dedicated to helping children and families in Arizona, have helped to restore 368,000,000 gallons of fresh water to eco-systems and First Nations across Arizona.
They donate excess food, and work with a local artisan to upcycle wine bottles into cups. It's all about finding the right partners. Can you find a partner to take excess food? What about donating flower arrangements to local hospitals?
It takes a lot of work to plan the Greenest Show on Grass, but I hope you're inspired after reading this post to implement some the fantastic methods they use.
For even more detailed on information to reduce emissions and waste be sure to check out the WM website.