5 Tips for Leaving a Great Legacy
December 9, 2019 | Kathryn Kellogg
Last Updated on May 6, 2021
As we're approaching the end of the decade, I've started thinking about the legacy I want to leave behind.
I've never been a big fan of resolutions. I find they quickly fade and fizzle out because they're rooted in short term goals. These often fall by the wayside, and we revert back to old habits and comfortable patterns.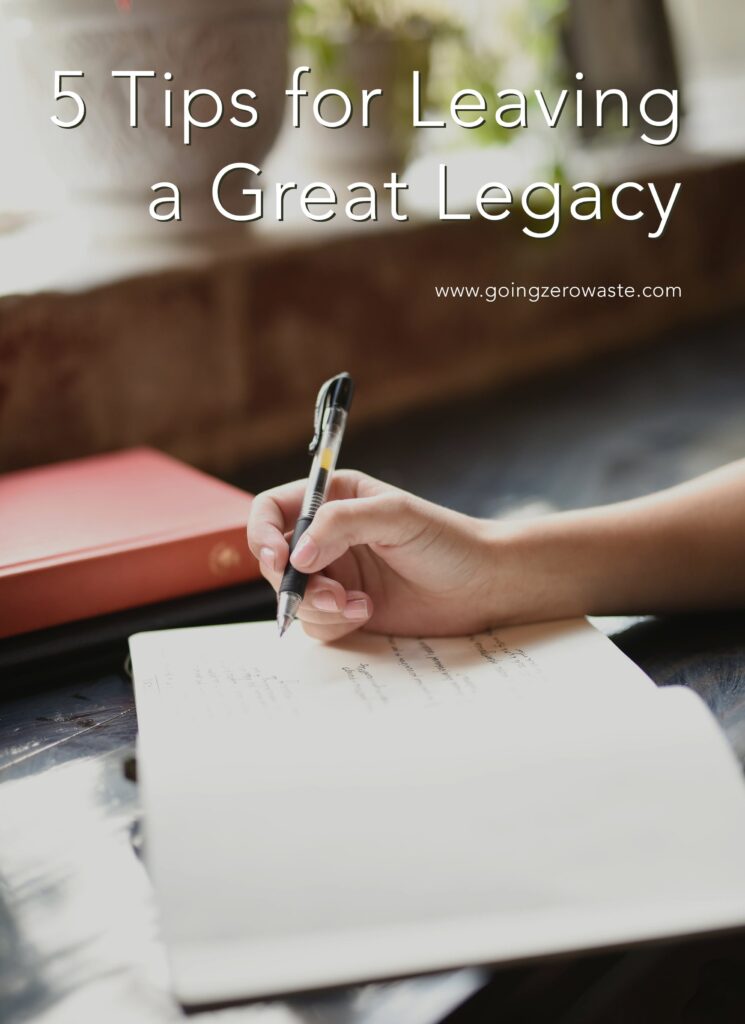 Resolutions are very rarely rooted in something bigger. They're not part of an overarching goal, but more of an idea like "getting healthier" – what does that even mean? Or we create something overly strict and burn out like "go to the gym EVERY DAY!"
Instead of thinking about resolutions, I'd like for you to think about your legacy. What is the legacy you want to leave behind?
I'm excited to be writing this post in partnership with MINI. All thoughts and opinions are my own for more information please see my disclosure policy.
MINI has launched a new campaign #ChargedWithPassion to celebrate the first all-electric
MINI.
which is coming out next year!
I've been part of this campaign for several months, you can read the first blog post I wrote called How to Start the Sustainability Conversation which is all about how to talk to people about environmental issues, even people who don't agree with you.
It's full of helpful tips, especially when navigating dinner and party conversations this time of year.
But, as this year and decade is drawing to a close I've really been reflecting on what it means to be #ChargedWithPassion.
I think it means living a life in accordance with your values. It's practicing what lights you up. It's thinking past tomorrow and focusing on the impact you want to have on the world around you.
In a word, it's your legacy.
Have you thought about the kind of legacy you want to leave behind?
Leaving a legacy isn't necessarily about what you "accomplish". It takes the pressure off achieving certain "goals" or "status symbols" and puts the focus on what really matters – how you impact those and the environment around you.
I've been running the numbers, and the average human lives approximately 28,0000 days.
During that lifespan, they're responsible for creating 60 tons of waste, 1295 metric tons of carbon, and use more than 35 million gallons of water.
Much of this is done mindlessly. Small things really add up, you know?
So, what if we could start doing small things that had an overall net positive impact? What if we could alter our days just a little so that at the end of it, we lived a life that we were proud of – a life that had an impact beyond ourselves?
1. think bigger:
I don't think we were put on this earth to shop, pay bills, and die. I think we were put on this Earth with our unique talents to create something and leave it better than we found it.
One of my favorite proverbs is, "A man only begins to grasp the true meaning of life when he plants a tree under whose shade he knows he will never sit.
It's not about what you can get for yourself, it's about what you can contribute and be part of.
What are a few of the problems you'd like to see solved in the world? Don't think about how you realistically "can't solve that problem." Dream big! Pick anything.
2. break free from fear:
Humans tend to be all or nothing. They think if they can't 'SOLVE ALL OF WORLD HUNGER' then they shouldn't even try.
But, it's not about fixing the whole issue by yourself, it's about doing something small. It's picking one two things you can do to help fix it. If everyone picked something they cared about and dedicated one hour to it a month or a week, how different would the world look?
Don't be afraid of only being able to do a little. Do just a little! Take that first step.
3. commit:
Taking that first step, moving outside of your comfort zone is the scariest part. Many people never get past thinking about something. They think and think, but they never DO.
Move the idea from your journal, your thoughts, your facebook posts into actual action. Don't over-commit yourself. Just pick something really small and go with it
Take one of the ideas you're passionate about and find three ways you can get involved. Try and pick an action you can personally take and one that is a little bit bigger outside of yourself.
4. mentor:
Over time once you've gotten the hang of things it's important to give back and share your knowledge with someone else.
I have had a few wonderful mentors of the year, and I always try to help people in the same way.
Mentoring isn't about creating someone in your image and making someone like you. It's about asking the right questions and giving people the opportunity to become the best versions of themselves.
5. keep pursuing:
Your passions might change and that's OK. I have never been one who could commit to doing something full speed ahead for the rest of my life. I like to jump into areas at 200% for a few years and then I've got to make a change.
I'm always evolving and growing and trying new things. Don't be afraid to start something new keep pursuing your goals. Keep trying to find new ways to evolve and push your boundaries.
---
If you're unsure of how to live a legacy driven life, I wanted to include a few journal prompts. I would love for you to take some time to reflect and think about them.
What are you passionate about?
If you could solve any problem in the world what would solve and why?
What is something you can do to help someone else?
What would you tell your younger self?
What knowledge and experience would you like to pass on to someone else?
What's something you've always dreamed of doing, but haven't?
I also want to thank MINI. for sponsoring this post. I am so happy to be working with them and sharing what charges me with passion!
A legacy I'd like to leave behind is a cleaner and healthier world. I know that I can't do that by myself, but I'm plugged into a community of people working towards the same goal.
I'm trying to share my knowledge so others can participate, and I'm excited that companies are listening.
I can't wait for the all-electric MINI. to be released next year! I love that there's going to be an electric version of something as iconic as the MINI.