Zero Waste Dog
March 4, 2016 | Kathryn Kellogg
Last Updated on September 3, 2020
I love my pup more than anything. But, going zero waste with a dog has been challenging. I would like for you to meet my fluff ball, Nala.
We rescued her at one, and she has severe separation anxiety so we do almost everything as a family.
She comes to work, out to eat, and even to the movies! We like to go to the drive in theatre where she's queen of the backseat.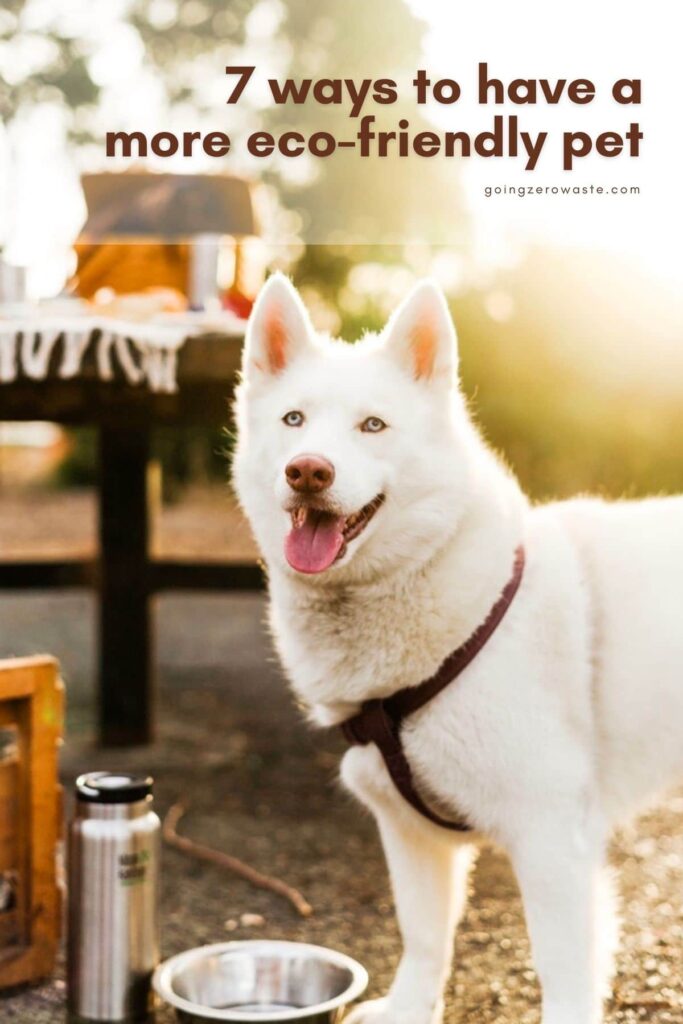 zero waste dog food:
Buying dog food is one of the biggest zero waste challenges. Dogs love food. Well, most dogs.
Nala isn't very food motivated, except when it comes to, ya know – our food.
When we rescued Nala, she was severely under weight and would refuse to eat so we like to mix a couple of tablespoons of something special in her kibble to entice her.
We like to add a few tablespoons of wet food which we buy in cans, drizzle some homemade stock, or mix in a little freeze dried food in and she loves it!
buy your dog food in bulk:
The only place that sells dog food in bulk, near me, is Rainbow Grocery in SF. I have heard that it's excellent quality, but it's not convenient for me.
I'm hardly ever in the area, and the train or ferry ride would make it a 2 to 4 hour trip.
And, I'm pretty sure we can all agree that Rainbow probably pours a 65lb bag into the dispenser and I could just buy that bag from a local pet boutique.
make your dog food:
I researched making my own dog food extensively when I first went zero waste, and the vitamins and minerals a dog needs is very different from humans.
A study I read asked 100 vets to come up with a meal plan to meet all of a dogs nutritional needs and only SEVEN had complete nutrition. SEVEN!
I came to the conclusion that I didn't feel qualified or comfortable making dog food, and would rather leave it up to an expert.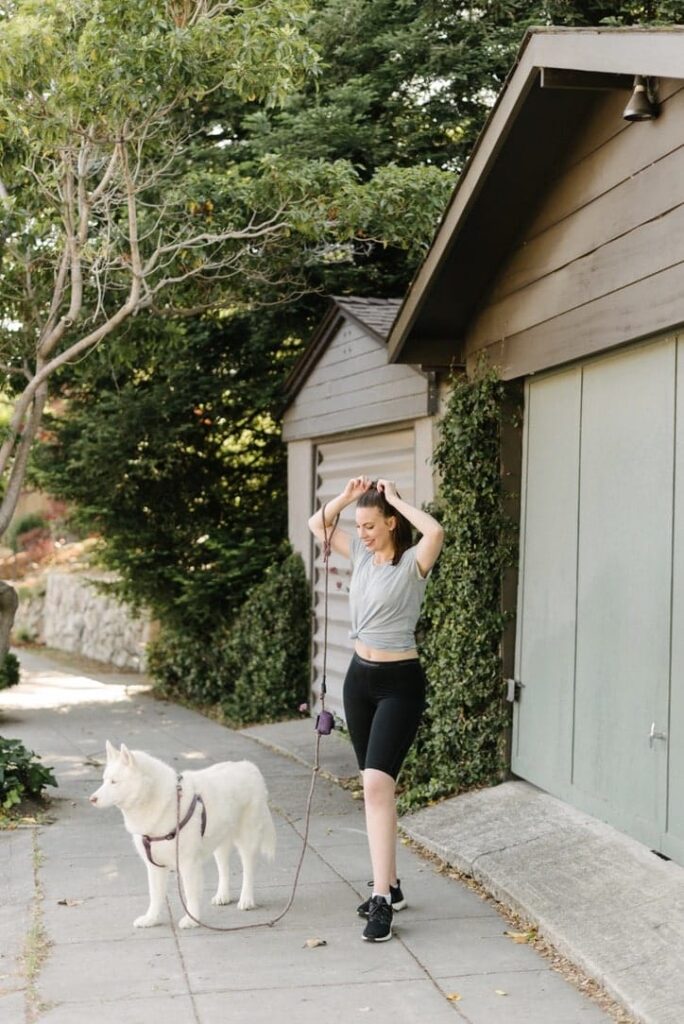 buy it in a package:
My number one goal as a pet owner is to make sure my dog is healthy and safe.
I want to make sure my dog is eating high-quality food and that all of her daily nutritional values are being met.
The two sustainable brands I like are Nature's Logic and Open Farm.
I won't buy kibble with beef as the main protein because of it's high carbon-footprint. Instead, I like to opt for animals with a smaller carbon footprint like chicken.
I am not comfortable feeding my dog a vegan diet, and I think if having a vegan pet is really important to you, you should get an herbivore like a rabbit or a guinnea pig.
sustainability & nature's logic:
Nature's logic has a Clean Food, Clean Energy program, where they buy 1 kWh of renewable energy for every pound of food sold to help power the future.
Their headquarters and manufacturing plant are powered by 100% renewable energy.
All of Nature's Logic Distinction(TM) bags are Certified Plastic Neutral – the very first brand in the industry to achieve this status.
Their seafood is certified by the Marine Stewardship Council.
sustainability & open farm:
Open Farm sources their ingredients from certified humane farms that are run with strict animal welfare standards and free of antibiotics.
Their wild-caught fish is sourced in accordance to the most up-to-date sustainability standards by Ocean Wise.
They created the first nationwide bag recycling program by partnering with Terracycle.
They just launched freeze dried food in reusable tins through Loop.
zero waste dog treats:
Treats have been one of the easiest swaps for Nala. There are so many different options you can buy or make, and since Nala isn't very food motivated she also appreciates a good belly rub.
treats in your fridge:
Everyone in our house loves a good carrot stick, Nala included. Dogs can eat quite a few raw fruits and vegetables that you might already have on hand.
Try chopping a few of these into small bite sized pieces and keep them in the fridge for a special occasion!
carrots
broccoli
blueberries
banana
apple – avoid giving them the core or apple seeds
ice cubes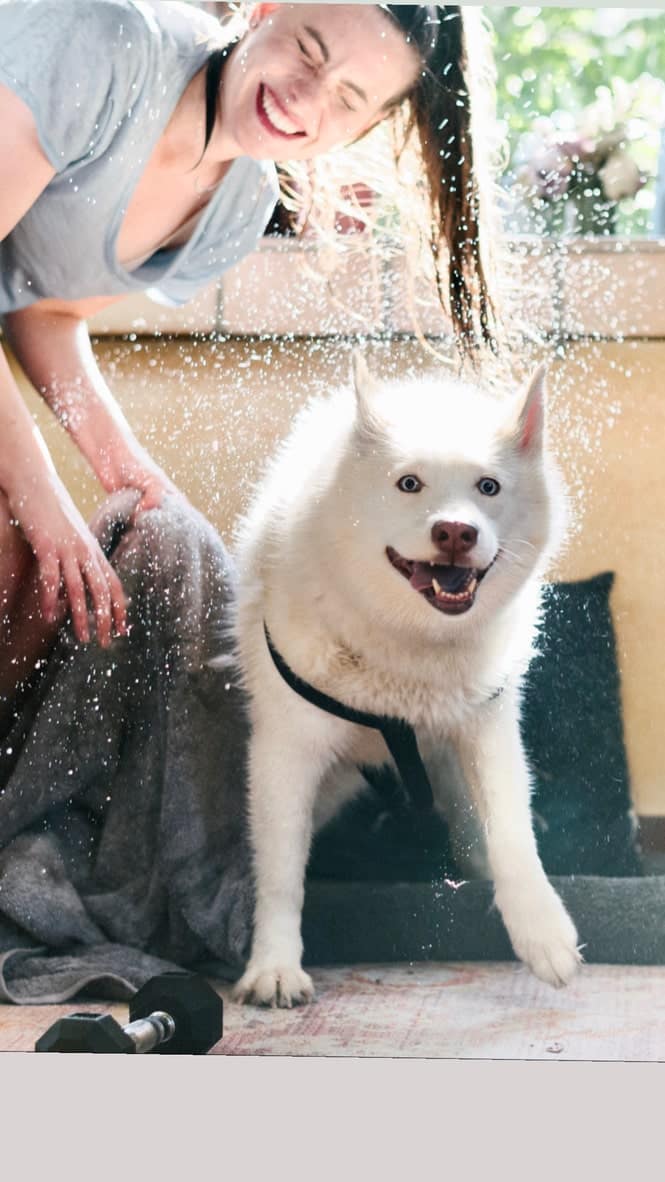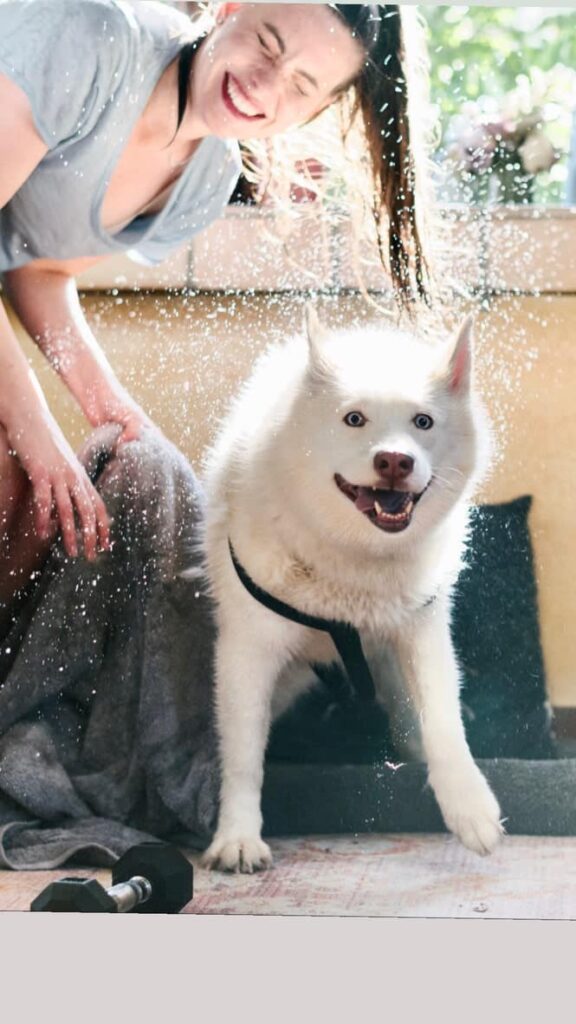 where to buy dog treats:
Most pet shops have a treat bar where you can buy all sorts of cookies and snacks in your own cloth bag. I would look for a local pet store, but most PetCo's have a treat bar too.
Nala really likes the treats from Open Farm and Nature's Logic, but we're also a big fan of the local pet boutique's treat bar which is HUGE and fully stocked with all of Nala's favorite Peanut Butter Cookies.
make your own dog treats:
It's really simple to make dog treats, but most spoil pretty quickly unless you're dehydrating them.
While I like to make Nala treats for her birthday, I normally stick to the other options.
zero waste pet toys:
This will be really specific to your dog. I know Nala will destroy a stuffed animal in 3 seconds flat so I don't buy them.
If your dog likes stuffed animals, they're making some really cute ones from compostable fabric like hemp!
My mom, bought Nala a hemp squirrel which she surprisingly hasn't destroyed yet.
Nala is a chewer, so we try to stick to tough-toys like femur bones and antlers. I've found both of these with minimal packaging at the pet store.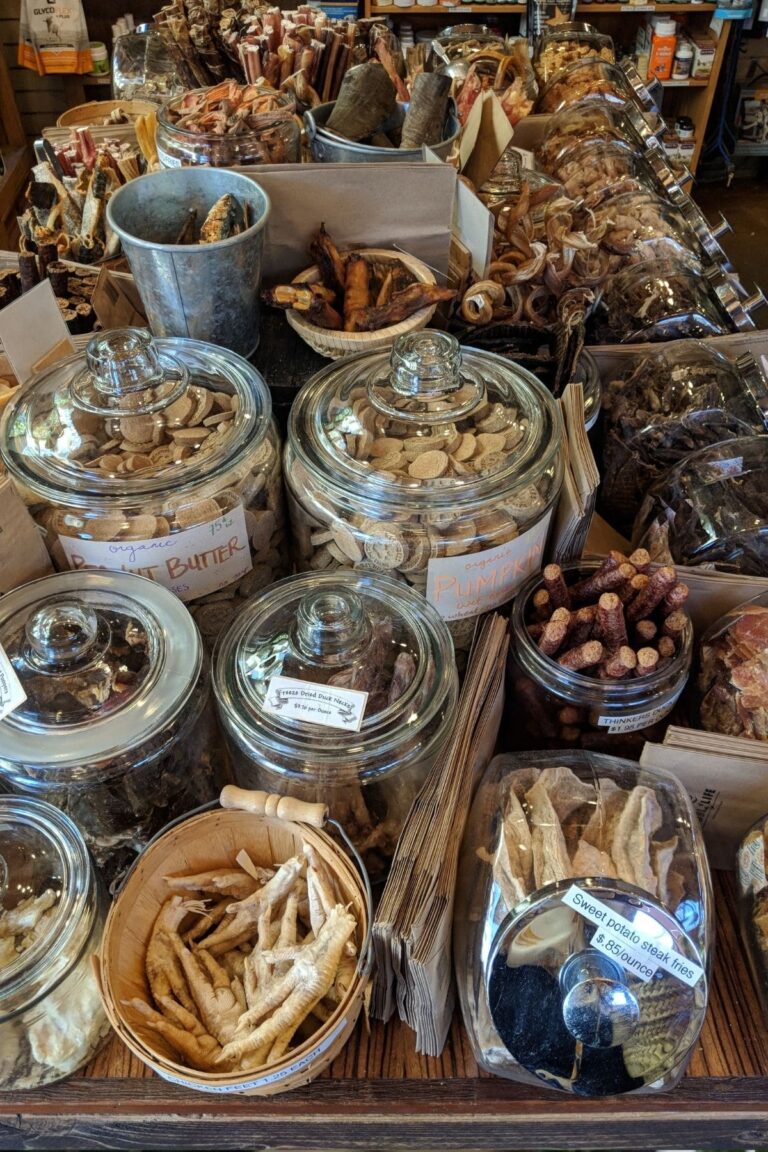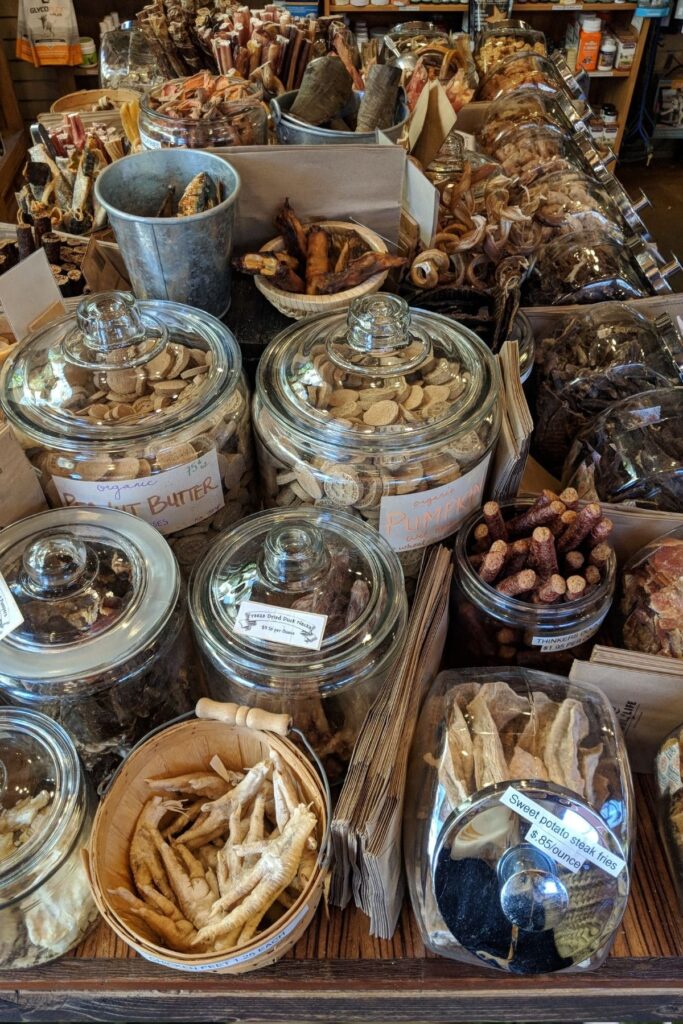 zero waste pet essentials:
Leash, Harness, Collar, Bowls, Kennel, Beds – My biggest piece of advice is buy to last.
We bought Nala's harness, collar, and leash when we first got her, and I don't plan on buying another one for the next several years.
If one falls apart, we will look for one made out of a compostable material. We have 5 bowls in total.
One stainless set for home and work (100% recyclable!!) and one ceramic water bowl for the bedroom at night.
Her kennel is made of solid steel and will outlast all of us. It should repair easily if anything does happen, and we'll pass it along to another dog when we don't have a need for it.
Her bed is supposed to be chew proof and dig proof. So, far it's lived up to its claims.  I'm really hoping it's with us for the next decade.
Let me know if you're looking for a post to round up-sustainable pet brands in all of these categories.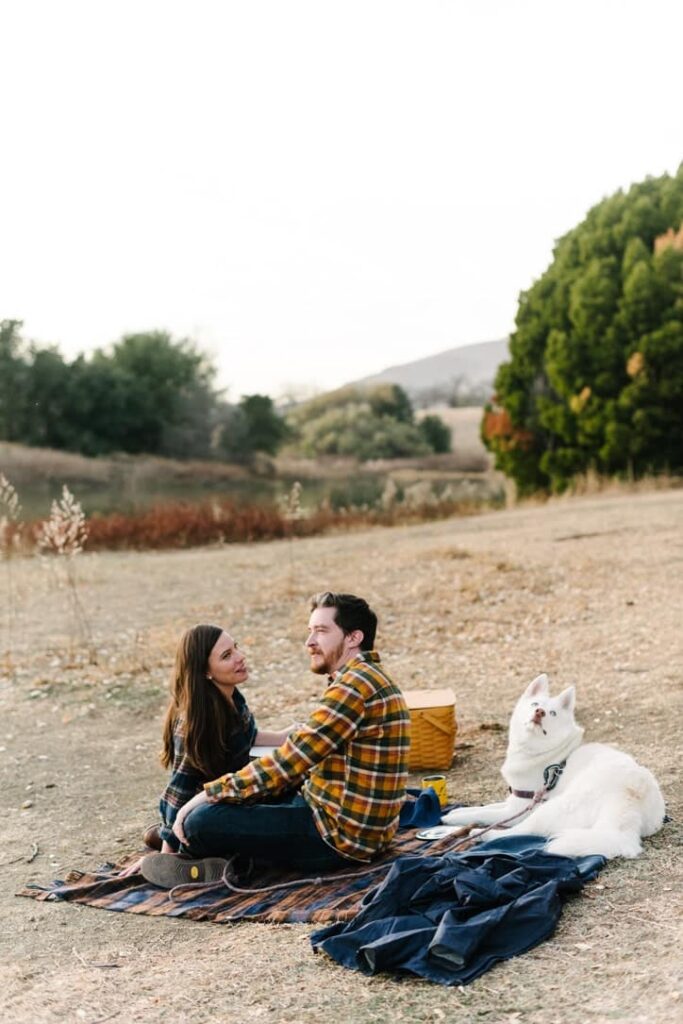 how to deal with dog poop in a zero waste way:
You cannot leave dog poop on the sidewalk so please pick up after your dog!
Unfortunately, there's no perfect solution to this problem. We typically let her go in the backyard and then shovel it into a hole in the ground for it to naturally compost.
But, if she ever poops while we're out and about, we always have a bag. Here's are a few options.
Cornstarch: They say they're made from a cornstarch polymer. I don't know if they're mixed plastic.
It claims to biodegrade. I've buried one to see what actually happens. (I'll let you know in about a year!)
Flushpuppies: Made of a polyvinyl alcohol that's supposed to be certified compostable and dissolve in water.
Anything left will be filtered out by the water plant like toilet paper.
I called the water plant to see if this was true and to get their opinion. They didn't know. However, you cannot use these with anything too wet or when it's raining because the bag can start to dissolve
Toilet Paper: I've heard some people take toilet paper on their walk and then flush it at home. Which wouldn't be practical for me, but might work for you.
As a note: I want to say dog poop can be flushed, but you shouldn't flush cat poop because our water filtration system is not capable of filtering cat feces.
How do you keep your dog zero waste? How do you deal with poop?