Easy Vegan Waffles
December 22, 2015 | Kathryn Kellogg
Last Updated on April 3, 2020
Who doesn't love waffles? It's been difficult living sans Waffle House in California. Where else can you get waffles at 2 am?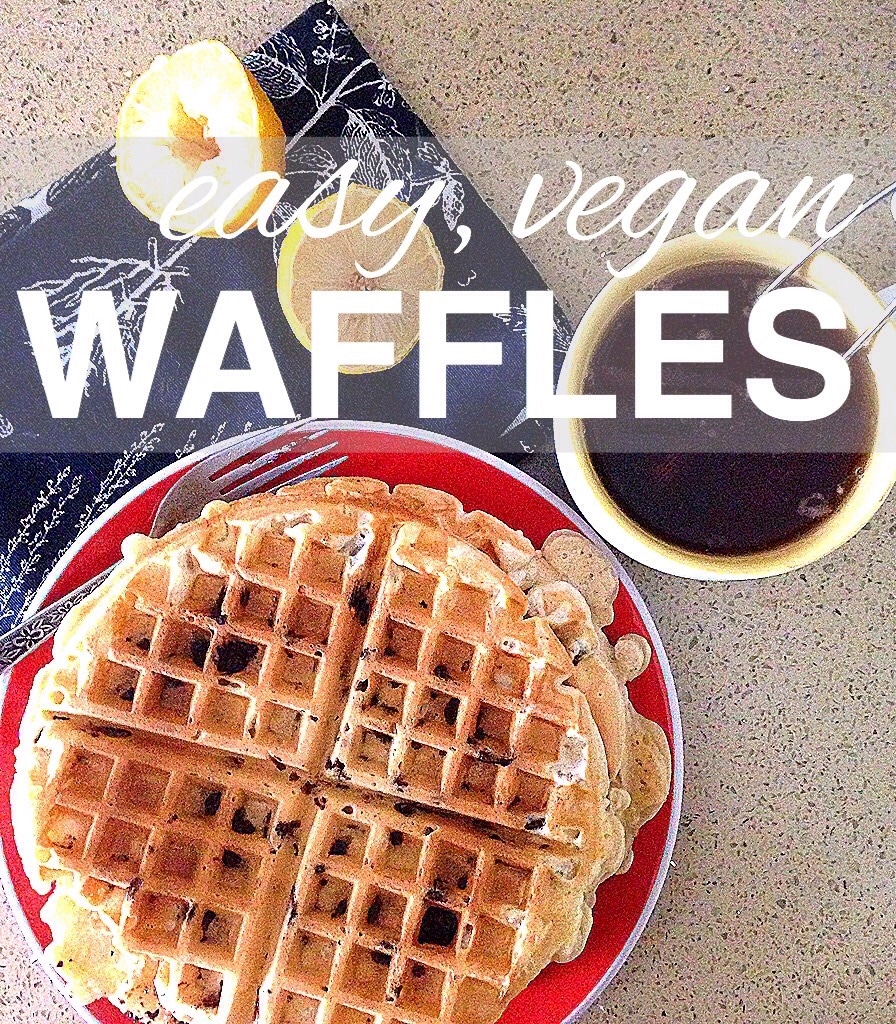 Chocolate Chip Waffles
Recently, I've been eating pancakes, waffle's flat cousin. Partly due to living with the Patron Saint of Pancakes, Rachel, my roommate in college. Her pancakes were majestic. Super thick, fluffy and filled with delicious chocolate chips made on a portable griddle in the dorm. Joyous occasions, tearful occasions, I don't have time to go to the caf occasions – pancakes were there. She had a simple recipe of bisquick, water, and chocolate chips. Simple but effective.
I tried to recreate this, but I never quite had Rachel's finesse.
Regular Waffles
After we moved into the house earlier this year, and after many requests from Justin, It was time to get a waffle maker. (second hand – of course!) I try to keep my kitchen and appliances very minimal. (I'm down to 4 now!) But, I have to say the waffle maker has become essential. I don't know if I could live without it.
This recipe is so ridiculously easy; it's perfect for a weekend morning feast. You can easily make it non-vegan by adding real butter. (You cannot use a liquid oil. They will separate.)
Easy, Zero Waste, Vegan Waffles
10 Minutes Prep; Hot Waffle Iron; 8 Waffles
2 & 1/4 Cups of Flour
1 Tablespoon of Baking Powder
1 Teaspoon of Salt
3 Tablespoons of Sugar (optional)
1/4 Cup (1/2 stick) Vegan Butter
1 & 2/3 Cups of Water
Combine the flour, baking powder, salt and sugar together. Cut the butter into the flour mixture until it resembles coarse cornmeal. Add in the water and pour into a piping hot waffle iron. I've added in a 3/4 cup of chocolate chips and it's delicious!
These freeze really well. I throw these in my bread bag in the freezer. I pop them in the toaster oven at work for 5 minutes, and they're perfect!
PRO TIP: Heat your oven to 200 degrees. Place waffles on a cookie sheet inside the oven as you make them to keep them warm.
Pancakes or waffles? What's your favorite weekend breakfast?