Upcycled: Wine Cork Garland
December 15, 2015 | Kathryn Kellogg
Last Updated on November 18, 2022
Upcycling is great. It diverts something from the waste stream and turns it into a new, useful object. I, however, find a lot of D.I.Y. upcycling projects to be kinda tacky.
They take an extra crafty soul that isn't, as much as I'd like for it to be, in me.
I don't have the patience, but if you do, and you can turn trash to treasure – I applaud you! I think upcycling is really, really important.
There's a lot of use left in the things we throw away. I'm in awe of people that can turn that into something new and amazing.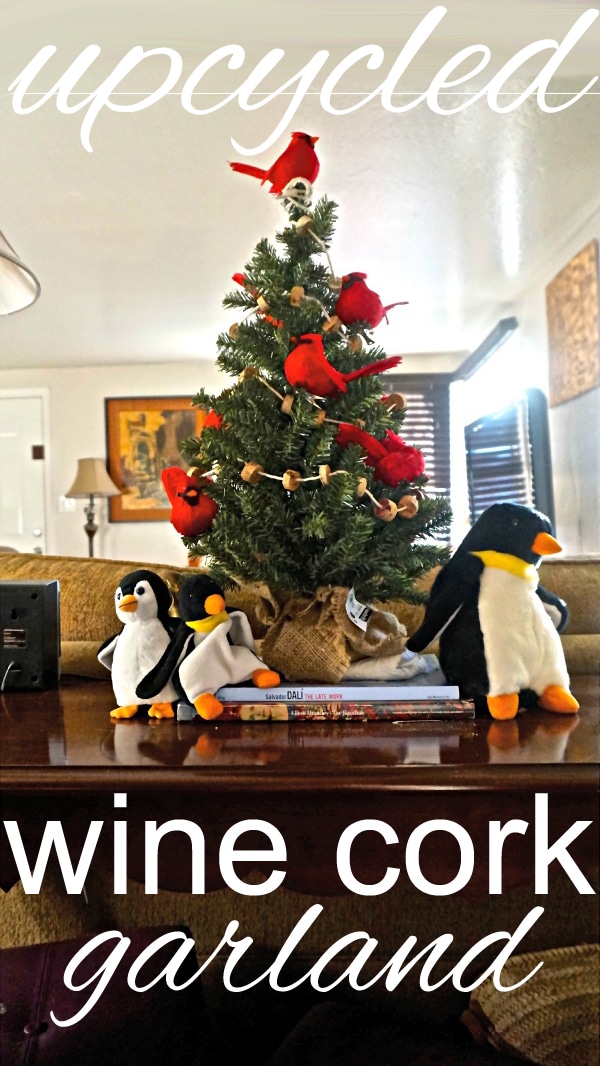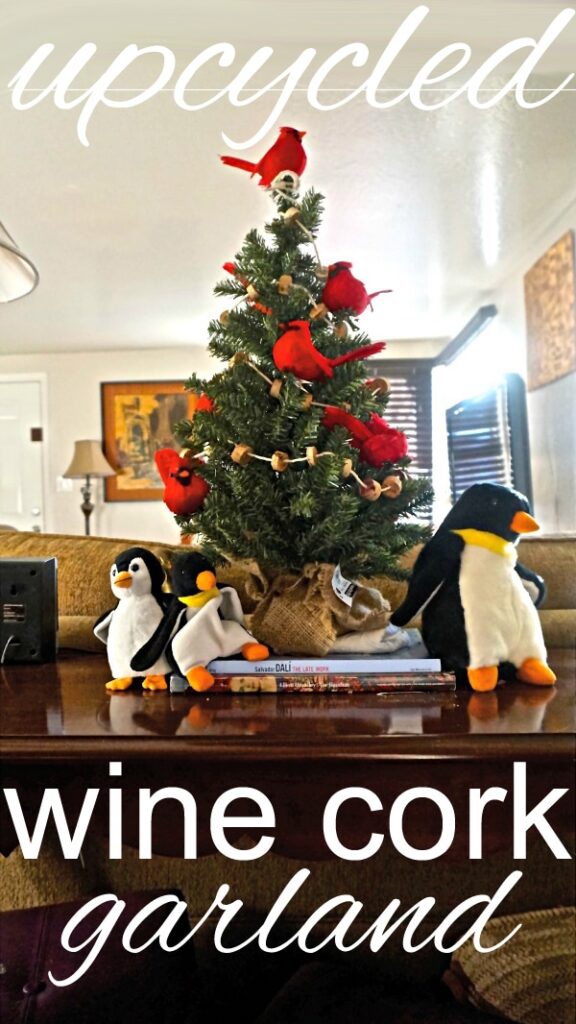 But, this is one project I've been wanting to make since college. I had been saving wine corks for years to make garland for my Christmas tree.
I had almost 400 with the help of friends, relatives, and a really cool restaurant. Unfortunately I lost a lot of stuff in a house fire in 2013, the corks being part of it. So, I had to start my collection again.
Recently, I've had both mom (Arkansas) and dad (Georgia) visit my little family in NoCal. We live about twenty minutes away from Napa; so, wine tasting is a no brainer. I collected several from our trips and now I get to commemorate them on my tree!
Last post we talked about not having a tree, which my mother read – and she got *very* upset. I happened to be at the thrift store and found this little beauty for $3.00! How could I say no? I immediately knew exactly how I was going to make her garland.
I pulled down my wine cork collection. At first I tried to string the entire cork, but my needles weren't strong enough.
You could probably use a drill bit to core them, but I really think full corks might have overwhelmed the small tree. (And, go back to that patience thing in paragraph 1)
Step 1. Gather up your corks.
Step 2. Cut into five pieces with a sharp serrated knife.
Step 3. Use scissors to core the middle. Do one side, then flip and do the other.
Step 4. String with a large needle and twine.
Step 5. Decorate your tree!
You can add beads in between, but I didn't have any. If you core the corks large enough, you could even do this without a needle. Just be careful coring – brittle corks are likely to break and could send scissors through your palm… not that I know from experience….
But, the absolute best thing about this project – if I get tired of it, it's fully compostable! No waste at all. The twine is 100% organic cotton and wine corks are made from the bark of cork trees.
This is my first upcycling project, and I'm so excited! Do you have any upcycling projects you're proud of or know any cool upcyclers?
If you're looking for eco friendly or zero waste gifts this holiday season, reference my holiday gift guide!