Zero Waste Eco Friendly School Supplies
August 11, 2017 | Kathryn Kellogg
Last Updated on August 11, 2022
Choose the best eco friendly school supplies this year and start doing your part to go zero waste. There are many eco friendly school essentials out there, you just need to know where to look and what to look for.
Buying eco friendly notebooks, zero waste pens, eco friendly markers, and eco friendly pencils are a great place to start shopping zero waste. We will discuss places to shop for zero waste school supplies as well as what should be shopping for!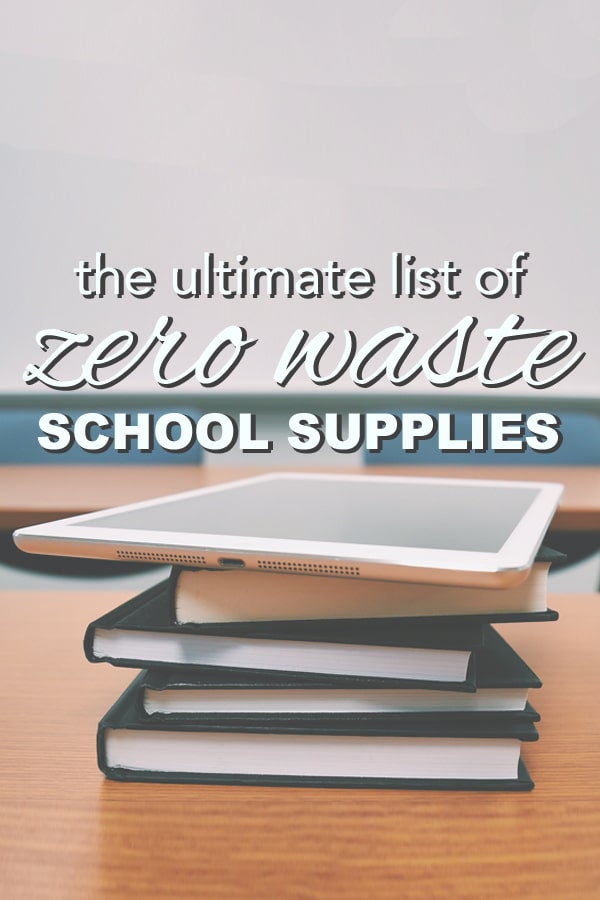 sustainable school supplies
School supplies are everywhere right now. There are rows of overly packaged plastic pens, pencils, and folders.
You can't deviate too much from the provided school supply list in elementary, but things open up a little in middle school, high school, and especially college.
I read several school supply lists to figure out the most commonly asked for school supplies. Most lists used the 5 tabs/binder method. I hated the binder method.
So, I ditched the binder in high school for a folder and notebook system. I was so happy to be rid of the binder and hole punching.
A little secret about me…I'm left handed. As you can imagine, buying left handed school supplies can be a pain! They don't always readily have what I need available.
RELATED: 10 Tips for Going Zero Waste in College
a note about zero waste school essentials
I'm going to start this post by saying I'm not a teacher. If you're wondering why you should buy something, just ask.
If they ask for glue sticks, buy glue sticks. If they ask for notecards, buy notecards. There will be some disposable items you can't avoid. And, that's OK.
I'm just offering suggestions for school supplies that should last a very long time and disposable items that have a better end life than the landfill. 
So, don't get stressed if everything on your kiddo's school supply list isn't sustainable school supplies. Just try to fit in some green office supplies as you can. It's easier to incorporate these changes as the kids get older, so don't get discouraged.
Top 5 Tips for Buying Zero Waste School Supplies.
where to shop for eco friendly school supplies
Your own home!
The first thing you should do is to shop for school essentials at your own house first! How many pens do you have lying around? Do you have any leftover supplies from last year? I remember always having leftover school supplies. (I also remember hardly using a lot of stuff on these lists – mini-stapler anyone?)
A Bookstore
You might be surprised if you pop into your local book store. They typically have specialty items like eco friendly notebooks. They often sell them loose. It's where I bought some really high quality notebooks made from 100% recycled paper in the past. It's also a place you can find things like loose pens or pencil highlighters. 
Stationary Store
Sometimes a stationary store can be a gold mine for green office supplies! This place has lots of paper. They typically have loose items like markers, pencils, and pens. It's a little bit pricier than other options, but it doesn't hurt to go check it out. You may be surprised by the eco friendly office supplies you come across.
Printing Department
If you're in college, go check out your printing department. They may have some great sales on school essentials that you wouldn't think of.
Ours sold blank sheet music, a requirement for music theory unpackaged for $5. They also sold notebooks of scrap paper. 
Lastly
If you can't find green office supplies at any of the other options, then head to a big box store or shop online. You can read all about zero waste online shopping here. 

eco friendly school supplies:
I've compiled a list of common middle school and high school school supply lists. I'm doing my best to find more sustainable school supplies. 
sustainable backpacks
This is a school supply that can be used year after year. I still have my backpack from the 8th grade. It was a very well made Ralph Lauren backpack. I just took it on my camping trip and it's been with me on every flight as my carry-on.
If you're looking for eco friendly backpacks, messenger bags, or laptop bags, lean towards something that has a lifetime guarantee like Kippling* or Jansport*.  
These are great items to find second hand often times they'll still honor the warranty.
sustainable lunch bags & sustainable lunch boxes
This is another item you should only have to buy once or twice during the years of K-12. In college, you don't really need a lunch box. Although, hindsight, having a little metal container to keep in my bag would have been a great idea. I could have snuck out a lot of cookies.  
RELATED: How to Pack a Zero Waste Lunch + 10 Lunch Ideas
There are tons of stainless steel lunch boxes on the market these days. Stainless steel is a great option because it's light, you don't have to worry about it breaking, and it will last forever. And, after forever has come and g,one it's 100% recyclable. 
I have this eco lunch box*. I like it because it's small and super easy to transport.
It doesn't hold a ton of food. It fits a sandwich and a side salad easily.
I also have this metal tiffin from Clean Planetware*. I bought this for Justin. It has four tiers and easily fits snacks, breakfast, and lunch. It has a convenient little handle, so you can just grab it and go.   
This lunch box looks awesome for kids. It's called a Planetbox*.
You can change the magnets out so you can have a new design each year. I remember being in elementary school, and getting to choose the design of my lunch box each year was a real treat. Also, how good does that lunch look?? 
eco friendly pencils
Pencils typically come in cardboard. You can recycle it or throw it in the compost.
eraser
These Paper Mate Erasers* look like a pretty good option. I personally like zero waste pens more than pencils. The erasers on top of pencils never seem to work very well, making a separate eraser a necessity. 
Plus, with a box this big, you should be set on erasers for the rest of your life. These come loose inside of a cardboard box. No plastic – yay! 
pencil sharpener
I'm so confused… Do schools not have pencil sharpeners in the classrooms anymore?
Those little ones you keep in your book bag hardly work anyway. I'd just get an electronic pencil sharpener to keep at your desk at home and sharpen your pencils before you go to school.
zero waste pens
Colored pens were never a requirement when I was in school. But times have changed…a lot!
I was very partial to the Dr. Grip pens. My mom would buy me one at the start of each year. You could buy refills, but they come with plastic on them. Buying refills is better than buying new pens.
I recently got a refillable fountain pen*. I was very skeptical being left handed, but the fountain pen forces you to hold the pen differently. You don't run your hand through the ink.
I honestly wish I had a fountain pen sooner. They are great for lefties! The ink* comes in a glass bottle. Once I'm out of ink, I can recycle the glass bottle.
eco friendly highlighters
They make pencil highlighters* now. These are awesome. You don't have to worry about them drying out and they last years!
When you're done with them you can compost the stubs. You can compost the paper they come in too.
markers
I don't know of many zero waste marker options. But, Crayola offers a marker recycling program. If your school doesn't participate, you can sign up here.
It's very simple. You just put all of the dried up markers in a box. Crayola will pay for the shipping. They'll separate the markers, melt them down, and use the recycled product to make new markers.
colored pencils
You can buy colored pencils in cardboard boxes*, tubes*, or tins*.
12 inch ruler
Opt for one that's stainless steel, it should last forever.
tape
I don't remember ever having to bring tape to school. Maybe for elementary projects? The good news is the refills* come in cardboard.
scissors

These are some quality scissors.* They're made of 100% stainless steel, so they're 100% recyclable. But, they should never need to get to that point.
They can be sharpened and kept forever which makes them one of the best green office supplies out there if you ask me!
They're about $8 more than their plastic friends, but I think these are worth it. They provide a much better cut and have greater longevity.
USB flash drive
I don't know how many households don't have hundreds of these lying around. They can be used pretty infinitely if you're diligent in loading and unloading them.
TI calculator
I would check eBay for this item. That's where I got my TI calculator. Then after you've gotten through college algebra – sell it. you will never use it again.
ruled index cards
Some people love note cards; it's how they learn best. They're not my favorite. I like to write a question and answer on a piece of lined paper. Then I use another piece of paper to hide the answer. It's a similar effect. I've only seen note cards wrapped in plastic.
folders
They make some really awesome recycled folders* now.
Also, these are a huge bargain! 25 folders that come in a box for $14. These should last for a couple of years. 
You can throw these in the compost when you're done or recycle them. I'm a fan of just the craft color, but they come in several different colors if you're interested.
one subject spiral notebooks or composition notebook
This is one of my favorite sustainable school supplies and something you'll need to buy every year. I love these eco friendly notebooks. I would use one notebook for two classes. I'd start the first class on the opening page and start the second class upside down on the last page. 
I like this moleskin journal. It's called a cashiers journal*, and it's fairly inexpensive.  A set of three is only $10. I'd buy two, which would last me at least the whole semester. It has a pocket where you can store loose paper. The cover is made from paper, and the spine is sewn with what appears to be twine or cotton, making the entire book compostable.
People are also saying that the ink doesn't bleed through the pages. Which is essential when you're writing on both sides. Save those trees! 
This book is a little bit on the pricier side. But it's so much fun! I had to include it. It's a riff on the traditional composition notebook. It's called a DeComposition notebook*.
Who knew you could find super cute eco friendly school supplies? The whole thing has darling little doodles. It's printed with soy inks and made with 100% post consumer waste. After you're finished with the book, it's completely recyclable. 
This is definitely the most economical of the three. It's a set of five Mead journals*. I've never been a fan of spiral notebooks… probably the left handed thing. I'm not sure if the spine is recyclable or not. I was trying to research what it was made of, but I couldn't find any answers.
The paper is thick, so you can definitely write on both sides, and it's recycled and made from 30% post consumer waste. You can compost or recycle the pages when you're done with the book. Just hold onto that spine… 
college ruled loose leaf 3 hole paper
I don't know if there's really a way around buying paper without the plastic wrap?
3 ring binder or zipper binder & tabbed dividers
You can find three ring binders* in different sizes made from recyclable cardboard. Some even come with the tabbed dividers*. What's cool is the rings are detachable. So you can cut out your own piece of cardboard for the next year.
3 ring binder hole punch
I remember these things never lasted very long. But, I couldn't find any alternative to the classic plastic hole punch*. I guess just hope for the best and pray that it lasts long enough to use for a couple of years! 
stapler
Ok, but once again, why do we need a tiny stapler? The only time I can think of stapling a page is to turn in a paper. Couldn't you have stapled it before you went to class? 
If you had to have something portable, I would get one of these cute staple-less staplers.* It makes it easy to recycle or compost your papers.
book covers
And, last but not least – book covers! I remember my favorite book covers from middle school. I had a neon purple one and cool green and blue marbled one that resembled the nervous system. 
They still make these book covers called book socks! You can use them year after year. I hate that they come individually wrapped in plastic, but I couldn't find many other options.
A couple of readers have suggested wrapping your books in brown paper. If your school will let you wrap it in paper, that's a great option!  
---
This concludes my ultimate list for back to school eco friendly school supplies! Leave me a comment with what's on your list that I missed and how you're handling it? Or maybe you have a better solution for something! 
This post contains affiliate linking. It's denoted with an asterisk. This means if you choose to purchase one of these items I will make a slight commission for referring you. You can read more on my disclosure page.