Homemade Mouthwash (Zero Waste)
March 22, 2016 | Kathryn Kellogg
Last Updated on February 9, 2022
Homemade natural mouthwash is easy, minimalistic, and is made with ingredients that are healthy for your teeth and gums.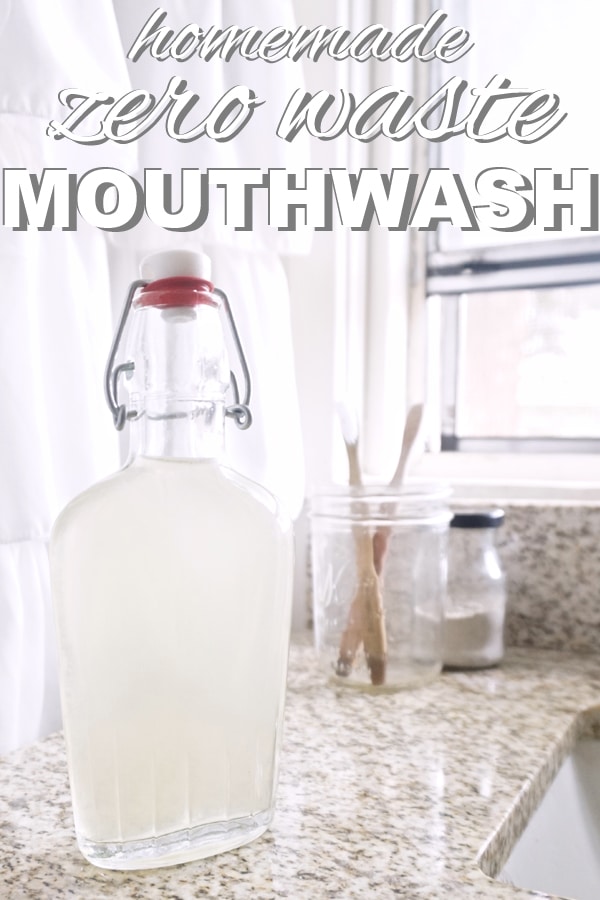 Xylitol mouthwash is gentle and much more eco-friendly than anything you can buy at the store. Made with natural ingredients, DIY mouthwash leaves your teeth looking and feeling clean. Keep reading to learn the purpose of mouthwash as well as how to use it.
I'm a minimalist when it comes to bathroom products.
I like things that have multiple functions. I gave up mouthwash a long time ago to simplify my morning routine.
After switching to homemade toothpaste, I really wanted something that would give me the bright, fresh breath I'm used to.
My teeth feel so clean after using my toothpowder, but my mouth isn't exactly minty fresh.
I'm still perfecting my toothpowder, but it's dentist approved – which makes me really happy!
Back to mouthwash – I think we can all agree the neon blue stuff isn't natural. I was on a mission to make DIY mouthwash that left my breath fresh, mouth healthy and still fit my zero waste lifestyle.
Well, I have perfected it and now I am ready to share this natural mouthwash with you!
the purpose of mouthwash
Besides making your mouth feel clean, it's effective at improving your smile and overall oral health. Rinsing your mouth will help reduce the amount of plaque you have, kills germs, and gives you a fresh feeling.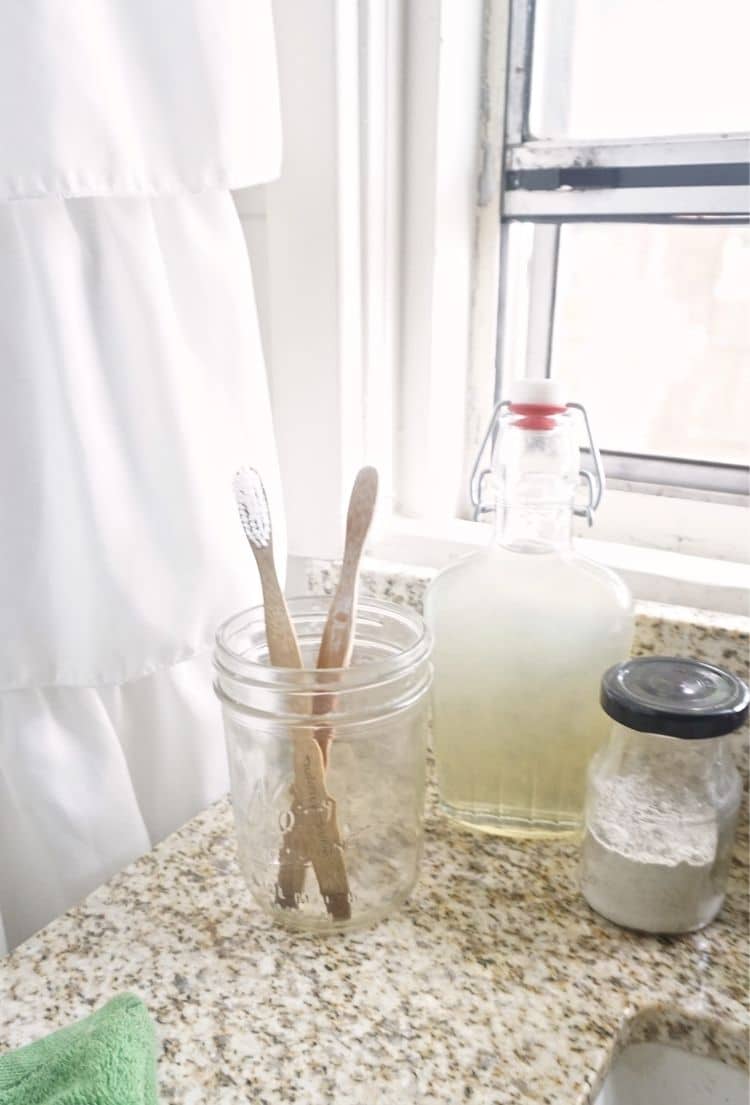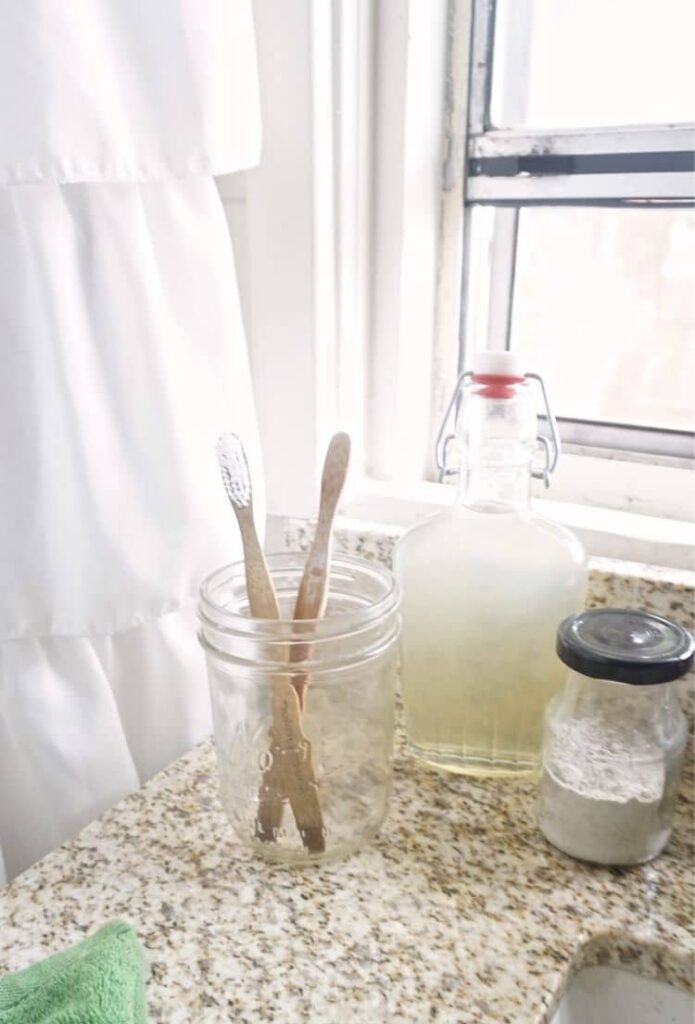 Aloe Vera
This was inspired during my research in making aloe vera gel.
Aloe vera is fabulous for dental health. In fact, there are a lot of aloe vera mouthwashes on the shelf at the health food stores.
You can read more about the research here.
Rainbow grocery has aloe vera juice in bulk, but you can also easily whip this up yourself!
I just went outside and snipped three medium sized aloe leaves. The difference will be the shelf life.
The homemade aloe vera juice will last a couple of weeks in the fridge. The store bought aloe vera will last several months in the fridge.
Here's even more reading on aloe and dental health.
Xylitol
Xylitol is very popular in dental care.
I first learned about it when my Grandmother was in town for Christmas. Not only a wellness guru, but was around when toothpowder was the norm… you know before toothpaste existed.
"Xylitol is a natural sweetener derived from the fibrous parts of plants. It does not break down like sugar and can help keep a neutral pH level in the mouth Xylitol also prevents bacteria from sticking to the teeth. This is how it protects the teeth from tooth decay."
I bought my xylitol in bulk from Berkeley Bowl.
You may need to look in the beauty section. It wasn't in the regular bulk food section, but you should be able to find it any health food store. I also use it in my toothpowder recipe.
Baking Soda
We've talked about baking soda a lot on this blog. It's great for dental health too. "In particular, baking soda can help you to maintain good oral health. An imbalance of acid in the body can lead to a range of health problems, particularly in the mouth. Baking soda works by balancing the levels of acid in the body."
You should be able to buy baking soda from any bulk section or loose in a card board box.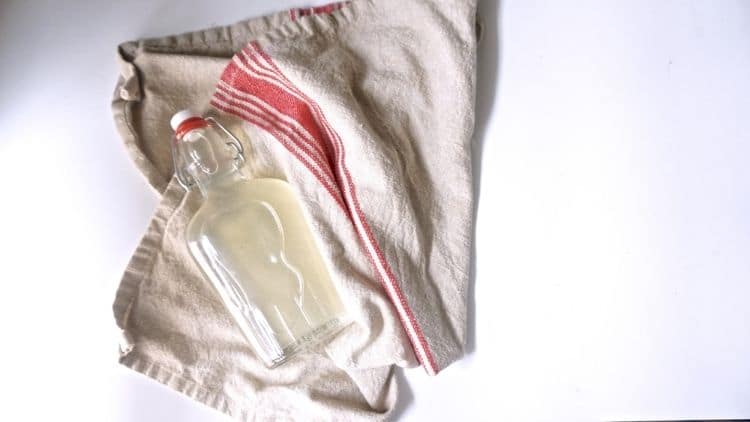 how to make homemade mouthwash
Makes 1 Cup, 10 Minutes
1/4 Cup of Aloe Vera Juice or 3 Medium Leaves (from backyard plant)
1 Cup of Distilled Water
2 Teaspoons of Xylitol (bought in bulk from Berkeley Bowl beauty counter)
2 Teaspoons of Baking Soda (bought in bulk from Berkeley Bowl)
Place the aloe goop in your blender (tutorial here) with all of the other ingredients.
I blend all of the ingredients on high for about a minute and then strain it through a fine mesh sieve to keep any of the viscous plant matter out of the mouthwash.
how to use mouthwash
step 1: brush & floss
It's important to brush and floss your teeth before using the aloe vera mouthwash, so it can do its job properly. Having a clean mouth allows it to get into all the tiny crevices so it can kill germs and remove plaque build-up.
step 2: rinse
Put around 3-4 teaspoons of the DIY mouthwash into your mouth and swish it around. Swish for at least 30 seconds. Feel free to gargle during this time, then and spit it out when you are finished.
can you add flavor to natural mouthwash?
Yes, you can add 2-3 drops of peppermint extract to your other mouthwash ingredients for a fresh minty taste. And with all mouthwash – don't swallow.
If you aren't a fan of peppermint, you could also add cinnamon, spearmint, or any of your favorite essential oils.
how often should you use mouthwash?
For best results, swish the homemade mouthwash two times a day.
SEE MY DENTAL RESULTS AFTER 6 MONTHS
Video filmed with the lovely Christine of Snapshots of Simplicity.