How to Pack a Zero Waste Lunch
April 12, 2016 | Kathryn Kellogg
Last Updated on April 3, 2020
I pack my lunch almost every day for work. Not only is it economical, it's also a really easy way to prevent waste. I store plates and flatware at work. We have a fridge where I can keep things cold, but I typically don't find it necessary.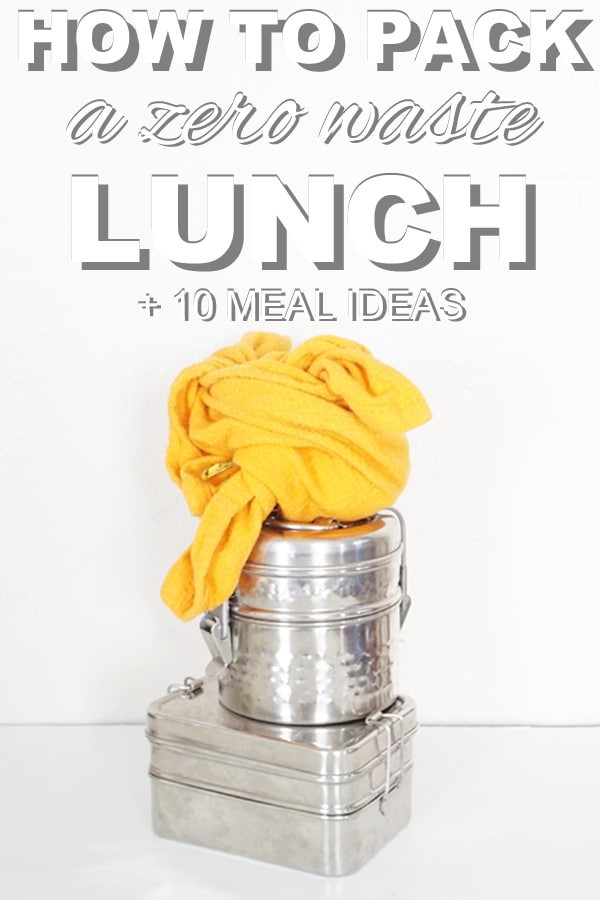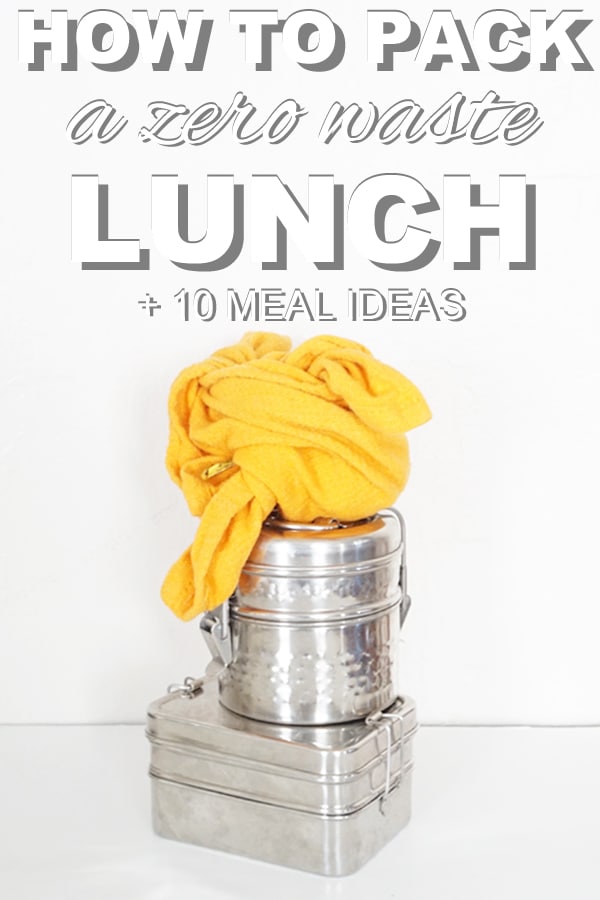 I have a large lunch sack I bring. It houses breakfast, lunch, snacks, and normal things like my wallet and phone. I like to make really simple food with loads of fresh ingredients. In the morning I typically have 10 minutes to make/pack everything for work.
I roughly abide by two salads, two sandwiches, one leftovers. I'm sure at some point in the week we'll have leftovers.
Neither Justin nor I are crazy about eating the same meal multiple days in a row. We try to make portions just right for one meal. If you love leftovers, I'd double dinner and eat it for lunch.
Occasionally, I'll really mix things up with some soup and a side salad. I double soup when I make it and freeze it in 16oz mason jars in the fridge.
If I'm ever in a huge hurry, I can grab one of those out of the freezer. It will be thawed enough to pop in the microwave by lunch. 
the tools: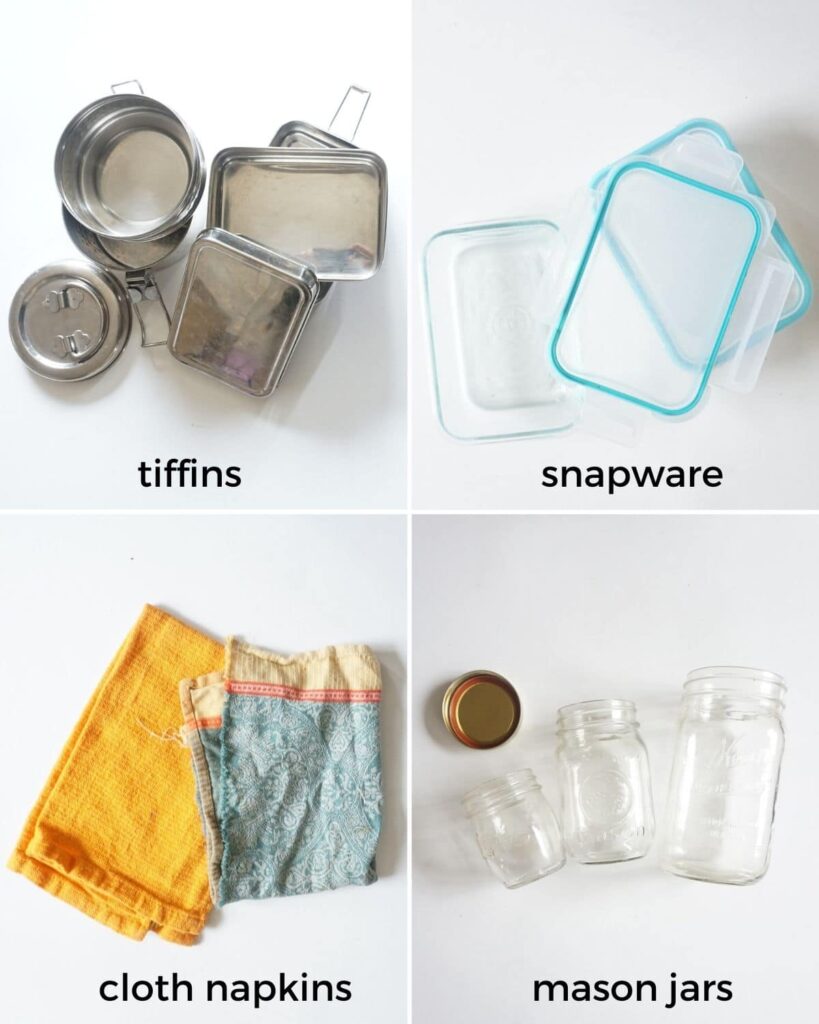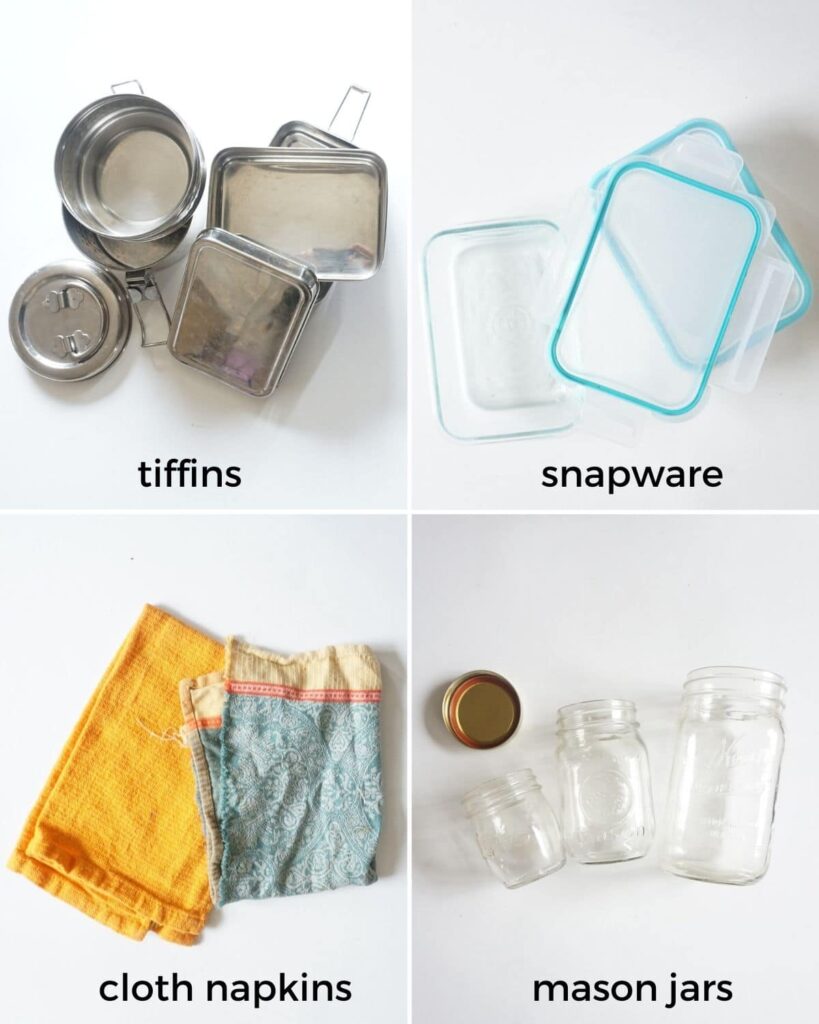 my favorite work meals:
Salads
Taco Salad:  We love to make nachos. I tend to double the toppings and use them in a salad the next day.
It's typically a mix of pinto or black beans, fresh tomato, roasted red peppers, onions, jalepenos, olives, and corn. All of this assumes the ingredients are in season. 
I crumble tortilla chips on top, toss with fresh salsa, and add avocado. Sometimes Justin adds chicken or ground beef to his or we might indulge in a drizzle of cheese dip. 
Caesar Salad: This is as basic as basic comes. I cut a piece of my homemade sourdough loaf into cubes and toast in the toaster for 10 minutes.
I buy the caesar dressing in glass bottles, but I'm interested in making it homemade with lacto-fermented mayo. Justin will add chicken to his. And, occasionally we'll make wraps with it. 
Green Goddess Salad: Cucumbers, red cabbage, carrots, tomatoes with an avocado, cilantro, olive oil, and lime dressing. 
Simple Citrus Salad: Oranges and pumpkin seeds with a citrus vinaigrette. 
How To Carry It: I like to carry the salad and toppings in a 32oz mason jar and the dressing in a smaller 4oz jar. I don't like eating out of the jar.
It's hard to get everything equally dispersed, so I move it to a plate or a bowl. If Justin and I are sharing, I'll put the salad in a large snapware so we can easily eat out of it without dirtying another dish. 
Soup
Tomato Soup: Great for the summer. It's a combination of my tomato sauce recipe and veggie stock.
Roasted Red Pepper Soup: Perfect for fall.
Broccoli and Cheese: My pick for winter.
Butternut squash and beet: Perfect for early spring. I roasted the beets and squash, blended with a little veggie stock, added spices, and the juice of several freshly squeezed lemons.
How To Carry It: I bring side salads in a tiffin or a 16oz mason jar. I also keep the soup in a 16oz mason jar for easy transit. I'll wrap the bread in a cloth napkin or use one of the levels of the tiffin.
Sandwiches
PB&J: This is my favorite sandwich.
Turkey: Justin's favorite sandwich.
We could probably both live off of sandwiches. I get my peanut butter in bulk from whole foods or rainbow.
I've been eating some plum jam that my cousin canned which is AMAZING, but I'm almost out. Thankfully, strawberry season is almost here, so I can make some soon. 
I buy turkey in bulk from the butcher. I get cheese from the goat man at the farmers market.
I had chatted with him about all of his goats before. (I love goats!) His cheese is packaged in plastic, so I hadn't bought any.
One day I worked up the courage to ask him about bringing a mason jar. Come to find out he has some, I just had to ask! Then we load the sandwich up with the usual fixings lettuce and tomato. 
How To Carry It: I typically tie my sandwiches up in a baby bindle with napkins. If it will fit in the tiffin, I'll carry it in there too.
Sides
Seasonal Fruit: Apples, oranges, berries
Pretzels: Bought in bulk
Cheddar Whales: Bought in bulk
Carrots
Dried Fruit: Raisins, mango
Homemade Hummus
We typically pack two sides to go with any lunch meal. I like to keep most of these things on hand; because they double as snacks during the week. Most of them have a pretty long shelf life.
How To Carry It: I typically carry snacks on one of the tiffin tiers or in a mason jar.
Almost all the meals here are very simple. I think food should be easy, simple, and fresh. It's also really easy to appease both Justin and me in our interdietary relationship.
With just a few simple tools, most of which you probably have, you can keep lunch zero waste!