Homemade Hot Cocoa Mix
December 19, 2017 | Kathryn Kellogg
Last Updated on May 7, 2021
Growing up allergic to dairy, I was always forced to pass on the swiss mix packets inevitably passed around this time of year. Even though I did not partake in the powdered cocoa packets, my love for hot cocoa was not hindered.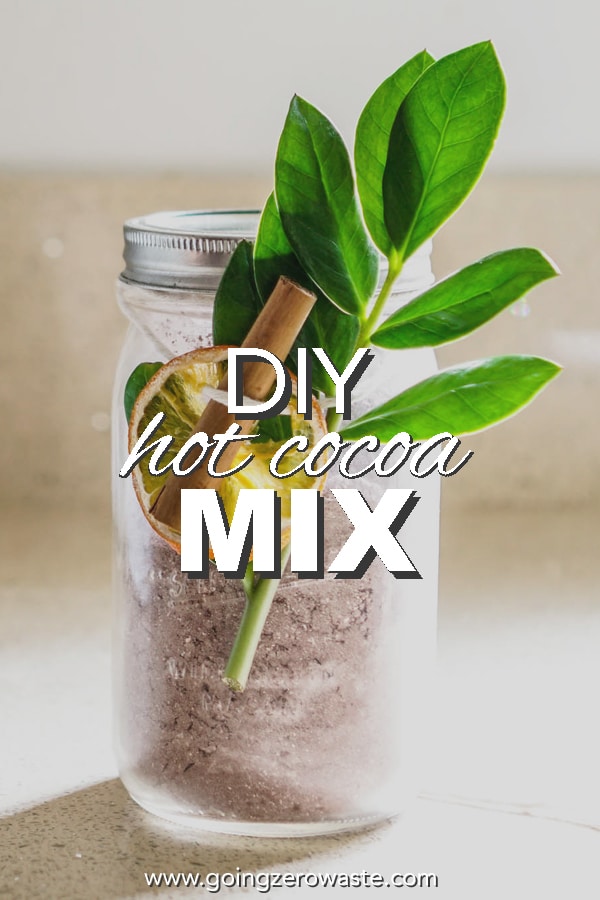 One of our intermittent family traditions involved jumping in the car with giant thermoses* of hot cocoa and going to see the Christmas lights.
In the South, we have these drive through light parks. They're typically installed in places that have multiple baseball fields or large park areas. This is just NOT a thing in California. Guess they don't have the real estate for it.
If you know of one in the Bay Area, let me know! I would love to keep the tradition alive with a big jug full of this hot cocoa mix.
I like making a powdered mix because it has a shelf life of 12 months. I can have hot cocoa in five minutes any time of the year! It also makes a super cute last minute gift.
And, what is hot cocoa without 18,000 marshmallows!? If you've been following my blog for a while, you know I love s'mores, and I love marshmallows.
The hunt for zero waste marshmallows, has definitely been a road block. Homemade marshmallow fluff is the best solution I've come up with. It's a super tasty treat!
Hot Cocoa Mix:
2 Cups of Powdered Sugar**
1 Cup of Cocoa Powder
1 Teaspoon of Salt
Put the powdered sugar, cocoa, and salt in a mason jar and give it a good shake!
**Powdered sugar is pretty tricky to find in bulk bins, but you can easily make your own. All you have to do is blitz regular sugar in a blender.
---
Vegan Marshmallow Fluff:
1 Cup of Chilled Chickpea Liquid**
1/2 Cup of Powdered Sugar
1 Teaspoon of Vanilla
Mix the chickpea liquid with a stand or hand mixer on medium-high speed for 5-8 minutes until medium peaks form.
Add in the powdered sugar and vanilla, and blend until incorporated.
This mixture will only last a couple of hours before it deflates. At that point, I just store it in the freezer. I'll defrost it and rewhip when it's time.
*If you want a stiffer marshmallow fluff, you will need to add cream of tartar.
**You can use the chickpea liquid from a can or from dried beans. If this is your first time making aquafaba, I suggest using the liquid from a can so you can get the feel of the consistency. This is a great resource on aquafaba from Minimalist Baker.
---
Ultimate Hot Cocoa Drink:
1 Cup of Coconut Milk*
2 Tablespoons of Hot Cocoa Mix
Large Scoop of Vegan Marshmallow Fluff
Warm one cup (8oz) of coconut milk.
Add two tablespoons of he hot cocoa mix and stir until fully incorporated.
Add an extra large scoop of vegan marshmallow fluff!
*I make coconut milk, and really like the sweet coconutty taste it adds. Of course, you can use any type of milk you like, but I don't recommend water. If you want to add a twist, add in some peppermint extract!
***Important notes!!*** If you don't add the marshmallow fluff, you will need to add 1/4 teaspoon of vanilla extract to your drink.
Vanilla actually increases the flavor of chocolate. It's often what we associate the chocolatey taste with. Without the vanilla extract your hot cocoa will taste bland.
But, don't just take my word for it. "Chocolate simply wouldn't taste like chocolate without vanilla. Chocolate tends to be somewhat dull on its own. Vanilla transforms it," says Patricia Rain, author of a new book, Vanilla: A Cultural History of the World's Favorite Flavor & Fragrance.
Another one of my holiday traditions I'd like to tackle is the making of a gingerbread house! I always bought those Wilton Kits growing up. But, I'd love to try my hand at baking the gingerbread and decorating it with all bulk candy! Would you be interested in my final creation?
What are some of your favorite holiday traditions and how your keeping them zero to low waste?
This post contains affiliate linking. It's denoted with an asterisk. This means if you choose to purchase one of these items I will make a slight commission for referring you. You can read more on my disclosure page.