How to Throw a Zero Waste Halloween Party
September 23, 2016 | Kathryn Kellogg
Last Updated on May 7, 2021
If you haven't figured it out yet… I love entertaining. And, food. Mostly food. But, I love entertaining; because people come over and eat food that I make.
Then they're always like, "OMG! This is so good. Your table is so cute." It's basically just the ultimate ego boost.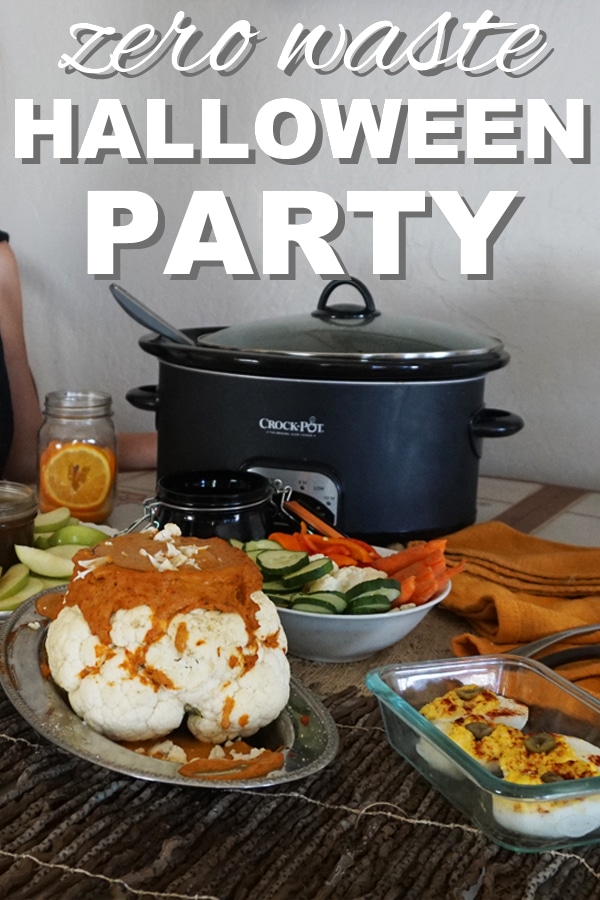 Growing up in the south, you can't visit someone's house without them feeding you. It doesn't matter if you've already eaten. You're getting second breakfast. So, part of this desire to feed people is culture. And, the other part is ego boosting compliments.
Win, win RIGHT!? So, tell me how cute my halloween spread is, and watch this video all about throwing a Halloween party. Now, I'm going to be perfectly honest with you… I've never actually celebrated Halloween.
And, growing up in the South, there was always that one kid. The one who's parents thought a demon would drag them down to hell if they left the house on Halloween. I was that kid. Which could be what drove me to the theatre… the need to dress up after being deprived of prime costume time.
Ok, ok, ok – Mom, I know you're reading this. It really wasn't that bad.
I did have a blast making this video. I made a whole bunch of food and threw an early Halloween party. One of my roommates brought deviled eggs. I added some olive slices to make them look like dragon eyes. Cute in theory, but they did not make the cut in the video.
the spread:
Roasted Red Pepper Hummus in a Cauliflower Brain
This was easy. I combined two parts hummus to one part roasted red pepper soup. The result was an incredibly delicious hummus that looked kinda like guts.
Crudite with Carved Carrot Fingers
I always use an assortment of veggies. They're the perfect finger food. People can graze all night. The hummus platter is always my go-to at parties and for parties.
The trick to carving carrot fingers is not peeling them. Then carve out a finger nail not by removing the area the nail is, but by making indentions around it to make it appear as though the nail is popping out.
Mulled Wine
I love mulled wine. It's a nice warm drink that you could pass off as blood if you wanted. It is Halloween after all.
2 Bottles of Fruity Red Wine like Syrah
1/2 Cup of Brandy
2 Oranges
1 Tablespoon of Freshly Grated Ginger, Nutmeg, Cinnamon, and Cloves
Place the wine and brandy in a crockpot on low. Zest and Juice one of the oranges and combine with the wine. Slice one orange. Place several slices in the crockpot and save the rest for garnish. Add all of the spices into a tea strainer. (It may take several) And, let it steep for two hours.
Caramel Apple Dippers
4 Tablespoons of Butter (Non-Dairy or Dairy)
1/2 Cup of Milk (Cow, Goat, Almond, or Cashew)
1 Cup of Brown Sugar Packed
Pinch of Salt
Add all four ingredients to a sauce pan over medium/low heat. Bring to a simmer and consistently stir for 15 minutes. Remove from the heat and let cool in the fridge for 30 minutes. As it cools it will thicken.
So, that was my zero waste Halloween party! Manuela from The Girl Gone Green. is going to have you covered on decorations, and I'll be back with costumes. I would love to hear your take on Halloween. What are some of your best tips for cutting down on waste this time of year?