7 Ways to Avoid Food Waste
August 1, 2017 | Kathryn Kellogg
Last Updated on September 11, 2020
The most popular phrase you'll see on this blog is "I hate food waste." I do. I really, really, really HATE food waste. 40% of all the food in America is wasted.
With all of that wasted food, we could feed 60 million people for a year! Food also makes up 20% of the solid waste in landfills. When organics, like food, are trapped in a landfill they can't decompose.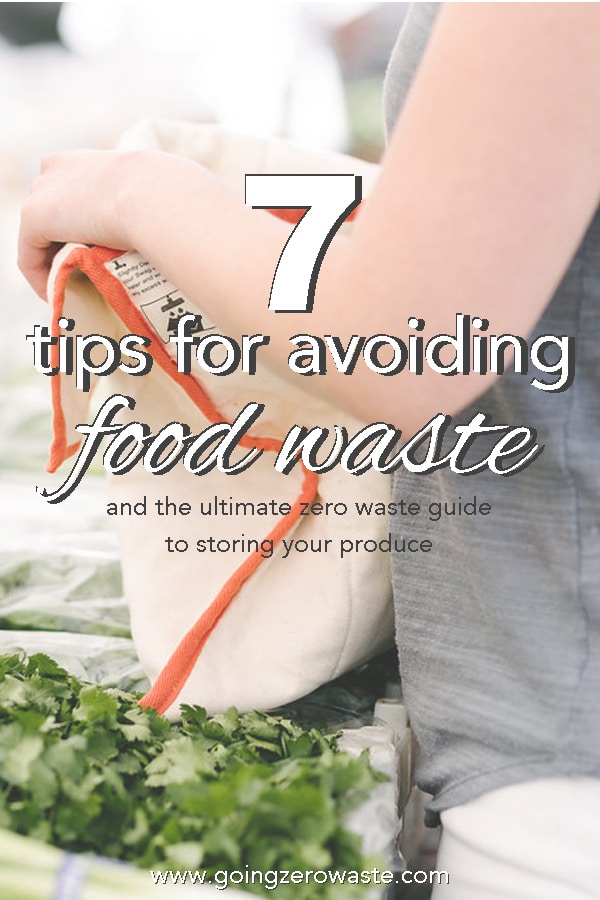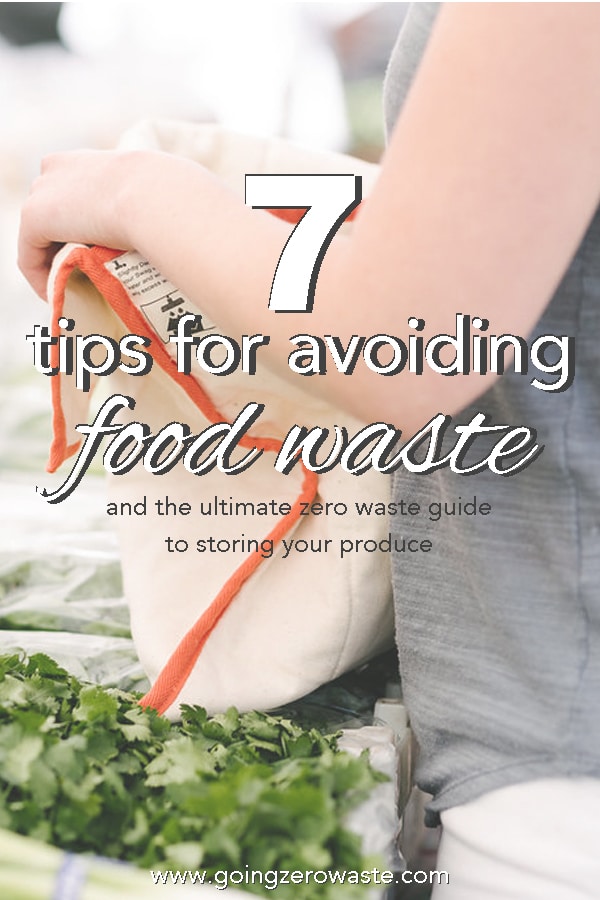 This post was sponsored by The Swag – Reusable Produce Bags. I received The Swag to try for free all thoughts and opinions are my own. Please see my full disclosure for more information.
There's not enough air in the landfill to aid in decompositions. All of the organics are surround nonorganic material making it impossible for it to breakdown.
Instead, the organics release methane which is 20 times more powerful than Co2. It's a huge contributor to climate change.
Besides, the ecological impact of wasted food, you're throwing away $2,000 a year. What a huge waste of money.
RELATED: How I've Saved $12,000 since Going Zero Waste
1. take inventory:
How often do you go to the grocery store without checking what you already have in your fridge first?
Sit down and take five minutes to make a quick meal plan. This isn't your normal type of meal planning. (Trust me, I HATE meal planning.)
RELATED: How to Make a Five Minute Meal Plan
This is just a road map to make sure that you're not wasting food. With a rough idea of the types of meals you'll be eating, you know what to buy and what to eat first.
2. one bad spot doesn't equal a rotten tomato:
A little bit of mold isn't going to kill you. If there's a small speck of mold on a tomato or a bell pepper, I just cut it off.
If you see something starting to go bad, it's getting a couple of dark spots, just cut them off. Make sure to cook the foods with high heat and you'll be fine.
I also cut mold off of cheese. Cheese is mold. Often times we have large blocks of hard cheese in the fridge. Occasionally one side will get a couple of specks of mold, just slice it off and use the good part.
Having said this, I would never eat moldy meat or milk. Use your best judgment.
RELATED: The Ultimate Guide to Backyard Composting
3. buy less:
We often buy WAY too much food. We can't eat all of it before it goes bad. Buy less than you think you need. You'll typically wind up with the right amount.
You can always stop by the store to pick up a couple of things if you need more, but you can't reverse the aging greens in your crisper drawer.
Our eyes are often way bigger than our stomachs. We all have this secret fear of not having enough food to eat and we tend to overspend. Grocery stores are very good at marketing.
I just came home with four pounds of sweet potatoes. Two pounds would have been fine for a week or two, I just got carried away because they looked so lovely.
Watch yourself. Buy less than you think you'll need!
4. save your scraps:
You're probably composting things you could have eaten. I just wrote a huge post all about 8 innovative ideas for cooking with your food scraps. Check it out here. You can also save scraps like carrot peelings, onion skins, garlic skins, tops of celery to make a delicious veggie stock.
There are so many creative ways to use food. Before walking anything out to the compost bin, ask yourself, "Is there anything else I can do with this?"
5. utilize your freezer:
If you can't eat something in time and you notice it starting to look a little tired, freeze it. Most fruits and vegetables can be frozen and used again.
RELATED: 5 Tips for Utilizing your Freezer to Prevent Food Waste
6. cook once; prep once:
Food often goes to waste, because we're just too busy to cook all of the meals we thought we were going to make.
Life happens and things pop-up. Keep things streamlined by cooking once and eating multiple times. If you're chopping peppers for stir-fry tonight and you'll need peppers for tomorrow fajitas, why not chop all of the peppers right now?
Tomorrow you won't have to break out the cutting board again or dirty another knife. Keep it simple.
Also, look for meals that freeze well like soup or marinara. If you're making some anyways, why not double the batch? Cook once now and eat multiple times later.
tips to store your food properly:
Making sure your food is optimally stored will make it last as long as possible, giving you every chance to avoid food waste.
I have been using The Swag produce bags in my fridge for the last several months. They're shaped like large envelopes making it easy to buy groceries at the farmers market or the grocery store to avoid the plastic produce bags.
They seamlessly move from the store to the fridge. We've downsized to an apartment fridge and these bags have been a total lifesaver (and space saver)!!! They're flexible allowing me to fit all of my groceries in the fridge.
The produce bags are made of organic, unbleached cotton and are shipped without anything in the box other than your bags. They won't even print the instructions to save as many resources as possible.
The bags keep your produce at just the right humidity and create a breathable environment, so if you do over buy, they'll keep just a little bit longer. 😉
carrot and celery:
trim your carrots and celery into snackable strips and submerge them in water to keep them nice and crisp!
I like to have these things prepped when submerging in water so they're easy to grab and go for snacks. Keeping healthy snacks convenient is a must!
mushrooms and brussel sprouts:
Leave in an open bowl on a shelf or in the crisper.
I've always had the best of luck storing these out in the open so moisture doesn't plague them. However, you can also wrap them in a small dry swag bag.
berries:
Keep berries in an air tight container like a mason jar and don't wash them until right before you eat them! They should keep for up to two weeks.
greens:
Greens thrive in an environment that absorb moisture. The Swag produce bags keep my greens super happy.
I've had spinach last for three weeks in these bags. You wet them just on the outside to create proper humidity. The inside is still perfectly dry preventing your greens from wilting.
Place your chopped greens inside a long swag bag for a crispy lunch all week!
onions and potatoes:
Both of these items should be stored in a cool dark place separately. I store them in open baskets in a cabinet.
cauliflower, broccoli, zucchini, squash, and avocados:
I let these guys roam free in the crisper drawer.
lemons, bell peppers, stone fruits, and cucumbers:
These fruits and veggies have tender skins and are prone to getting wrinkly or mushy. These do very well inside of a large swag produce bag. You can keep them all in the same bag, as they start to approach their time move them to another bag.
The bags are color coded and it's handy to keep one color full of produce that needs to be eaten first. Dampen the bag on the outside and store in your crisper drawer.
apples and bananas:
I keep these room temp on my kitchen table for optimal snacking.
herbs:
I treat all of my herbs like bouquets of flowers. Stick the stems in a cup of water and place them in the fridge or on your table trimming only what you need. The herbs should last a week or two.
tomatoes:
Let your tomatoes ripen at room temperature before moving them into your Swag Bag with the other fleshy fruits and veggies.
---
What are your favorite tips and tricks for avoiding food waste?