My Favorite Places in the Bay Area
April 21, 2017 | Kathryn Kellogg
Last Updated on September 15, 2020
I get a lot of messages when people visit the bay area. They want to know all about the local zero waste happenin's, and let me tell you, I LOVE giving people recommendations!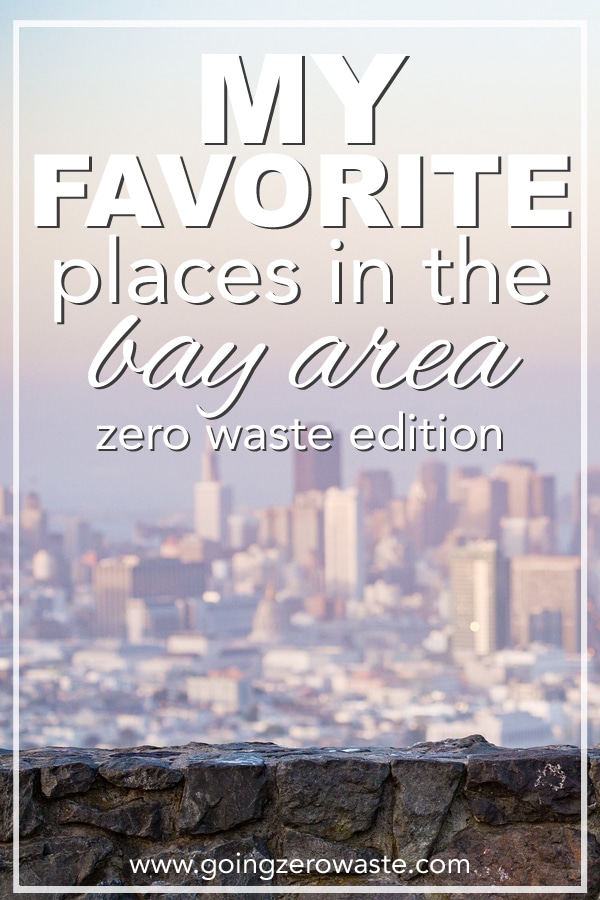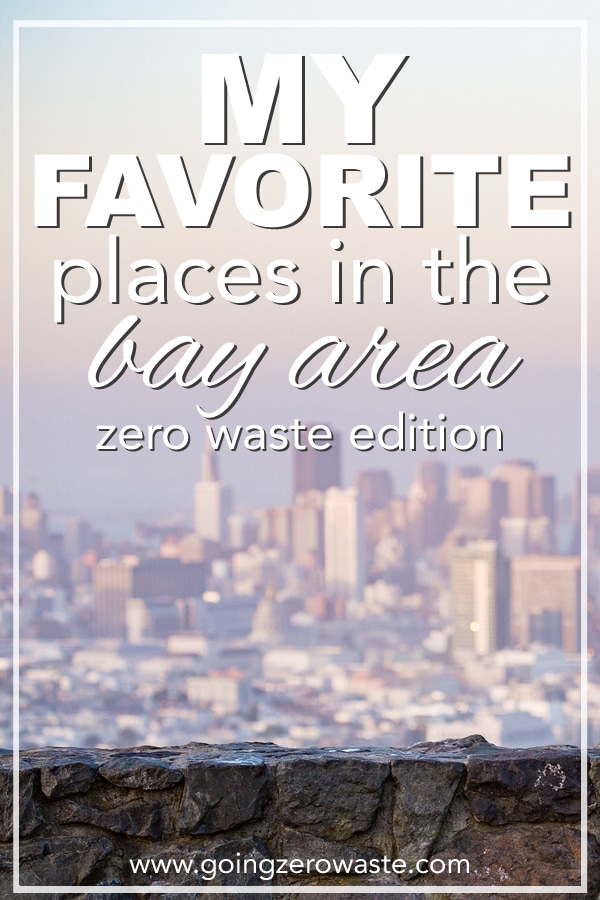 I love sharIng all of the cool places I've stumbled upon. Granted in SF it's really hard not to stumble into a cool place. This is only a small sampling of places I like to frequent, but some of my favorites.
where to eat and drink:
gather:
Berkeley, CA / East Bay
Gather is my new favorite restaurant! They are one of the most sustainable restaurants in the Bay Area. From their website. "Gather was inspired by the social and ecological ethos that businesses can positively impact the community and, by extension, the planet.
We believe that the way food is produced before it gets to our restaurant is every bit as important as how it is prepared in the kitchen. That means raised naturally, harvested at the right time, delivered with care, and prepared with love.
Our goal is to nourish our community on several levels, in a lively, yet relaxed environment which makes use of recycled and repurposed materials in creative ways."
They have something for everyone whether you're gluten free or vegan.
My favorite thing to eat: The Spicy Tomato pizza available for brunch, lunch, and dinner because it's THAT good. And a side of roasted potatoes too.
My favorite thing to drink: Their cocktails are fabulous. They even have a section where all of the profits are donated to certain non-profits like 5 Gyres and Drawdown. Their causes are always changing, but my personal favorite drink is the non-alcoholic citrus cooler.
asha tea house:
San Francisco, CA & Berkeley, CA / East Bay
Asha is my favorite tea house. They make their boba fresh in house every morning. It's better than any you'll ever have.
They have reusable ceramics for all of their drinks now! You just have to ask for one. Don't forget to bring a reusable cup and pick up a reusable boba straw so you can be completely zero waste, but you don't need a straw – you can always use a spoon.
My favorite thing to eat: I LOVE their mochi muffins!
My favorite thing to drink: It's a tie between their iced boba lattes or a ceremonial matcha. If you haven't had matcha and want to try it. Asha is the place to try it the right way!
cha cha cha:
San Francisco, CA
If I'm in the city and don't go to Cha Cha Cha, I am so sad. It is my favorite restaurant! It's on Haight just a short walk from Wasteland and Amoeba Records another one of my favorite places!
The atmosphere is so much fun!
My favorite thing to eat: The restaurant is dietary friendly with plenty of gluten-free and dairy-free options. My favorite items on the menu are roasted potatoes and a plate of black beans and plantains. I know it sounds super plain, but it will blow your mind.
Mmmmmmmm, so good!!
My favorite thing to drink: They have the BEST sangria. If you go, you have to have a glass for me.
bi-rite:
San Francisco, CA
Favorite thing: I don't care how full I am, if I pass bi-rite I am popping in for a cone of their vegan flavor of the day. I feel like that's all that needs to be said about bi-rite. Get a cone!
mr. dewie's chasew creamery:
Albany, CA / East Bay
Mr. Dewie's is completely dairy free ice-cream shop!! AND, IT'S AMAZING!! It's one of my favorite places to go on a warm day… because let's be real. We don't have hot days in NoCal.
Favorite Flavor: Green tea! It's made with cashew and coconut milk which is my favorite nut milk combination.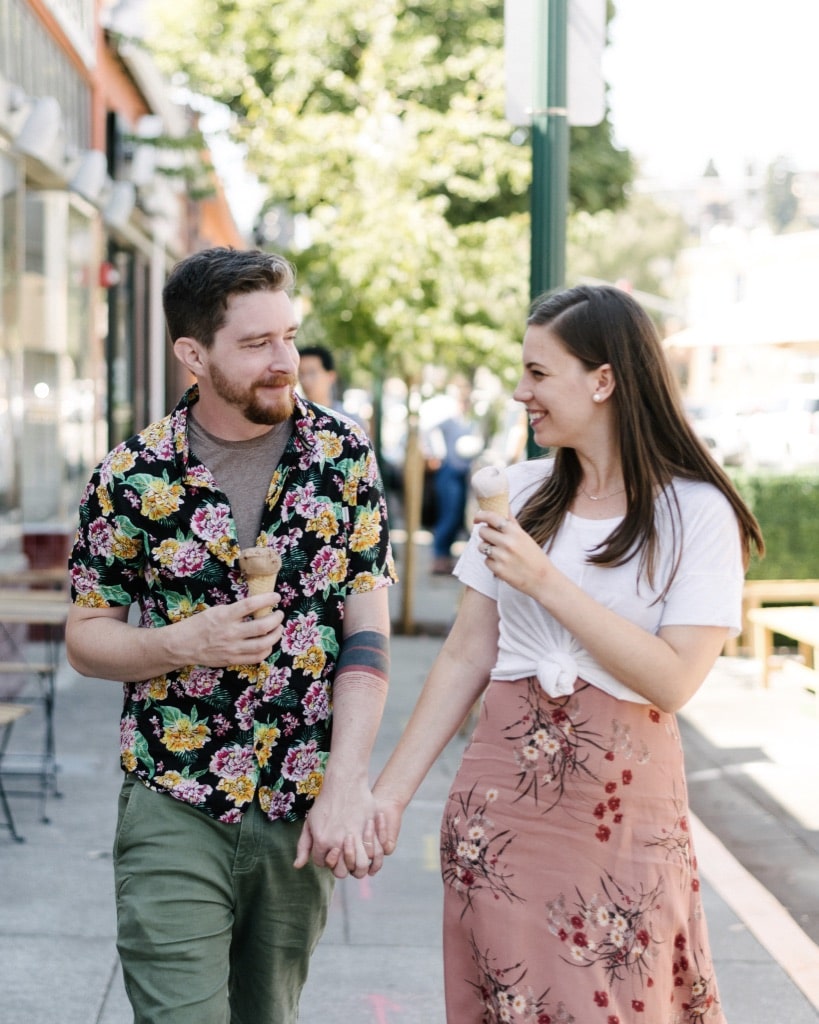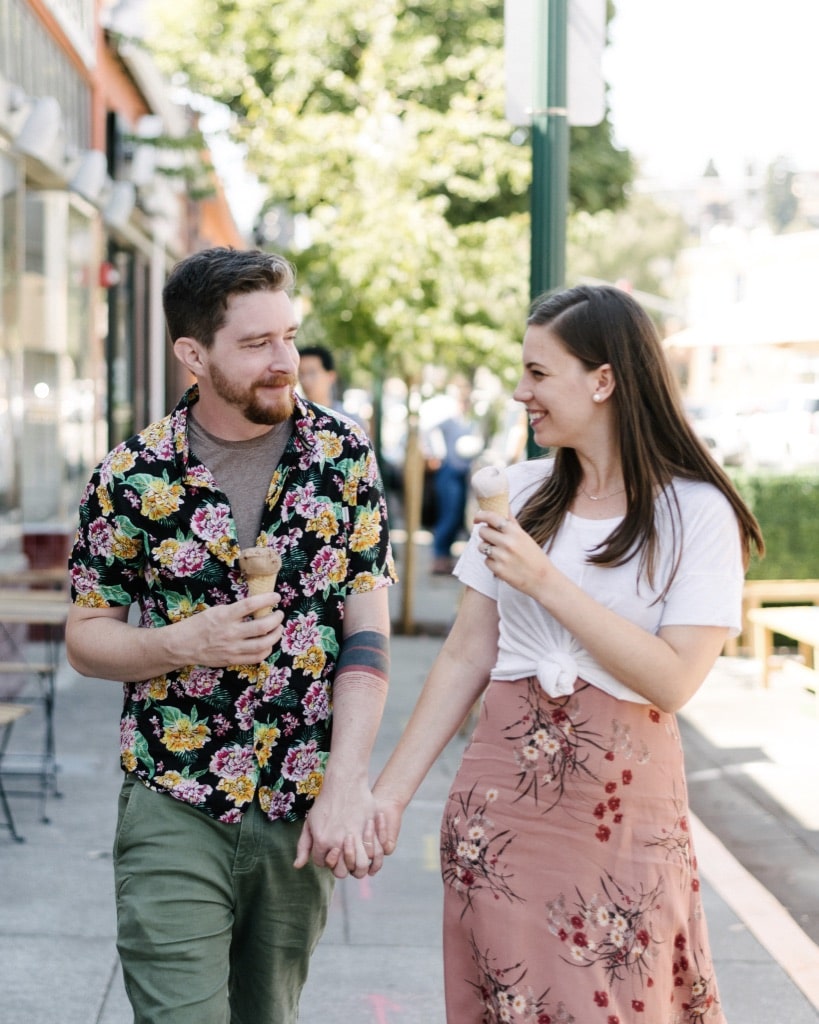 the perennial:
San Francisco, CA
The perennial is beautiful sustainable fare. Pop into the bar for an amazing cocktail or go for a fancy dinner. They will tell you their plates are small and to order four, in my opinion the plates are pretty big and recommend sticking with just three.
The restaurant is in close proximity to city hall, the symphony, SHN and the opera house making it super convenient to go before a show!
They also have a happy hour from 4-6 Monday – Saturday which is 25% off bar bites and draft beverages.
My favorite thing to eat: since the menu is always changing I can only recommend the bread… but it is really good bread. 😉
My favorite thing to drink: their cocktail menu changes too, but I believe their lemonade is on their all-year round.
millennium:
Oakland, CA / East Bay
Millennium is an award winning vegan restaurant that is a MUST visit no matter your dietary preferences it is beautiful and delicious food. Plus, they have stainless steel straws for their cocktails.
My favorite thing to eat: Make sure to save room for their dessert trio!
My favorite thing to drink: Their cocktails are also seasonal, but I'm always excited to find a restaurant that serves Allagash White.
la marcha:
Berkeley, CA / East Bay
La Marcha is a tapas restaurant that is my new favorite restaurant mostly because they have an insane happy hour menu! They have happy hour from 4-6 and 10-12. Everytime you order a full sized beverage you get two free mini-plates! It's an amazing way to sample the menu.
My favorite thing to eat: Piquillos rellenos and croquetas de champiñones
My favorite thing to drink: Sangria
next level burger:
San Francisco, CA & Concord, CA / East Bay
Next Level Burger is vegan junk food made surprisingly healthy. Think burgers, hot dogs, and milkshakes! You might think, how could that possible be healthy? But, they use all real ingredients and make 99% of the menu from scratch!
They also have locations all around the country so be sure to check if there's one in your area.
My favorite thing to eat: The signature with tots!
My favorite thing to drink: Cookies and Cream milkshake – OBVS.
where to shop:
rainbow grocery:
San Francisco, CA
This is the mecca of bulk shopping in SF. Even if you don't buy anything it is worth popping in and taking a look around!
They have a massive selection of dried fruit, dried pasta, fresh pasta, syrups, herbs, spices, beauty items, I could go on and on. But, I already wrote a full post on rainbow here, so go check it out!
wasteland:
San Francisco, CA
Wasteland is on Haight street in San Francisco. It's a thrift store with lots of hi-end offerings at pretty reasonable prices. They have male and female clothing. I have had excellent luck there when I'm looking for something specific.
I have gotten some great deals on rag and bone! I also just love the name. It's a really funky place that's worth popping into if you're in the area!
sparkly ragz:
Suisun, CA
This one is a little out of the way in Suisun, CA. But, if you're tripping up to Sacramento or Tahoe it's worth popping over. It's an adorable consignment shop for women's clothing that looks just like a high-end boutique.
Lots of high-end designers and at amazing prices. There's also a large selection of small batch handcrafted beauty products and upcycled jewelry. I just got an amazing Kate Spade dress I geeking out over.
If you're in the area it is definitely worth stopping by.
hello vintage:
Oakland, CA
This shop is only a short distance away from Millennium! It's a vintage shop and everything is amazing!!
They have both women's and mens clothing.
In a lot of vintage stores I find things to be too costumey and very spendy. This store does a great job of selecting ready to wear pieces that don't feel too like you're playing dress up.
Also, everything is very reasonably priced. I bought six pieces most of which were 70s era and spent on average around $60 a piece. Plus they're just gorgeous and I'll wear them for a very long time.
I was able to check so many items off my wishlist at this store. I always almost scared to share this find because it's SO GOOD that I wanted to keep it a secret.
credo beauty:
San Francisco, CA
This place is heaven if you love green beauty. If you're looking for organic beauty products that come in sustainable packaging, this is the place for you!
I write about credo so often and link to so many of their product throughout my site. I wish they would sponsor my life because Credo (and now hello vintage) are where I spend all of my paychecks.
Top Picks: My Perfume, Sunscreen, Concealer
amphora nueva:
Berkeley, CA / East Bay
This is one of my favorite places in the bay area. Amphora has several locations, but my favorite is in Berkeley. It is heaven. Walls lined with stainless steel tankards full of freshly pressed olive oil and amazing balsamic vinegars.
They have a refill program, where you get a discount for bringing your bottles back. I know that doesn't help if you don't live in the area, but it is worth stopping in for a tasting and taking a look around.
The oils make amazing gifts too! You can request no seal around the bottle to keep it plastic free. There's a bakery a couple of doors down where you can get a fresh loaf of bread to go in your own cloth bag.
Combine it with some fresh oils for a delicious snack!
oaktown spice:
oakland, CA / East Bay
This is my favorite spice shop. Another place I wish would sponsor my life because I spend SO much money here. They also have another Oaktown Spice location in Albany, CA near Mr. Dewies. In my opinion they have the best spices in the bay area. I love all of their spice jars and bring them back to be refilled once mine are empty. But, you can bring any container you have, they don't to be theirs.
Spices would make a great treat to bring home or the perfect gift to send off. They make AMAZING gift boxes too. I sent a gift box of tea to one of my friends and it was one of the most beautiful packages!!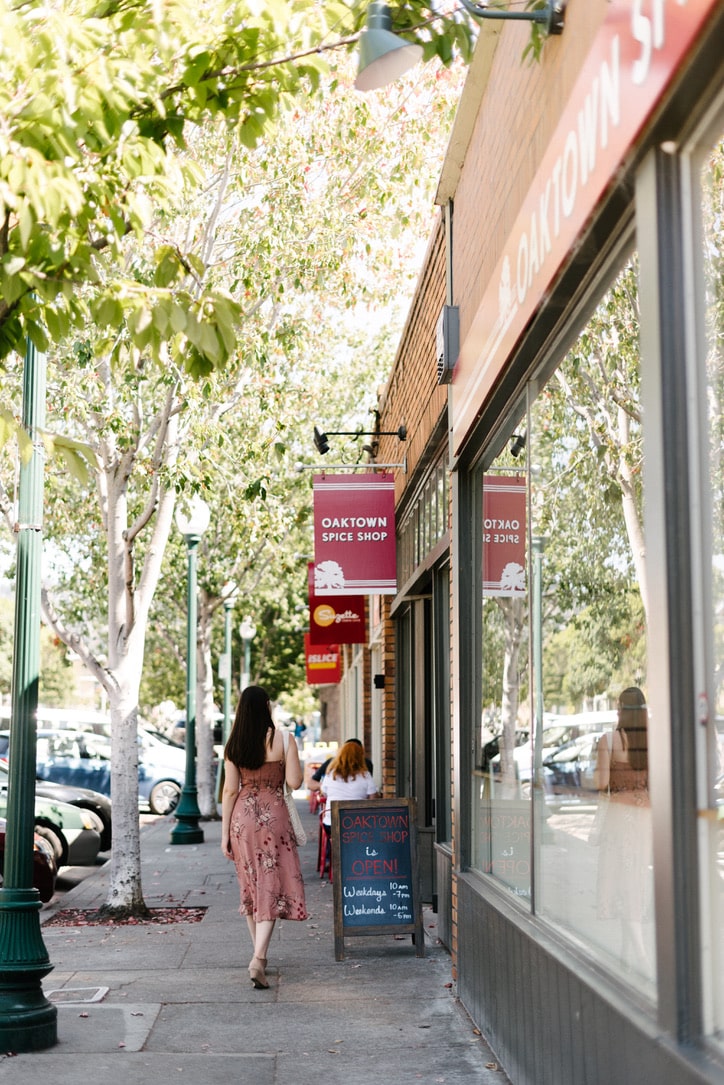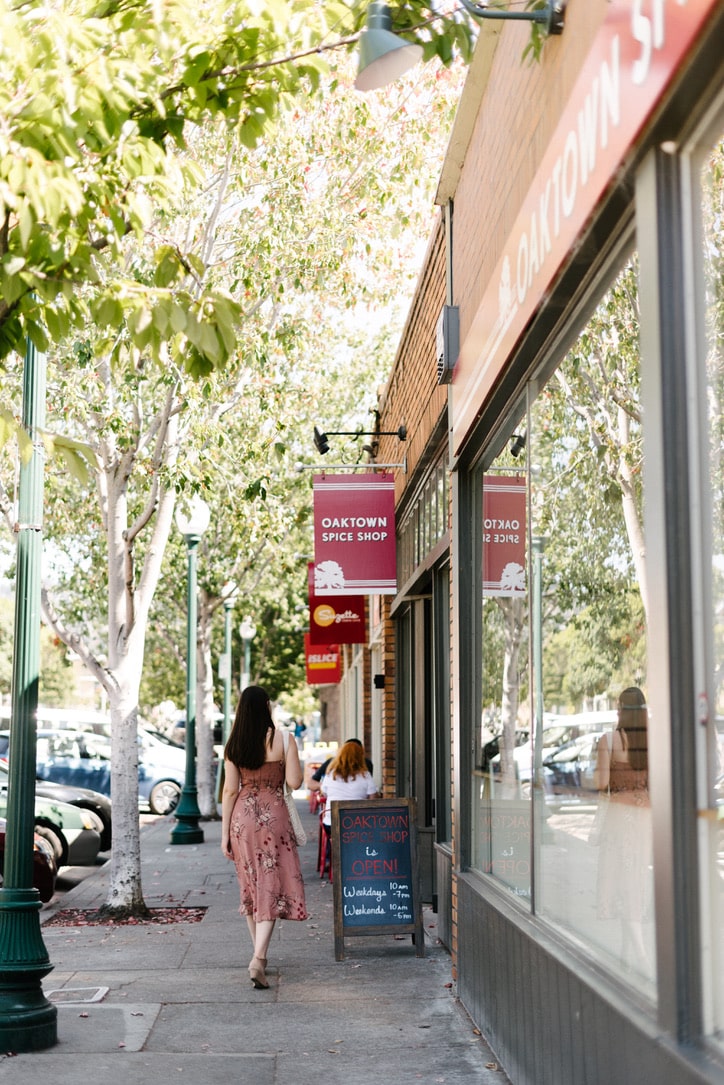 far leaves tea:
Berkeley, CA / East Bay
This place is so not what you'd expect from the outside. It looks like a little tiny tea shop, but when you walk inside it's so peaceful and spacious.
There are tons of pillows, chairs, benches, tables, and electric kettles everywhere for you to lounge and enjoy a cup of tea.
So you can sip tea and buy tea and if you have a very well behaved pupper, they'll allow them to hang out and sip tea with you too.
I've only tried on of their teas so far which is the Cloud Mist green tea, but I love it! I can't wait to go back and try more. They will let you bring your own containers for the tea, but make sure that it matches the ounces of their containers.
I bought one of their tea tins, and plan on bringing that tin back to refill.
what to do:
ayla:
San Francisco, CA
Get a facial at Ayla! It's a gorgeous, and my top pick for a non-toxic facial. They have several different brands to chose from like Marie Veronique, May Lindstrom, MyHavtorn, or Vintner's Daughter.
I personally went with the Marie Veronique facial. Beth, the on site esthetician, is amazing and I cannot recommend a visit highly enough.
They have a store front full of tons of different non-toxic beauty products to chose from so even if you don't stop by for a facial you can pop in to pick up some goodies.
golden gate park:
San Francisco, CA
Golden gate park is amazing! There are so many cool sections. I love the botanical gardens, but I am partial to the Japanese Tea Garden where Justin proposed. There's a lot wrapped in packaging at the Tea Gardens, but you can get a great cup of tea package free.
California Academy of the Sciences is there as well. If it's a Thursday night, they have a nightlife event for adults 21 and up.
It's a big party with lectures and stations all surrounding a certain theme. Each Thursday they chose a new one. I was super bummed I didn't make it to the canning night. But, it is definitely worth the trip if you're in the area.
palace of the fine arts:
San Francisco, CA
This is my favorite spot in all of San Francisco. If you could only see one thing, this would be my recommendation. It was built for the world's fair in 1915 and it's truly a sight to behold.
museum mechanique:
San Francisco, CA
This is a penny arcade near pier 41. It's kind of tucked away in the corner, but it's definitely worth a stop in to look at all of the arcade games from the early 20th century.
Make sure to bring cash! They have machines all over to convert bills into quarters to play the games.
wine tasting:
Wine tasting is one of my favorite zero waste activity. The wine is always served in real glasses. Nothing goes to waste in the vineyards.
Anything that's considered "waste" (leftover grapes, twigs, branches) is all composted and used to grow more grapes to make more wine.
You're at the location that the grapes were grown, which is the definition of local. In fact, much of the soil is so rich it absorbs carbon.
If you're visiting the Bay Area, Napa is just a quick ferry or bus ride away.
grgich hills:
is definitely worth the tour. When we went, we met the winemaker and he explained how the soil absorbed carbon. The winery is still in the family, which I love!
It was also really fascinating to learn how climate change is affecting the wine making seasons. Anyways, I highly recommend Grgich Hills.
buena vista:
Buena Vista is definitely on the top of my list It's such a fun place to visit. The tour is great too. It's one of the oldest wineries in California.
The owner Jean-Charles Boisset is a character. He's known as the Willy Wonka of wine and this winery does a great job of showing it off. Justin and I often attend events they host like the Masquerade Ball.
schramsberg:
is all about the champagne. It is amazing. Their estate is gorgeous, and the tour is great. It's focused on the history of champagne and the bad ass woman who perfected the method, Madame Clicquot.
burgess cellars:
Burgess has some breath taking views , and the tasting room is among all the barrels. Tastings are by appointment only so you don't have to worry about overcrowding. When I went, I was chatting with this guy Steve. After a while, I realized it was Steve Burgess… the owner of the winery. He was soooo nice.
The views here are incredible, the wine is great, it's definitely worth stop.
I will continue to add to this list as I discover new places around the bay area! But, let me know if you have any favorites in the comments section down below.