Infused Strawberry Top Water
October 10, 2017 | Kathryn Kellogg
Last Updated on September 15, 2020
Today I'm brining you a post that combines my two FAVORITE things. Ditching single-use plastic and avoiding food waste.
As you may recall from 8 Innovative Ideas for Using Food Scraps, I talked about a tasty way to use up your strawberry tops.
I'm sharing my favorite infused water recipe with you plus a little story about Dopper, my favorite water bottle.
Oh, and I'm giving two away too! I've been getting so many emails from y'all after showing it off in my Zero Waste Kitchen Tour.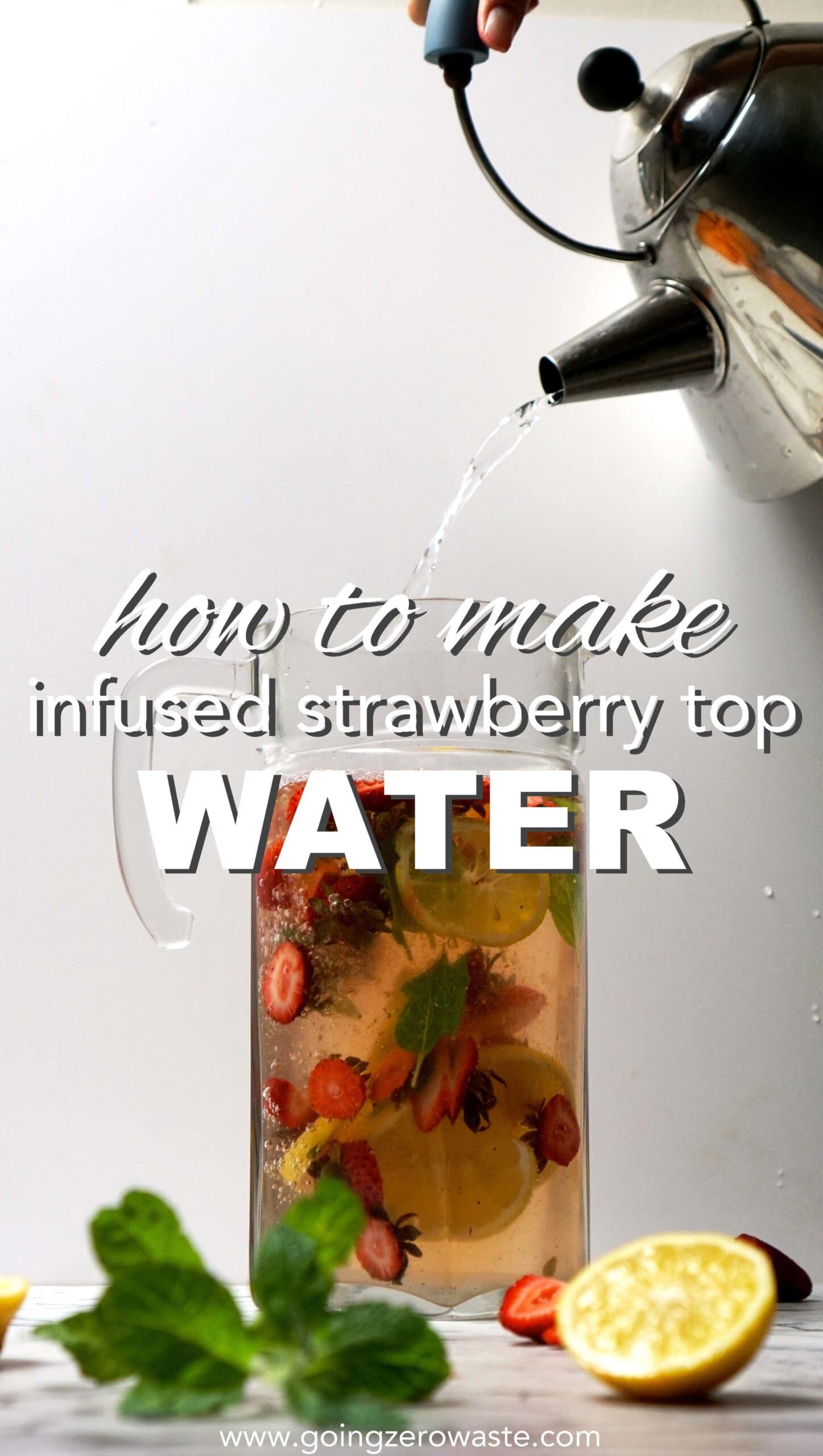 This post was sponsored by Dopper. All thoughts and opinions are my own. Please see my full disclosure for more information.
I was really excited when Dopper reached out offering to host a giveaway because Justin and I use these bottles daily.
why I love my Dopper:
two cups in one:
I love the option to have two cups. I just took my Dopper on my trip to Arkansas. It was great because I got iced tea in the bottom and kept water in my goblet. It was the perfect drinking situation.
It also comes in handy because I go everywhere with Nala. Now, I always have a cup for her to drink out of without contaminating my own water supply.
I also run into lots of wine opportunities living near Napa. Having an instant reusable wine goblet is perfect. Almost every event I go to has a wine stand serving glasses in those small plastic cups.
It'd probably pretty difficult to convince them to pour wine into my stainless steel water bottle. Convincing them to pour wine into an adorable little goblet!? Not an issue at all.
two mouths:
The Dopper bottle has the option for a small mouth and a large mouth. Most bottles have either a small mouth or a large mouth, never both.
If I want ice in my bottle, I can use the large opening. When I want to drink water and not spill it all down my front, (has happened with large mouth bottles on more than one occasion) I can do that too.
easy to clean:
The way it comes apart makes it super easy to clean. I don't have a dishwasher, but they are dishwasher safe up to 149F/65C. I know that's important for some you folks.
To ensure a clean Dopper, always remember to properly wash and dry your Dopper bottle after use, and leave it without the cap on in your cupboard.
For more information on cleaning your Dopper bottle please check out these tips.
fighting to end single-use plastic:
5% of all sales go to the Dopper Foundation which supports clean drinking water, improved sanitation and hygiene through the charitable organization Simavi in Nepal.
It also invests in change-makers and solutions for plastic pollution that go beyond the bottle. You can read more about the Dopper Foundation and how you can help here.
They're a certified B Corp and Certified Cradle to Cradle. When I choose to buy things new, I want to support companies that are getting it right.
---
It would be a rare day for you to find me without my Dopper bottle by my side. I love drinking plain tap water.
In fact, I like my water room temp. *audible gasp* I'm probably in the minority, but growing up performing and singing, drinking cold water could seize your vocal chords.
I always drank room temp water and I just got used to it. But, it's good to change things up every now and then! I like to make infused water because it's tasty, a great way to use food scraps, and it's a fun option for parties.
Strawberry tops are often relegated to the compost bin, but they still have life in them. They're great for digestion and make your water taste sweet and summery.
infused strawberry top water:
64 oz of water
20-30 strawberry tops
5-6 sprigs of mint
2 a lemons juiced
1 lemon sliced
Put the strawberry tops, sprigs of mint, the lemon juice and lemon slices in a 1/2 gallon vessel. Pour warm water over the ingredients and into the vessel. Let it cool in the fridge.
After it's cooled, pour it into you Dopper bottle and get ready to be the envy of all your friends. The Dopper bottle holds 27 ounces, so you'll have plenty leftover or plenty to share.
Speaking of sharing, how would you like to win a Dopper bottle for you and a friend of your choice?
Speaking of sharing, how would you like to win a Stainless Dopper bottle for you and a friend of your choice?
Share your favorite infused water recipe below! I'm thinking of making a yummy citrus recipe for winter. What do you think? What's your favorite way to infuse water?
---