How to Stock a Zero Waste Pantry
May 5, 2016 | Kathryn Kellogg
Last Updated on April 3, 2020
I have ALWAYS loved grocery shopping, but often find myself overwhelmed with the options. Shopping the bulk bins is no different.
I'm a Libra and I have to say, being forced to make so many decisions is… challenging.
"How much should I get of this?"
"Is it enough?"
"I only have one cloth bag left – do I buy chocolate covered almonds or something sensible?"
"Does it matter what color lentil I'm buying – why are there so many colors!?" 
A lot of questions run through my mind. So, I came up with a framework to keep things running smoothly and most of the questions/decision making at bay.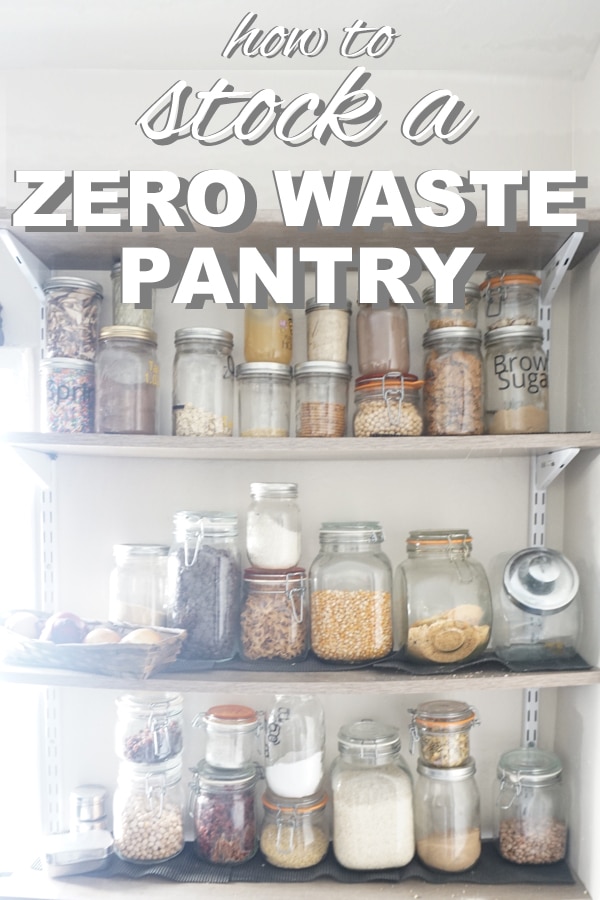 I go shopping for pantry staples once a month.
I typically run out of 8-10 items and it costs $50-$60 to restock. Since I don't shop that often, I have larger jars.
My smallest jar for storing pantry staples is 32oz. I keep garnishes in smaller jars like nuts and seeds.
In my PZW days our pantry was stuffed!
I'd pick up all sorts of interesting things at the grocery store and so much of it would go uneaten.  
It was hidden in boxes and bags, and we'd forget it was there. Having clear jars help us know exactly how much food we have to eat. I've really streamlined and minimized our pantry.
Justin is very picky – so it helps! There's less decision fatigue and it makes it easy to stick with our favorite meals.
Grains
We keep the grains really simple. I really like quinoa for that extra protein punch.
Justin isn't a fan. I like to make veggie bowls with quinoa and use it with lentils for taco meat filling. We like to make rice for tacos and kimchi/veggie fried rice. 
Pasta
Elbows
Tortellini
Lasagna
Spaghetti
We're pretty big pasta fans. We love mac and cheese with peas in the spring.
Tortellini is the perfect quick dinner. I like it tossed in olive oil with asparagus and a poached egg, or I make a killer mushroom bolognese to go with it.
I've been making homemade ricotta and notta-ricotta, so I bought some lasagna noodles. Yum!
Legumes
Black Beans
Lentils
Pinto Beans
Chickpeas
Justin LOVES re-fried beans. We keep pintos stocked.
I like black bean and sweet potato tacos. I also like hummus as a snack, and it's a great appetizer for parties.
Baking
Whole White Wheat Flour
Whole Wheat Flour
Sucanat (brown sugar substitute)
Coconut Sugar (white sugar substitute)
Baking Powder
Baking Soda
Chocolate Chips
Coconut Shreds
Bread Crumbs
Cocoa Powder
Cornmeal
Oats
I try to avoid processed white flour and sugar in our diets. 
I love baking, and I can make so many things from scratch. Once you get in the hang of making your staples, you can whip them up very quickly. 
Cornbread, energy bites, brownies, cookies, bread, hamburger buns, overnight oats, and the list goes on.
Raisins
Dried Mango
Beef Jerky
Granola
Almonds
Cashews
Walnuts
Popcorn
Pretzels
Cheddar Whales
We try to keep lots of healthy snacks around. I love making stove top popcorn.
I like to use the dried fruit for crafting delicious breakfasts. I keep nuts around for snacks and making nut milk and dairy free cheeses. 
Read more about my favorite snacks and their recipes here.
Sauces:
Honey
Tamari
Apple Cider Vinegar
White Vinegar
Sesame Oil
Fish Sauce
Olive Oil
Balsamic Vinegar
I like roasting veggies with good olive oil and a nice balsamic vinegar. We make quite a bit of asian food, and it's nice to have a couple of key sauces.
The local raw honey is perfect for allergy season and a natural sweetener. Mmmm. I'm dreaming of a nice cup of hot tea right now. 
With just a few ingredients in each category, we're able to make all of our favorite meals and get dinner on the table super quick.
What are some of your favorite pantry staples and favorite dinners?