King Cake a Lesson in Tradition
February 5, 2016 | Kathryn Kellogg
Last Updated on April 3, 2020
I've been experimenting with making a vegan king cake. While the cake itself is delicious, I just could not nail the dairy-free cream cheese filling.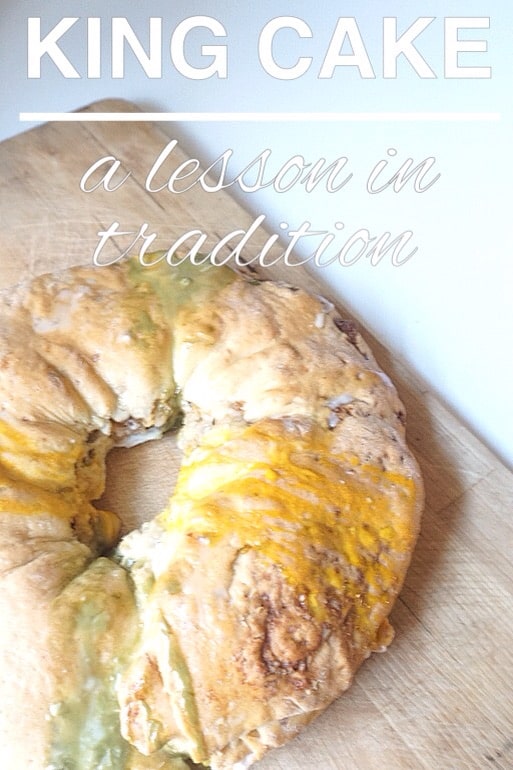 But, first a little history on the king cake. Most of you know I'm from the south – Texas and Arkansas to be precise.
Arkansas is right above Louisiana and has been heavily influenced with creole/cajun cuisine.
Fat Tuesday was always the best day at the caf in college.
They would have a big crawfish/shrimp boil, the Jazz band would play, and there was LOTS of king cake. 
Traditionally king cake has a cream cheese filling. Other popular fillings include praline, no filling, or fruit.
It's traditional to have yellow (power) , purple (justice), and green (faith) sanded sugar or icing on top.
It's also done with three colors to represent the three kings (where it gets it's name)/wisemen that found Jesus in the manger.
Which explains the tradition of inserting a small plastic baby into the cake. 
Whoever happens to find the baby in their piece of cake is responsible for bringing the king cake the next year.
Of course, we'll be doing this sans plastic baby.
The cake is really more of a dough. Very similar to a cinnamon roll.
Being allergic to dairy most of my life, I really wanted to tackle a dairy free/vegan king cake. 
I make a cream cheese out of cashews. And, while its delicious cold, when baked it turned into almost a smoky, marzipan flavor.
Not quite the flavor I was going for. Also, I'm at a complete loss on how to make purple icing in the winter.
The fruits I would typically use aren't in season.  
And, I think I could make a traditional vegan king cake or a zero waste king cake, but I don't think I could do both.
But, this has taught me an important lesson.
Instead of spending so much time recreating something from the past, I should be focusing on creating something new in the future.
Instead of forcing my old traditions into a new set of parameters, I should create new traditions that will ease into my lifestyle.  
So, I'll probably just make some classic cinnamon rolls which I know will be delicious next Tuesday.
I'll crank up the jazz, and I just might hide a pie weight inside of one and hop no one chokes. 
How do you celebrate Mardi Gras? Have you had king cake?