Valentine Truffles
January 29, 2016 | Kathryn Kellogg
Last Updated on April 3, 2020
I love Valentine's Day. In fact, it's my second favorite holiday. I send Valentines like people send Christmas cards.
Red, white, pink, an occasional splash of glitter, and of course they're loaded with terrible puns – lots and lots of terrible puns.
Things have changed, but I miss my hand drawn, punny cards.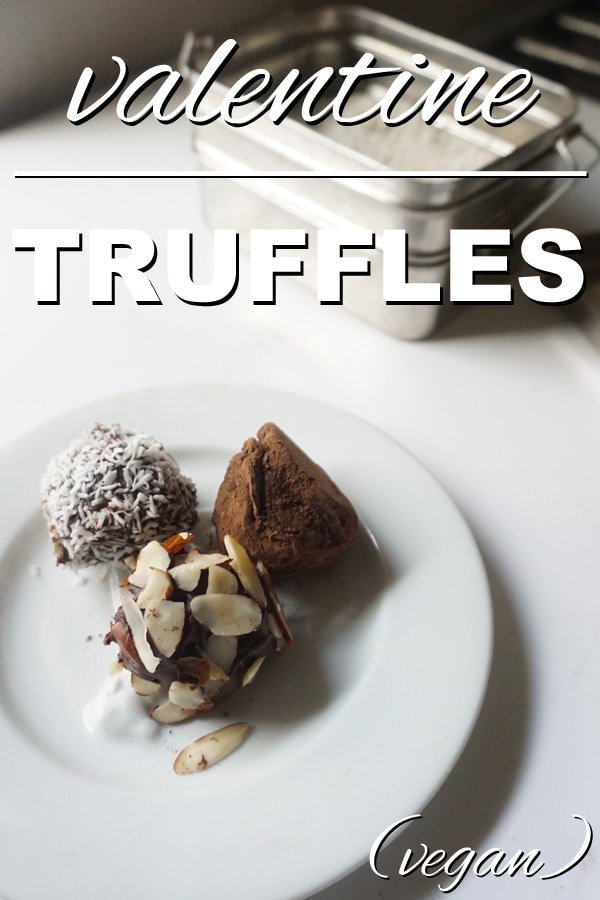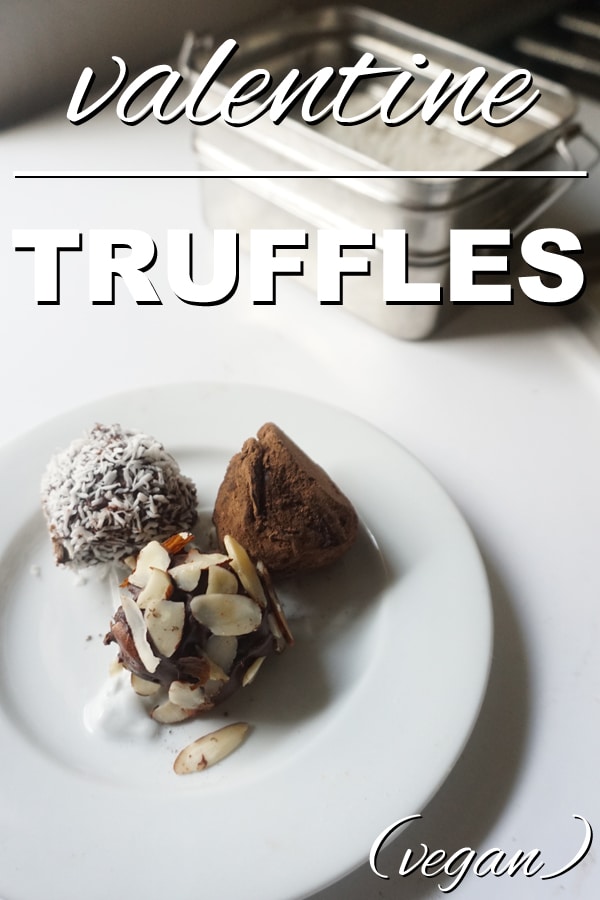 Plus, Valentines is synonomous with CHOCOLATE.
In the past, Justin and I have walked down to the chocolatier and hand picked little boxes of chocolates.
We'd snack on our selections all day and just spend time together.
I'm sure the chocolatier would let us bring our own box, but I'm not sure how to avoid all the little papers on the bottom of each chocolate.
But, you can't have Valentines without chocolate.
So, I tested my hand at a little chocolate making! I made a simple chocolate ganache filled truffle.
You can customize them with any topping you like. I used dutch cocoa powder, coconut shreds, and almonds – yum! 
I put each topping in a selection of my lunch box so I could easily roll the chocolate truffles around.
Vegan Chocolate Truffles
makes 12 truffles, 30 minutes active time, 2.5 hours inactive time
3 Cups of Chocolate Chips
1/2 Cup of Milk (I've used soy and coconut, of course you could use regular milk as well) 
3 Tablespoons of Melted Coconut Oil
1 Tablespoon of Water
To make the ganache melt 2.5 cups of the chocolate chips with the milk using a double broiler.
Stir consistently to make sure the chocolate doesn't burn.
Once silky smooth, place the bowl in the fridge for approximately 2 hours. The chocolate should become stiff.
Check on it periodically to make sure it doesn't become too stiff. 
Use a spoon to scoop out a full spoons worth of ganache.
Roll the scoop in your hands to form a ball.
You should have enough ganache for 12 balls. (Your hands will get a little messy!) 
If you're having trouble getting a smooth ball, don't worry about it. It will be much easier to re-roll them after they've been in the freezer.
I placed the ganache on a baking sheet lined with a silicone baking mat.
I popped them in the freezer while I made the chocolate shell.
To make the chocolate shell, melt the remaining 1/2 cup of chocolate chips using a double broiler with the tablespoon of water and the melted coconut oil.
Once silky, remove the ganache from the freezer. 
Re-roll the ganache if you need to. Place the ganache balls in the bowl containing the chocolate shell.
Roll the ganache around to coat. You'll need to move quickly.
The chocolate shell is very warm and you don't want the ganache to melt.
After the ganache balls have been coated, place it in your topping of choice. 
After all of the ganache has been coated and topped place back on the baking mat and back to the freezer to set at least 15 minutes.
After they've set, they can be left room temperature for several days. (unless it's really hot!)
Have you made chocolates? What are your plans for Valentines?