Savory Sage Thanksgiving Dressing (vegan)
November 20, 2015 | Kathryn Kellogg
Last Updated on April 2, 2020
Thanksgiving is almost upon us! I am so excited! My dad is coming to visit. So, I'm glad I've been practicing all of my recipes. I'm pretty positive the day is going to go off without a hitch.
I have one more recipe to post on Tuesday which is a dessert! MMM. So be on the lookout.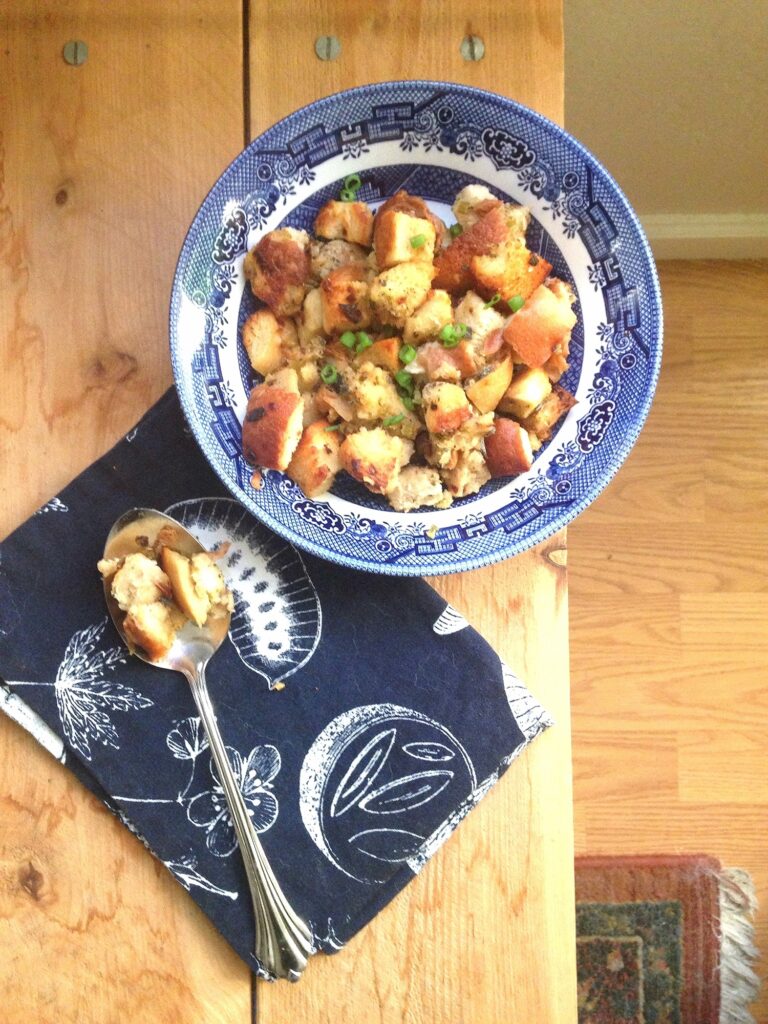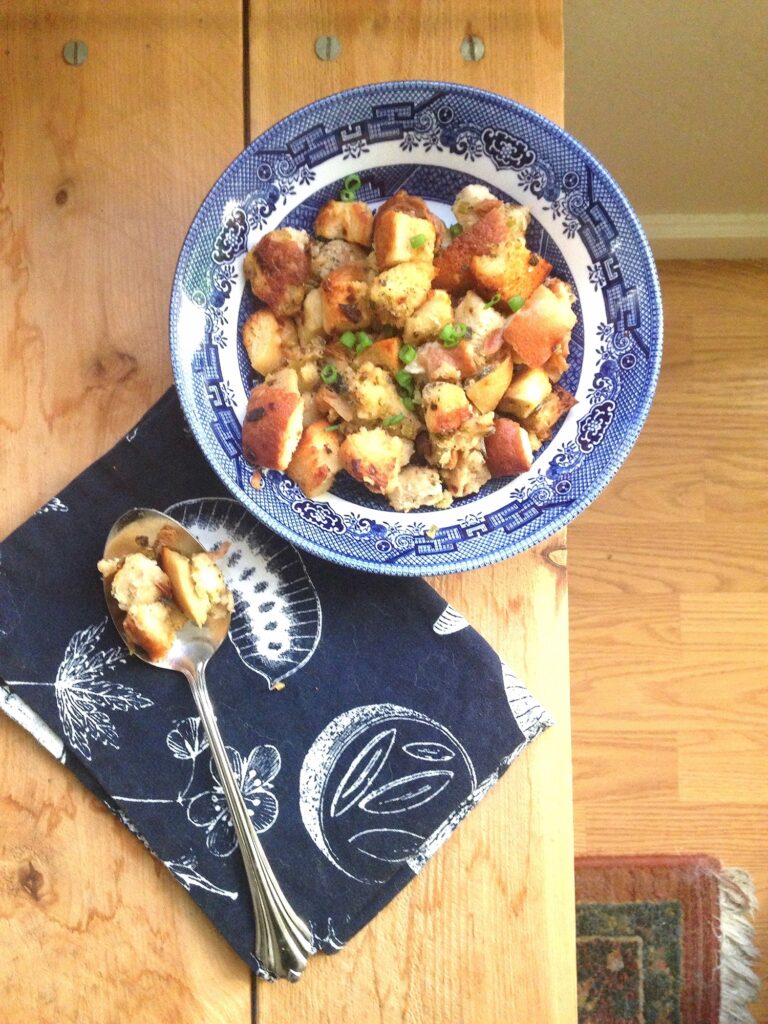 I'd have to say the turkey has always been my least favorite part of the Thanksgiving meal. I'd much rather eat sides or pie. I mean is there really anything better than warm bread soaked in stock and spices?
Just to be clear:
Dressing: Baked outside the bird
Stuffing: Baked inside the bird
I don't recommend stuffing. Once the stuffing has come to the proper temperature inside, your bird is almost guaranteed to be dry. You'll want to go to your baker or the bakery at your grocery store and pick up some fluffy bread. You don't want anything with a really thick crust. My baker has these wonderful, thick, fluffy loaves. They're probably 2ft long and 5 inches wide. I used about half of each loaf. You can buy them in advance and pop them in freezer for when you need them. Set them on the counter to quickly defrost or pop them in the microwave for 30 seconds. They'll be as fluffy as the day you bought them.
Savory Sage Thanksgiving Dressing (vegan)
6-8 servings or 1 if it's been a bad day and you're ready to eat some carbs, 20 minutes of prep, 30-40 minutes in oven.
4.5 Cups of a Cubed Classic Loaf

4.5 Cups of a Cubed Sourdough Loaf

1 Cup of Vegetable Stock

½ an Onion Minced

2 Stalks of Celery Minced

3 Cloves of Garlic Minced

3-4 Oyster Mushrooms Minced

6 Tablespoons of Vegan Butter or High Quality Olive Oil

Pinch of Salt & Pepper

1 Tablespoon of Dried Sage
Preheat your oven to 400. Mince your vegetables very, very fine. I don't like large chunks or things to crunch in my dressing. If you do, feel free to leave larger chunks. Melt your butter and sauté the vegetables until very fragrant. 5-7 minutes. Cube your bread and place in greased 9×13 pan. Take the veggie mixture off the stove to stir the salt, pepper, stock and sage. Pour it over the bread and toss. Bake for 30-40 until the top is nice and crusty.
This is an easy dish to prep ahead. You can store it assembled and bake the next day. You can even bake it the day before and heat it up.
What are some of your Thanksgiving favorites?